Doudou N'Diaye Rose: Drummer, composer and bandleader who blazed a trail followed by performers like Youssou N'Dour
He was variously described as 'the mathematician of rhythm' and a 'one-man dynamo' for his energetic performance style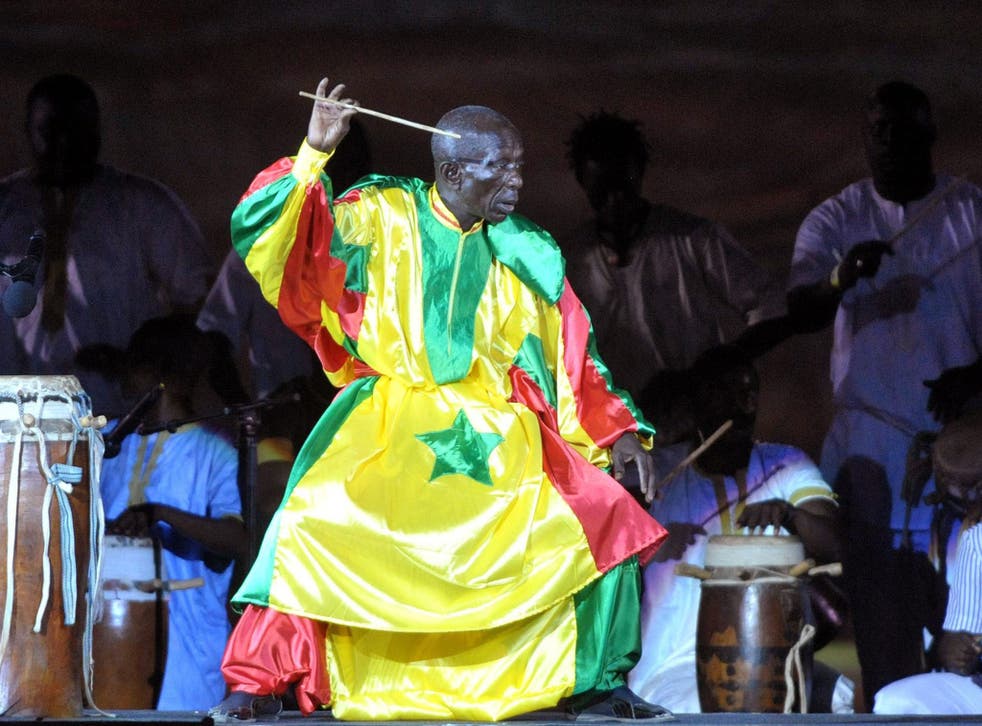 Doudou N'Diaye Rose, who has died at the age of 85, was a Senegalese master drummer, composer and band leader, whose speciality was the sabar drum – the key percussive element in Senegal's mbalax rhythm, played with both a stick and hand, and popularised internationally during the 1980s, largely by Youssou N'Dour.
He was variously described as "the mathematician of rhythm" and a "one-man dynamo" for his energetic performance style: conducting huge drum ensembles he spun and gesticulated, colourfully dressed in billowing, brilliantly coloured robes that often expressed his patriotism. Although steeped in Senegalese traditions (he was from a line of griots, traditional musicians and storytellers), he was an innovator who in 1950 invented the gorong babas (a smaller, tapered drum with wooden tuning pegs driven into its sides).
"I knew that I was going to be a master drummer, whose job it is to direct processions," he told fROOTS magazine in 2006. "In the old days, men carried drums on their shoulders… I noticed that the men were becoming a bit hunched and, since I am not strong, I knew that if I continued to do the same thing, I would become like them. I said 'I must try to invent a new instrument.'"
His father was an accountant who discouraged him from becoming a musician, but N'Diaye went against his wishes and fell under the influence of local master drummer Mada Seck El Hajj, who passed his secrets on and encouraged Doudou to take his place. Doudou became determined to travel around Senegal to study "the very precise language of the drums", as he put it, which were traditionally used as a kind of bush telegraph, conveying messages between villages. With this grounding he eventually expanded its vocabulary, developing hundreds of his own new rhythmic riffs.
Once N'Diaye's career choice had become clear to his father, the two didn't shake hands for seven years. He made a living as a plumber for a number of years, quitting that once he realised he could make far more money by using his talents as a drummer. After a performance with the French- American singer Josephine Baker, celebrating Senegalese independence in 1960, he became well known to Dakar audiences, a national figure, as well as the head of the Senegalese National Ballet, he founded his own Doudou N'Diaye Rose Orchestra during the 1970s. After this, he formed a close working affiliation with the Senegalese president Leopold Sedar Senghor, giving his career another boost.
In 2006 he was designated a "Living Human Treasure" by Unesco for his work in perpetuating and expanding the music of Senegal. He took a progressive, open-minded approach to traditional music, encouraging women to play drums and eventually founding Rosettes, a group made up of his daughters and granddaughters. He also set up a school of percussion in his home town.
Once his international career took off he toured extensively with his group in Europe, the US and Japan and shared stages with the likes of Miles Davis, Japan's Kodo Drummers, Dizzy Gillespie, the Rolling Stones and Peter Gabriel, whose Real World Label in 1994 released Djabote, the album he is best known for, although he also made a significant contribution to Alan Stivell's 13th album, Again.
In a commemoration of his life and achievements on the Real World website, Gabriel wrote: "Doudou was an extraordinary musician and a delight to work with. He always struck me as a Yoda type of figure whose magic powers extended deep into the rhythmic arts. He would appear in various incarnations, in different family groupings, turning wonderful, complex rhythms into beautiful compositions.
"My favourite Doudou moment was seeing him perched at the top of a pyramid of Senegalese drummers in his dinner jacket, as part of Jean-Paul Goude's Bicentenaire celebration along the Champs-Élysées, mustering all the pride and passion that he would always deliver".
Mamadou N'Diaye Coumba Rose, musician: born Dakar, Senegal 28 July 1930; married four times (42 children); died Dakar 19 August 2015.
Join our new commenting forum
Join thought-provoking conversations, follow other Independent readers and see their replies