Myleene Klass: Ed Miliband 'strikes back' by comparing UK's need for Labour's mansion tax to Hear'Say track
The leader labelled Britain's reliance on the tax "Pure and Simple"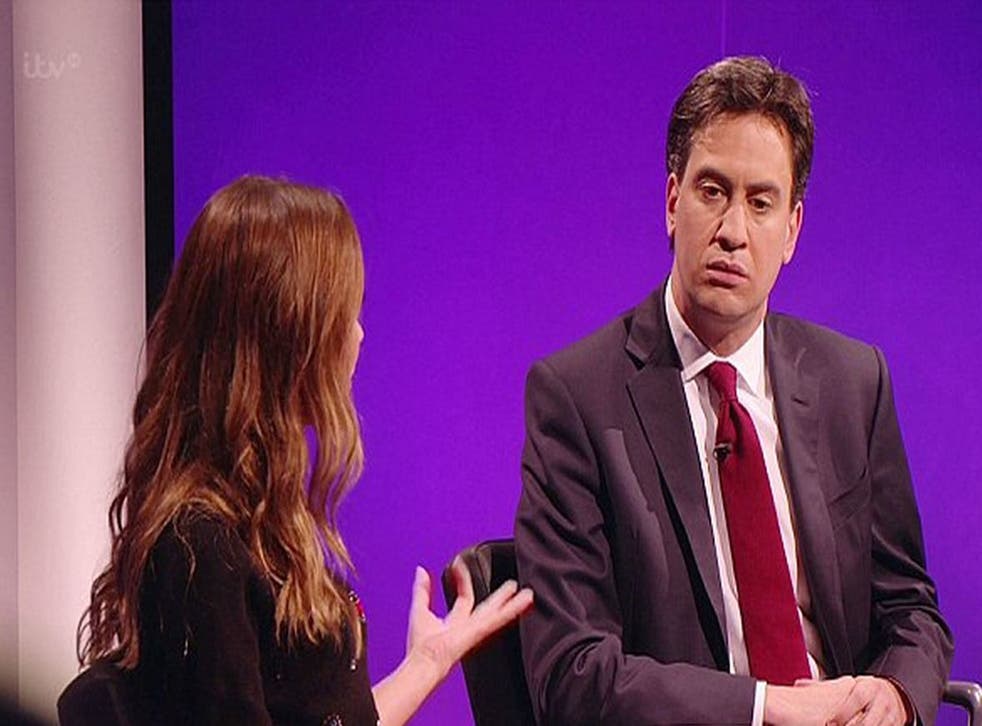 Ed Miliband made a lack-lustre attempt to claw back some of the credibility he haemorrhaged during a televised debate with Myleene Klass on ITV show The Agenda on Monday.
In perhaps the most cringe-worthy reference he's made since the one about Kim Kardashian and photo opportunities yesterday, the Labour leader called the party's plans for mansion tax "Pure and Simple" – the name of the famous track by Klass's former pop band Hear'Say.
He then posted a helpful link to a blog all about the subject:
Klass, who shot to fame after winning a place in the manufactured group via the Pop Stars competition in 2001, criticised the party pledge to impose heavy taxes on homes worth more than £2million, claiming that those hit hardest by the austerity measures would be elderly home owners and Londoners.
And also early 2000s pop stars with expensive houses, presumably.
"Immediately you conjure up an image of these Barbie-esque houses, but in London, which is where 80 per cent of the people who will be paying this tax actually live, have you seen what that amount of money can get you? It's like a garage.
"When you do look at the people who will be suffering this tax, it's true a lot of them are grannies who have had these houses in their families for a long, long time.
"The people who are the super-super rich buying their houses for £140million, this is not necessarily going to affect them because they've got their tax rebates and amazing accountants. It's going to be the little grannies who have lived in those houses for years and years."
Sir Christopher Meyer, the former British ambassador to the US, also took part in the debate, chiming in with this somewhat inward-looking observation: "You're going to screw me royally."
"Ed's getting a bit isolated here," host Tom Bradby interjected.
In pictures: Ed Miliband trying to look normal

Show all 18
"Ed's getting isolated because no one thinks it is going to work," Klass retorted.
"You may as well just tax me on this glass of water. You can't just point at things and tax them.
"You need to have a better strategy and say why is the NHS in this mess in the first place?"
No, Klass's approach wasn't akin to that of Jeremy Paxman's. But the pop star's performance against the political leader was arguably better than the one she gave during Simon Fuller's audition process.
Klass sold her home that she shared with her former husband Graham Quinn for £1.8million last year.
Under Labour's proposed mansion tax policy, properties advertised with a price tag exceeding £2million would come under the band.
Join our new commenting forum
Join thought-provoking conversations, follow other Independent readers and see their replies