Eddie Redmayne reveals he ditched his smartphone to 'live in the moment' with an analogue handset
Exclusive: Academy Award winner says 'it was a reaction against being glued permanently to my iPhone'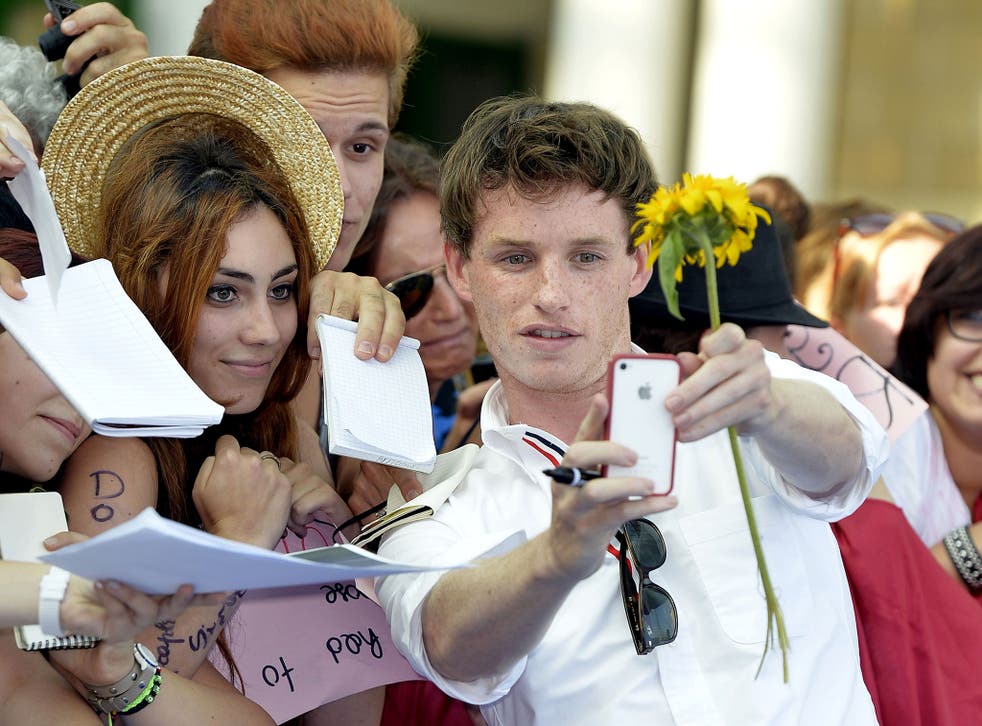 The actor Eddie Redmayne ditched his smartphone in favour of an analogue handset to help him live "in the moment", he has revealed.
The Academy Award winner said that he discarded his smartphone early last year because he felt the constant stream of emails had become too great a distraction.
"I tried switching back to a simple, old-fashioned handset in place of a smartphone," he said. "It was a reaction against being glued permanently to my iPhone during waking hours. The deluge of emails was constant and I found myself trying to keep up in real time, at the expense of living in the moment."
There is mounting evidence that the "always on" culture driven by smartphones is making us more anxious and unhappy.
This week, research showed that British workers are effectively cancelling out their annual leave allowance by checking their emails outside office hours. David Cameron's former adviser Steve Hilton revealed on Tuesday that he hasn't used a smartphone in years – and feels that he has left behind a "life of stress and tension and anxiety, fuelled by the device in my pocket".
For a while. Redmayne says his experiment worked. "I love the idea of a more analogue phone in theory," said the actor. "During the day, I felt far more alive."
But he discovered that instead of being glued to his smartphone he was spending more time on his computer. "I was tied to my laptop answering emails for two hours first thing every morning and last thing at night instead, which was a different kind of intrusion. I wasn't very popular with [his wife] Hannah, so today I'm back on my iPhone and trying to master a healthier relationship with it."
The actor is a judge of the Wallpaper* Design Awards 2016 and made his comments on a smartphone-free life when discussing the merits of the Punkt MP01 stripped-down handset created by British designer Jasper Morrison. The handset is nominated for an award as "Life Enhancer of the Year".
Redmayne, who won the Oscar for Best Actor last year for his portrayal of a young Stephen Hawking in The Theory of Everything, and has been named by GQ magazine as the "best dressed man in the world", expressed the hope that technology designers would focus on making more user-friendly products.
"We could all do with a lot more simplicity in our lives," he said. "If good design is about making life easier, than the simpler it is the better. I wonder if in 50 years' time we'll have come full circle and I'll be sitting at home with nothing but a pad of paper and my Muji stationery."
He expressed admiration for Ron Johnson, whose Enjoy gadget delivery start-up – in which an expert comes to your door and sets up your new product - was nominated for an award for helping consumers make the most of their tech goods. "I need this in my life desperately," he said. "I'm also sure I'm not alone in feeling defeated by the knowledge that I use about one per cent of the capability of every gadget I own."
The actor is nominated for a BAFTA for his performance as a transgender woman in The Danish Girl and he explained why the Wallpaper* awards judges chose Copenhagen as winner of the "Best City" category. "It's a city that feels good, and that's not something you can say about many cities today. The Danes get it right on so many levels. Copenhagen has a vibrancy to it. The food culture is extraordinary and life seems easy, uncomplicated and fun. Who wouldn't want to live in a city where you can swim in the harbour?"
Join our new commenting forum
Join thought-provoking conversations, follow other Independent readers and see their replies