F1 boss Bernie Ecclestone calls Russian president Vladimir Putin a 'first class person'
Billionaire tycoon added that he felt the Russian leader could control 'Europe or America' - if he was not so 'busy'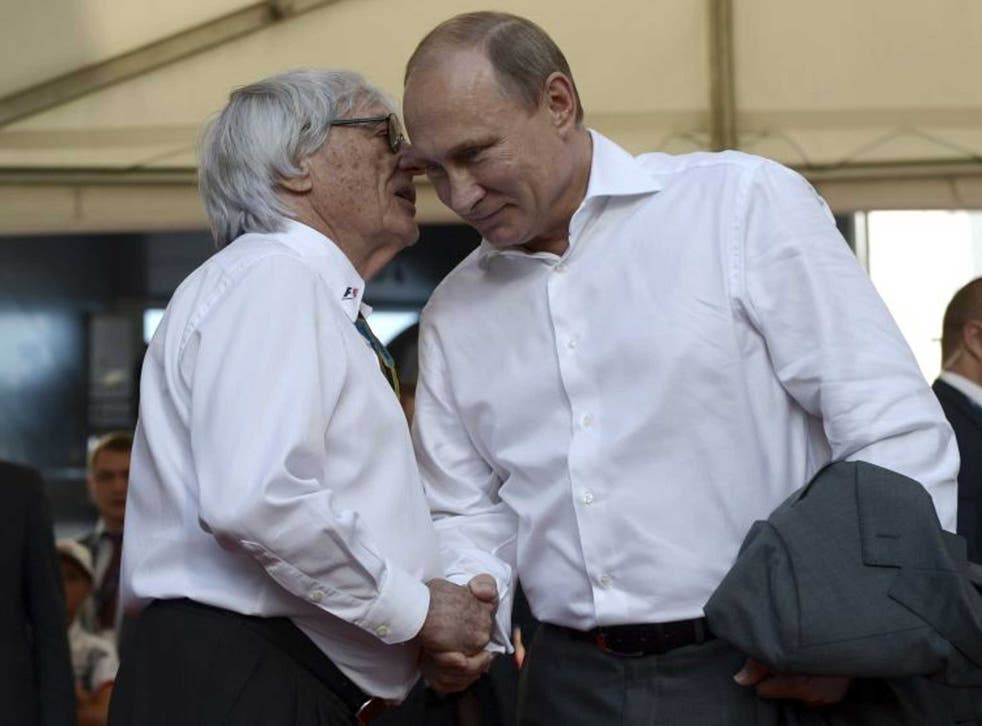 Formula One boss Bernie Ecclestone has claimed Russian president Vladimir Putin is "a first class person".
The diminutive tycoon, 83, who recently paid a £60 million settlement in order to end a bribery trial against him in Germany, praised Putin, 62, during an interview with Russian newspaper Vedomosti.
"He's [Putin's] a first class person. I always supported him.
"He could control Europe or America; he is able to deal with it. But I think he is very busy. Let him finish what he's doing and then we'll see."
Mr Putin's time has undoubtedly been taken up with the recent Ukrainian crisis, a conflict which has seen more than 3,600 people killed in bitter fighting between pro-Russian rebels and Ukrainian nationalists.
Earlier this week Mr Putin met with Ukrainian and western leaders, having ordered the withdrawal of 18,000 Russian soldiers stationed near the Ukrainian's border.
Vladimir Putin: Inside the Russian President's Daily Life

Show all 10
However, Nato reports it has seen no major troop movements and western leaders remain highly sceptical of the Russian government, who they allege is supplying pro-Russian rebels with arms.
Probably to take his mind off all that stress, Putin was spotted deep in conversation with billionaire F1 boss at the Russian Grand Prix over the weekend.
Moscow is reportedly paying £31 million a year to Formula One, thought to be the highest ever hosting fee for the Grand Prix.
Mr Ecclestone has backed the Russian leader previously, commenting of his "great admiration" for Mr Putin and saying that he "completely agrees" with his views on homosexuality.
These views include the opinion LGBT people should be kept away from children.
Russia was recently recognised as the hardest European country for gay people to live in by Ilga-Europe, a campaign group advocating equality for lesbian, gay, bisexual, trans and intesex people in Europe.
However, Ecclestone, arguing critics had misrepresented Putin, said: "He hasn't said he doesn't agree (with homosexuality) just that he doesn't want these things publicised to an audience under the age of 18".
"I completely agree with those sentiments and if you took a world census you'd find 90 per cent of the world agree with it as well," Eccleston said to US broadcaster CNN.
Still, Mr Ecclestone is not alone in his admiration. British politicians Nigel Farage and Alex Salmond have also expressed admiration for Putin.
Reassuringly, the man whose party just gained its first elected voice in the House of Commons said although he did not trust Putin, he claimed he was doing a better job on foreign policy than "kids" like David Cameron.
Join our new commenting forum
Join thought-provoking conversations, follow other Independent readers and see their replies