Hugh Hefner sued by woman who claims she was sexually abused by Bill Cosby at the Playboy Mansion
The Playboy founder has been accused of 'negligent infliction of emotional distress and conspiracy to commit sexual battery'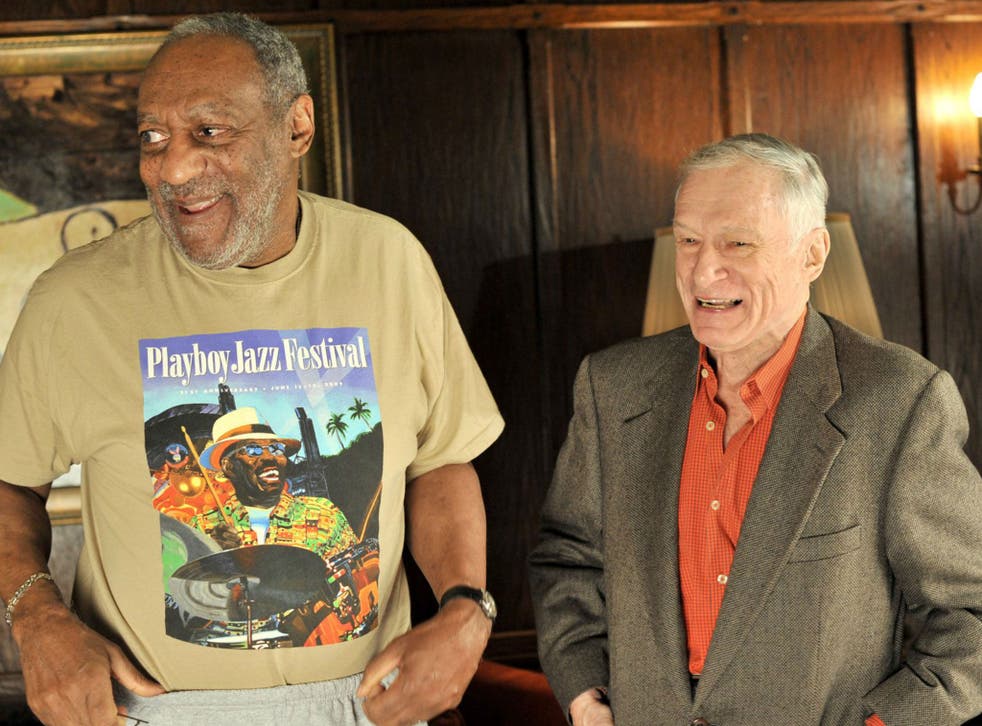 A woman who has accused Bill Cosby of sexually abusing her at the Playboy mansion is suing Hugh Hefner.
Chloe Goins has accused Cosby of spiking her drink and sexually abusing her at the famed mansion in 2008. She claims she awoke to find the American comedian licking her toes and pulling up his trousers. Cosby has previously denied the claims.
Ms Goins cannot recall the exact date of the incident and it is unknown if the 26-year-old was a minor at the time. Her lawyer said on Tuesday he now hopes to discover the exact date of the alleged incident now Hefner is named as a defendant, according to a report by the Associated Press.
Ms Goins claims in the lawsuit filed in the Los Angeles Supreme Court that Hefner, 90, should have known Cosby "over the years had a propensity for intoxicating or drugging young women and taking advantage of them sexually and against their will or while they were unconscious".
Bill Cosby: Career in pictures

Show all 20
She has claimed Hefner was liable because he hosted the party at his mansion and allegedly suggested she and a friend have a drink with Cosby, Reuters reports. She has accused Hefner of negligent infliction of emotional distress and conspiracy to commit sexual battery.
She is suing Cosby for battery, gender violence and intentional infliction of emotional distress. In February, she dropped an earlier lawsuit against the actor. Her lawyer has now said this was so Hefner could be added as a defendant.
In January, Los Angeles prosecutors declined to file criminal charges against Cosby in connection with the alleged incident, saying there was insufficient evidence and citing the statute of limitations.
Ms Goins is one of over 50 women who have made sexual abuse claims against Cosby. He has denied all the claims and countersued several women for defamation. Several of those women have countersued him for defamation.
Cosby has only been charged with one criminal offence in Pennsylvania for allegedly sexually assaulting a former Temple University employee in 2004. He has not yet entered a plea and is on bail.
Hefner has previously spoken of the claims made against his "good friend" Cosby after another woman, Judy Huth, accused the 78-year-old of sexually assaulting her in the Playboy mansion in 1975 when she was 15-years-old.
In response to that allegation made in June, 2014, Hefner released a statement and said: "Bill Cosby has been a good friend for many years and the mere thought of these allegations is truly saddening.
"I would never tolerate this kind of behaviour, regardless of who was involved."
In March, Ms Huth's lawyer said she wanted to depose Hefner in her client's case against Cosby.
A representative for Hefner did not immediately respond to a request for comment, a representative for Cosby declined to comment.
Additional reporting by the Associated Press.