Hulk Hogan Gawker suit: Wrestler claims even his character was embarrassed by sex tape
Hogan is suing Gawker for $100 million for publishing a video showing him having sex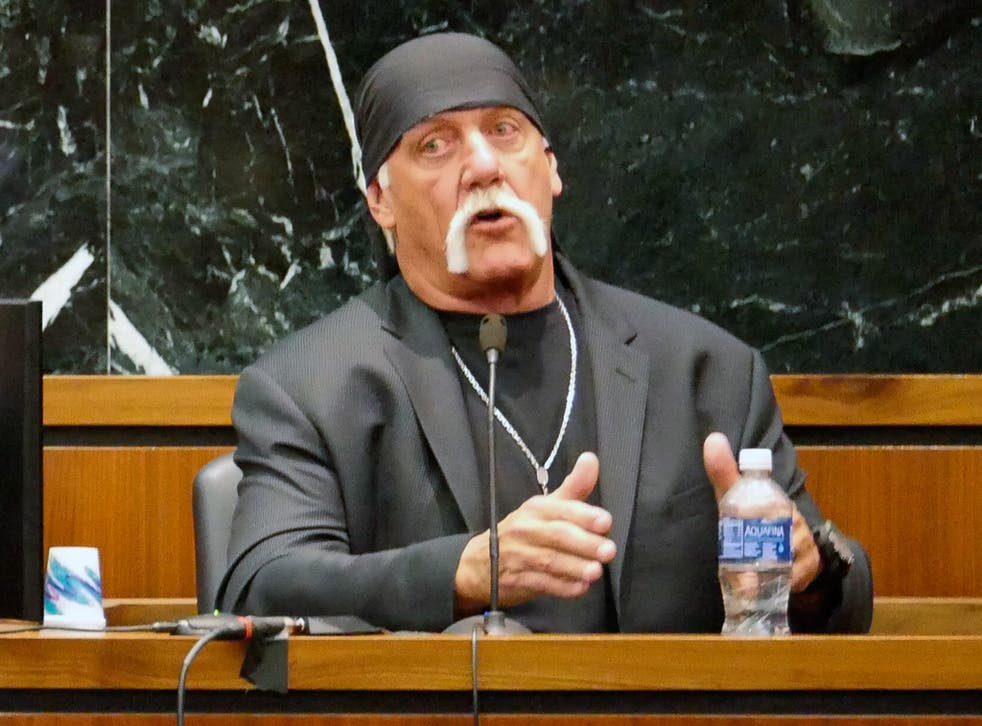 Hulk Hogan has claimed he was so humiliated by footage of him having sex, published by Gawker, that even his wrestling character was embarrassed.
Hogan, 62, appeared in a Florida court on Monday where opening arguments were heard in his lawsuit against Gawker, the website which published a one-minute, 41-second excerpt of a video of him having consensual sex with Heather Clems, the wife of his then-best friend, radio shock jock Bubba the Love Sponge. Nine seconds of the video show him having sex.
The wrestler and reality TV star is suing the website for $100 million in damages for invasion of privacy and emotional distress. Gawker is live-streaming proceedings on their website.
In his testimony on Monday, Hogan claimed he did not authorise the filming or publication of the video and said Ms Clems had been in an open marriage. It is unclear who leaked the 30-minute video.
"I was completely humiliated," he said, describing the embarrassment from the publication of the video as personal and professional. "It was even embarrassing as my character. Hulk Hogan was embarrassed."
People news in pictures

Show all 18
Hogan, who is appearing in court under his legal name, Terry Bollea, called his Hogan character "completely opposite" to his true personality, which he described as soft-spoken and non-argumentative.
While cross-examining Hogan, a lawyer for Gawker questioned inconsistencies between his testimony and his media interviews. Hogan testified that he didn't watch the video when he discovered its existence but said he had during a media interview. He also claimed he didn't know he was being videoed when he had sex with Ms Clem. But in media interviews in 2012, Hogan said he asked Bubba Clem if he was being filmed.
Gawker argues Hogan willingly spoke about his sex life publicly on a number of occasions, making their story and the publication of the video a legitimate decision.
Gawker's lawyer says the news website has a right to address uncomfortable subjects affecting high profile people and deliver truth to its readers.
They say a loss in this case could force the website to close and have serious constitutional ramifications, although it will launch an appeal. Cross-examination will continue later today.
Additional reporting by the Associated Press and Reuters
Join our new commenting forum
Join thought-provoking conversations, follow other Independent readers and see their replies