Former 'anti-Semitic politician' from Hungary moves to Israel after discovering he's Jewish
Csanad Szegedi says he now wants to contribute to the fight against anti-Semitism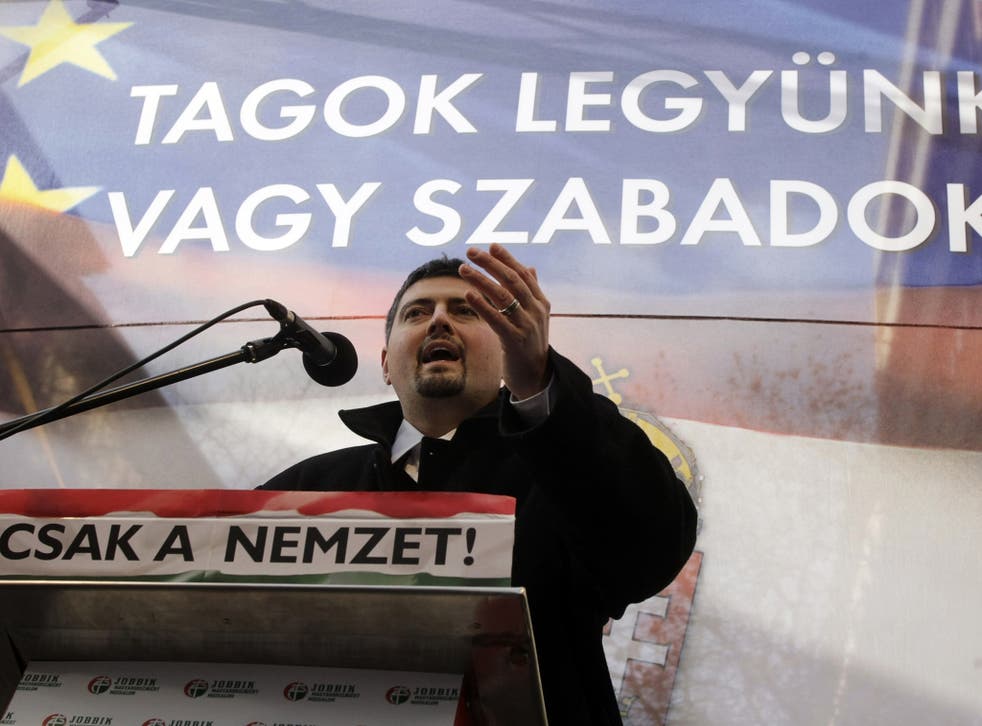 A former MEP for a Hungarian far-right party is emigrating to Israel four years after he discovered he had Jewish roots.
Csanad Szegedi had been a rising star in the anti-immigration party Jobbik, which had been accused of anti-Semitism, when he admitted his grandmother was a Holocaust survivor in 2012.
Following the discovery of his family's tragic history, the 34-year-old renounced all ties to the party and converted to Judaism.
Now he told Hebrew language newspaper Ma'ariv he is waiting to become an Israeli citizen so he contribute to the fight against anti-Semitism.
Mr Szegedi, who had previously claimed Jewish people were "buying up the country", said: "Israel is an amazing country, and I believe that every Jew who lives in the Diaspora seriously considers making aliya (emigrating) to Israel, at least once in his life.
"There are many more positive elements than negative elements in being a Jew, and the biggest gift for any Jew is the existence of the State of Israel.
"After the nightmares that my relatives underwent in the Holocaust, my family and I very much want to be part of the positive dream that Israel constitutes for us."
He refused to rule out participating in Israeli politics saying he followed it "closely" and had the "political bug" but had not joined any political party yet.
How Hungary welcomes its refugees - in pictures

Show all 15
He said: "Right now, I am acting in the arena that I am familiar with, Hungary and Europe, in order to raise awareness on the issue of anti-Semitism and to work for the betterment of Israel, as a sort of compensation for the past.
"However, I have a lot of years of experience in politics and I would be happy to contribute my experience to Zionist organizations in Israel as well."
Mr Szegedi, who was a member of Jobbik between 2006 and 2012, was reportedly also a member of the Hungarian Guard.
The group, which was banned by the courts in 2009, formed in 2007 and wore black uniforms with striped flags recalling the Arrow Cross - a pro-Nazi party which governed the country during the Second World War.
In all, an estimated 550,000 Hungarian Jews were killed during the Holocaust - most of them being sent to death camps such as Auschwitz.
Mr Szegedi, who was raised as a Christian, spoke of his shock when he was confronted about his origins in 2010.
He initially tried to cover it up but later said he had spoken to his grandmother about her experiences and realised the Holocaust had actually happened.
He said: "It was then that it dawned on me that my grandmother really is Jewish
"I asked her how the deportations happened. She was in Auschwitz and Dachau and she was the only survivor of an extended family."
Register for free to continue reading
Registration is a free and easy way to support our truly independent journalism
By registering, you will also enjoy limited access to Premium articles, exclusive newsletters, commenting, and virtual events with our leading journalists
Already have an account? sign in