Jackie Trent: Singer who wrote hits for Petula Clark as well as the theme tunes to Neighbours and Crossroads
Trent and Hatch wrote romantic songs for themselves and became known as Mr and Mrs Music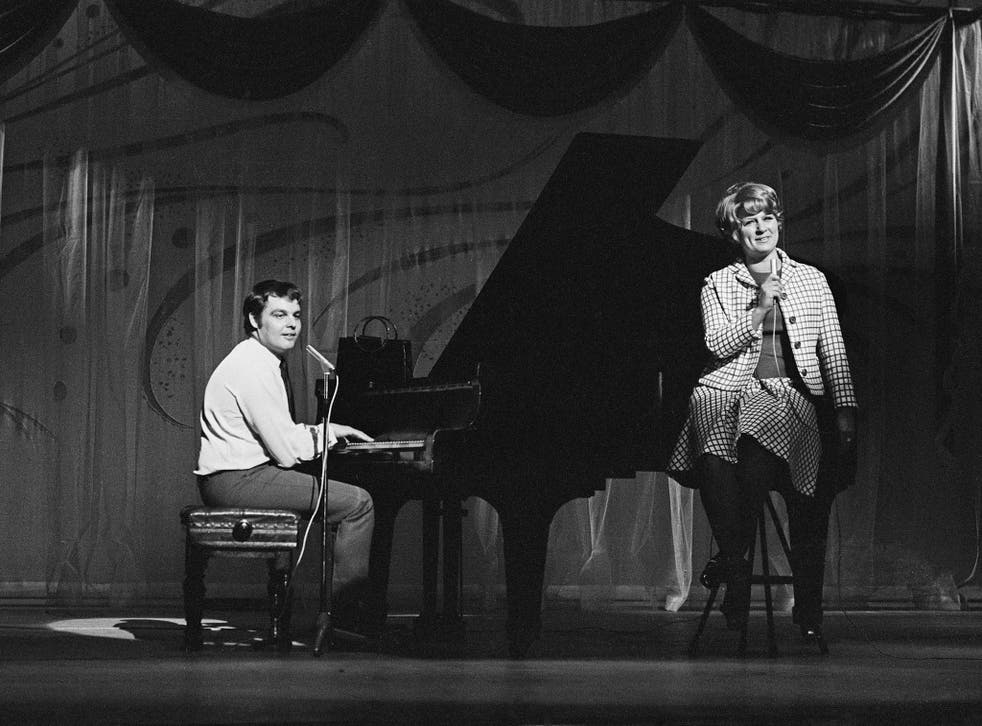 In 1965 Jackie Trent soared up the UK charts with "Where Are You Now, My Love", knocking the Beatles' "Ticket To Ride" off the top. It was the high point of her performing career, but she also wrote numerous hit songs for the likes of Petula Clark, Scott Walker and Val Doonican.
Jackie Trent was born Yvonne Burgess in Newcastle-under-Lyme in 1940 and she was performing in pantomime in Stoke from an early age. When she was 12 she had the perspicuity to realise that she needed a memorable stage name, and she took it from the River Trent. She wanted to be a professional singer, and by the age of 18 she was performing around the UK on variety bills and entertaining troops in Germany and the Middle East. Her first single, a ballad written by Hal David, "Pick Up The Pieces", was released by Oriole in 1962.
Trent moved to Pye in 1963 and she was to make 25 singles and 10 albums for them. Her second single, an English version of Edith Piaf's "Hymne de L'Amour" and called "If You Love Me (Really Love Me)", was a surprisingly good attempt at generating Phil Spector's Wall of Sound in a British studio. It wasn't a hit but it became a favourite at the Wigan Casino in the mid-1970s and led to Trent recording some Northern Soul, "Can't Give It Up No More", with the Majestics led by Clarke Peters in 1975. In 1964 Trent had high hopes for the standard, "Autumn Leaves" but made the mistake of appearing on ITV's Thank Your Lucky Stars in a ridiculous dress covered in leaves which had been made by her mother.
She befriended Pye's most successful producer, Tony Hatch, and they began writing together, firstly the pop confection "Don't Stand In My Way", a single from December 1964. In 1965 they wrote "Where Are You Now, My Love" for the detective series It's Dark Outside, on Granada starring William Mervyn and Keith Barron. Though it went to No 1, the follow-up, "When Summertime Is Over", only made the Top 40, possibly because it was too blatant an attempt to rewrite that hit single.
But as one of her singles declared, it's all in the way you look at life. Hatch and Trent decided that it was far more lucrative to give their best songs to an international star, Petula Clark, whom Hatch produced. The hit songs included "I Couldn't Live Without Your Love" (a song about their own relationship), "Don't Sleep In The Subway" (later recorded by Frank Sinatra) and "The Other Man's Grass Is Always Greener". It is possible that "I Know A Place" and "My Love" were joint compositions, as an embittered Trent later claimed that Hatch had not acknowledged her contribution.
Having left their partners, Hatch and Trent married in August 1967 and they spent their working lives together, rather like a middle of the road John and Yoko. In 1968 their song "Joanna" was dropped from a film because of a previous contract with Rod McKuen and so they passed it to Scott Walker, whose version made the Top 10. Val Doonican took "What Would I Be", a song Trent had written on her own, to No 2.
Hatch and Trent wrote romantic songs for themselves and became known as Mr and Mrs Music. The best known is "Opposite Your Smile", which came from their stage musical, The Card. By way of contrast, they wrote "We'll Be With You" for Stoke City's followers when their team reached the final of the League Cup in 1972. The club won its first trophy while the single, under the name of The Potters, the club's nickname, made the Top 40.
When an Australian friend, Reg Watson, asked them for a signature tune for a new soap opera, they wrote the theme for Crossroads. After Watson returned to Australia he asked them again and this time they wrote the theme for Neighbours. Trent and Hatch were to settle in Australia in the 1980s. They also had a beautiful villa in Minorca and in true Neighbours fashion a row erupted at Trent's birthday party in 1995 in which Hatch announced that he was leaving her and going to live with her best friend Maggie Clough. Trent and Hatch divorced in 2002.
Trent returned to performing, starring in a touring version of High Society and then doing solo concerts. She remarried in 2005. She had recently completed her autobiography and it is to be published at the same time as a stage musical about her life, Jackie – The Jackie Trent Story, to be performed by the Porthill Players at the Stoke-on-Trent Repertory Theatre in May.
Yvonne Burgess (Jackie Trent), singer and songwriter: born Newcastle-under-Lyme, Staffordshire 6 September 1940; married three times (two 2 children); died Cuitadella, Menorca 21 March 2015.
Join our new commenting forum
Join thought-provoking conversations, follow other Independent readers and see their replies