Jamie Oliver 'shocked' by Government's childhood obesity strategy
Oliver says long-awaited strategy from Theresa May's new Government is 'far from robust'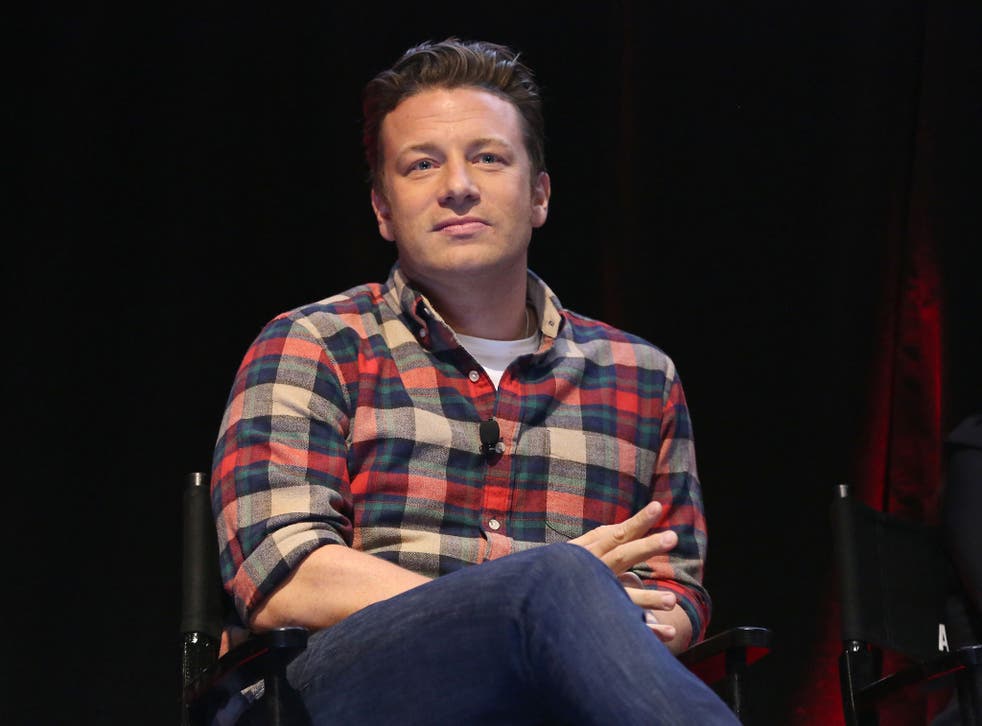 Celebrity chef and healthy eating campaigner Jamie Oliver has said he is "disappointed" with the Government's childhood obesity strategy.
Despite repeated calls from health campaigners, curbs on junk food advertising do not form part of the document, and the TV personality, who backs a sugar tax, said too much of the plan is "voluntary" and "suggestive".
The plan places an emphasis on greater physical activity in schools and a voluntary scheme for the food industry to reformulate popular children's products to reduce sugar.
Ministers hope the food industry will cut 20 per cent of sugar from the foods children enjoy, such as cereals, yoghurts, sweets, breads and desserts, over the next five years, with a 5% cut in the first year.
Also central to the plan is the Government's sugar tax on soft drinks. The proposed levy on drinks such as Coca-Cola, Pepsi and Red Bull will come into force from 2018.
The amounts of sugar in food and drink

Show all 6
The money raised will be put into sport in schools and school breakfast clubs.
Oliver posted on his Facebook account saying he is in "shock" and that the long-awaited strategy from Theresa May's new Government is "far from robust", questioning why it was shared during the recess.
"It contains a few nice ideas, but so much is missing," he said.
"It was set to be one of the most important health initiatives of our time, but look at the words used - 'should, might, we encourage' - too much of it is voluntary, suggestive. Where are the mandatory points?
"Where are the actions on the irresponsible advertising targeted at our children, and the restrictions on junk food promotions?
"The sugary drinks tax seems to be the only clear part of this strategy, and with funds going directly to schools that's great, but in isolation it's not enough.
"This strategy was Britain's opportunity to lead the way and to implement real, meaningful environmental change, to start removing the crippling financial burden from our NHS and reversing the tide of diet-related disease.
"With this disappointing and, frankly, underwhelming strategy, the health of our future generations remains at stake.
"I sincerely hope the Government's promise to 'take further action where it is needed' is true..."
Under the plan, primary schools are being asked to help pupils get at least 60 minutes of exercise a day - 30 minutes in school through PE and active play and 30 minutes outside school.
Meanwhile, the Government is developing a new voluntary "healthy schools rating scheme", which will be taken into account during school inspections.
But health experts and campaigners have expressed their disappointment at the plan.
Malcolm Clark, spokesman for the Children's Food Campaign, said: "This is a truly shocking abdication of the Government's duties to secure the health and future of the next generation.
"This strategy was meant to be published a year ago; we've had a year of delays and now it has been watered down to a plan that doesn't even include marketing restrictions."
Professor Parveen Kumar, chairwoman of the British Medical Association's board of science, said: "Poor diet has become a feature of our children's lives, with junk food more readily available, and food manufacturers bombarding children with their marketing every day for food and drinks that are extremely bad for their health.
"It is incredibly disappointing that the Government appears to have failed to include plans for tighter controls on marketing and promotion."
Professor Jane Dacre, president of the Royal College of Physicians, said: "I am disappointed that after such a long wait for the childhood obesity strategy, the Government has published a downgraded plan that fails to address key issues such as marketing and promotion of sugar-filled and unhealthy foods to children."
Government officials said they opted for a voluntary sugar reduction scheme over legislation so the food industry could start taking steps to reduce sugar immediately, rather than waiting for the law to be changed.
Professor Graham MacGregor, chairman of Action on Sugar and Consensus Action on Salt and Health, said: "After the farce of the Responsibility Deal where (former health secretary) Andrew Lansley made the food industry responsible for policing themselves, it is sad to see that this is just another imitation of the same - Responsibility Deal Take Two."
However, the plan says Public Health England will report on whether the industry is reducing sugar content and, if it is deemed that insufficient progress has been made, the Government will consider "whether alternative levers need to be used".
Financial Secretary to the Treasury and former public health minister Jane Ellison said: "The soft drinks industry levy is an important step forward in the fight to halt our obesity crisis and create a Britain fit for the future.
"Obesity is a threat both to the health of children and to our economy, costing the NHS billions of pounds every year.
"The planned levy is already showing how it can be a powerful signal for change and I urge companies to reformulate their products before it starts in 2018."
Public Health Minister Nicola Blackwood said: "This Government is absolutely committed to reducing childhood obesity and one of the best ways to do this is to boost sports in schools.
"Team GB has been a huge inspiration at the Rio Olympics. We need to keep that inspiration alive when children go back to school in September - that's why we're asking schools and parents to ensure children do an extra hour of physical activity every day."
Shadow health secretary Diane Abbott said: "After pushing back the announcement of this strategy three times, the Government's response is woeful, and fails to deliver meaningful action.
"We have sleepwalked our way into a crisis. The Department of Health estimates that NHS England spent £5.1 billion on overweight and obesity-related illness in 2014/15 and, in the face of this, the Government's response is little more than a lick and a promise."
The Obesity Health Alliance, a coalition of 33 charities, medical royal colleges and campaign groups, said in a joint statement: "The Government's plan is underwhelming and a missed opportunity to tackle the obesity crisis and its devastating burden on the health of both society and the NHS.
"We live in an environment where children and their families are bombarded by junk food advertising and many everyday foods and drinks are stuffed full of fat and sugar. This is fuelling the huge numbers of children we are seeing who are overweight and obese, and therefore at great risk of serious health conditions in adult life such as Type 2 diabetes, cardiovascular disease, liver disease and cancer as well as associated mental health problems.
"This is why we need strong and bold Government action to make it as easy as possible for children and their families to make healthier choices and lead healthier lives.
"While the launch of the soft drinks industry levy consultation is an important step, the Government's plan falls disappointingly short of what is needed. In particular, there is strong evidence that shows that targets, backed by regulation, for the food and drinks industry to make their products healthier and removing junk food advertising before the 9pm watershed would have a huge impact on reducing levels of obesity, so it is very disappointing to see that both of these measures have been significantly watered down or removed entirely."
Professor Neena Modi, president of the Royal College of Paediatrics and Child Health, said: "I am extremely disappointed that the long-awaited strategy has been replaced by this weak plan, which provides no bold action and instead relies on physical activity, personal responsibility and voluntary product reformulation.
"Obesity kills as surely as smoking; Government took on the tobacco industry effectively, although it was a tough challenge, and can do it again now.
"The Royal College of Paediatrics and Child Health has a responsibility to advocate on behalf of infants, children and young people; for their sake we call on Government to revisit their 'plan' and turn it into the powerful, effective multi-sectoral strategy that is so necessary."
PA
Join our new commenting forum
Join thought-provoking conversations, follow other Independent readers and see their replies