Jeremy Clarkson begs forgiveness over racism allegations with apology film: 'My efforts obviously weren't quite good enough'
The Top Gear publishes a film apologising over recent racism claims
Ella Alexander Comments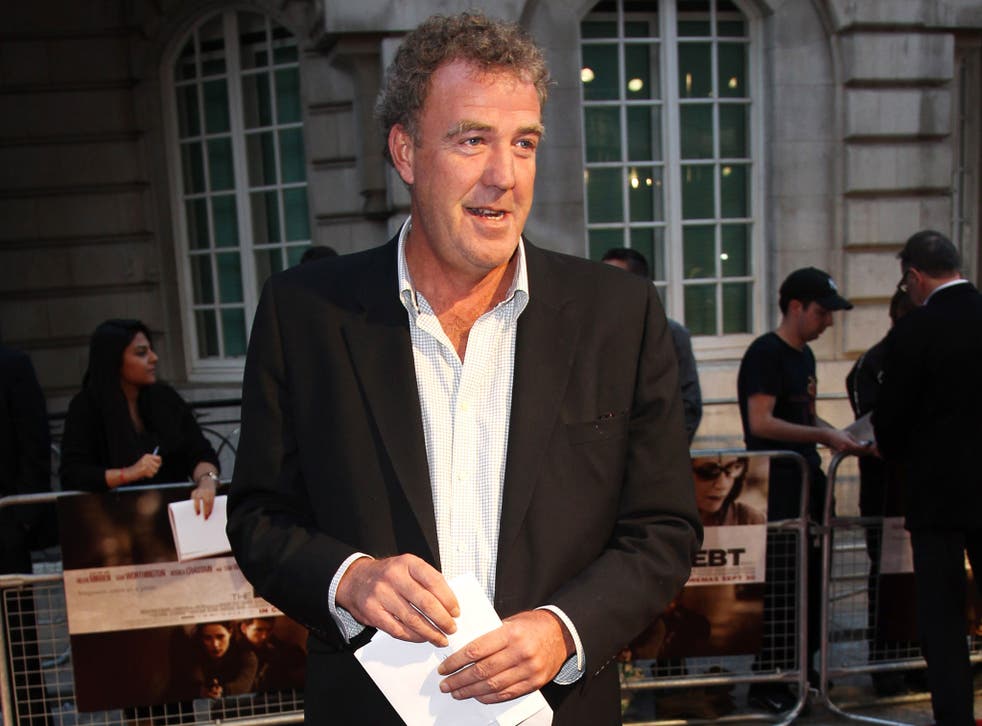 Jeremy Clarkson has begged for forgiveness over yesterday's racism allegations.
The Top Gear presenter has published a film apologising, after he appeared to use the word 'n****r' in an unaired episode of the BBC motoring show as he recited the children's nursery rhyme 'Eeny, meeny, miny, moe' to choose between two cars.
In the film, he admits to having used the word, although he did "everything in my power" not to. However, he says, his "efforts obviously weren't quite good enough".
"Please be assured I did everything in my power to not use that word, as I'm sitting here begging your forgiveness for the fact my efforts obviously weren't quite good enough, thank you," he said in the film.
Footage of the offending comments was published on The Mirror's website yesterday. In it, he recites the well-known children's rhyme, apparently mumbling, "Catch a n****r by his toe." He dismissed the clip, writing on Twitter:
"I did not use the N-word. Never use it. The Mirror has gone way too far this time."
The BBC has since issued a statement: "Jeremy Clarkson has set out the background to this regrettable episode," the statement read. "We have made it absolutely clear to him, the standards the BBC expects on air and off. We have left him in no doubt about how seriously we view this."
Clarkson is thought to have earned £14 million last year for his work on Top Gear. The Guardian reports that he allegedly met with the BBC yesterday as part of the corporation's investigations into the claims.
Clarkson has been accused of racism before – only last week the BBC was forced to issue an apology after he appeared to have referred to an Asian man as a "slope" on a recent Top Gear episode.
Aliya Mohammed, the chief executive of Race Equality First, said that the BBC needed to take immediate action.
"I am appalled at yet another open display of racism from Clarkson," she told The Guardian. "How many racist comments will the BBC allow from the presenter? It makes me question whether Clarkson feels it would be acceptable because he thinks viewers and others within the BBC share his views."
Clarkson's full apology:
"Ordinarily I don't respond to newspaper allegations but on this occasion I feel I must make an exception. A couple of years ago I recorded an item for Top Gear in which I quote the rhyme 'Eeny, meeny, miny, moe'. Of course, I was well aware that in the best-known version of this rhyme there is a racist expression that I was extremely keen to avoid. The full rushes show that I did three takes. In two, I mumbled where the offensive word would normally occur and in the third I replaced it altogether with the word teacher. Now when I viewed this footage several weeks later I realised that in one of the mumbled versions if you listen very carefully with the sound turned right up it did appear that I'd actually used the word I was trying to obscure. I was mortified by this, horrified. It is a word I loathe and I did everything in my power to make sure that that version did not appear in the programme that was transmitted.
"I have here the note that was sent at the time to the production office and it says: 'I didn't use the N-word here but I've just listened through my headphones and it sounds like I did. Is there another take that we could use?
"Please be assured I did everything in my power to not use that word, as I'm sitting here begging your forgiveness for the fact my efforts obviously weren't quite good enough, thank you."
Register for free to continue reading
Registration is a free and easy way to support our truly independent journalism
By registering, you will also enjoy limited access to Premium articles, exclusive newsletters, commenting, and virtual events with our leading journalists
Already have an account? sign in
Join our new commenting forum
Join thought-provoking conversations, follow other Independent readers and see their replies