Jeremy Clarkson sacked from Top Gear: BBC deliver verdict to presenter following 'fracas' with show producer Oisin Tymon
The broadcaster reached a decision not to renew the Top Gear presenter's contract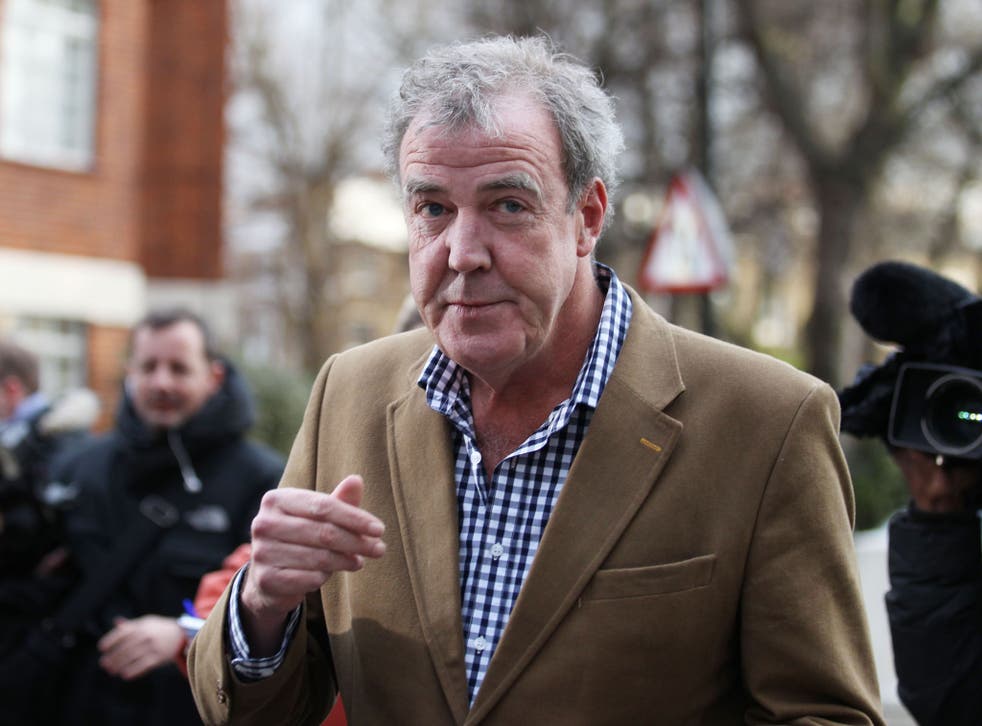 Jeremy Clarkson has been sacked by the BBC for assaulting a producer on Top Gear, it has been confirmed.
The broadcaster reached a decision not to renew the presenter's contract after an investigation concluded he punched Oisin Tymon following a row over catering arrangements.
The inquiry, led by BBC Scotland director Ken MacQuarrie, concluded that Clarkson verbally abused Tymon for 20 minutes before launching a 30-second physical assault on the producer at a luxury Yorkshire hotel.
A statement from BBC director general Tony Hall read: "It is with great regret that I have told Jeremy Clarkson today that the BBC will not be renewing his contract. It is not a decision I have taken lightly. I have done so only after a very careful consideration of the facts and after personally meeting both Jeremy and Oisin Tymon.
"I am grateful to Ken MacQuarrie for the thorough way he has conducted an investigation of the incident on 4th March. Given the obvious and very genuine public interest in this I am publishing the findings of his report. I take no pleasure in doing so. I am only making them public so people can better understand the background. I know how popular the programme is and I also know that this decision will divide opinion. The main facts are not disputed by those involved.
"I want to make three points.
"First – The BBC is a broad church. Our strength in many ways lies in that diversity. We need distinctive and different voices but they cannot come at any price. Common to all at the BBC have to be standards of decency and respect. I cannot condone what has happened on this occasion. A member of staff – who is a completely innocent party – took himself to Accident and Emergency after a physical altercation accompanied by sustained and prolonged verbal abuse of an extreme nature. For me a line has been crossed. There cannot be one rule for one and one rule for another dictated by either rank, or public relations and commercial considerations.
"Second – This has obviously been difficult for everyone involved but in particular for Oisin. I want to make clear that no blame attaches to him for this incident. He has behaved with huge integrity throughout. As a senior producer at the BBC he will continue to have an important role within the organisation in the future.
"Third – Obviously none of us wanted to find ourselves in this position. This decision should in no way detract from the extraordinary contribution that Jeremy Clarkson has made to the BBC. I have always personally been a great fan of his work and Top Gear. Jeremy is a huge talent. He may be leaving the BBC but I am sure he will continue to entertain, challenge and amuse audiences for many years to come.
"The BBC must now look to renew Top Gear for 2016. This will be a big challenge and there is no point in pretending otherwise. I have asked Kim Shillinglaw to look at how best we might take this forward over the coming months. I have also asked her to look at how we put out the last programmes in the current series."
The BBC vowed that the show, which generates an estimated £50 million a year for the BBC, would continue with a new presenter line-up.
According to the Daily Telegraph, senior BBC executives are attempting to convince radio host Chris Evans to take over his role.
Evans has previously ruled himself out of the running to replace Clarkson.
He told listeners to his Radio 2 show. "Not only is it not true, it's absolute nonsense. From what I've seen on Twitter and various social media, there's a 50/50 split approximately as to whether me being involved in the show is a good idea.
"I'm voting a no for myself on that show, so that's never going to happen."
Show sources have since indicated that were Clarkson to be sacked, his co-presenters Richard Hammond and James May would be expected to go ahead with a series of live events planned this year.
On Monday, The Times quoted a source as saying that Clarkson is already thinking of himself as a man for hire and has even started to pitch new TV shows.
Jeremy Clarkson's Top 25 Most Obnoxious Lines

Show all 26
One of which, according to the report, sounds stunningly like Man v Countryfile.
"In the last week [Jeremy] has had a chance to firm it up," the insider apparently told the paper.
"It's about trying to run a farm when you don't know anything about farming, and... getting things wrong, in a Top Gear-esque way."
Clarkson is thought to have originally pitched the idea to George Entwistle, the BBC's then director general, in 2012. The Times alleges the project ended because the two failed to agree on a location.
Other reports suggest Clarkson's future may lie in the US – there were rumours that the online subscription platform Netflix could build a show around him. ITV is a possible destination if he remains in Britain.
The news comes as four live Top Gear performances in Stavanger, Norway, due to be held on 27 and 28 March, have been cancelled.
About 18,000 tickets, costing up to £100, for the shows had been sold.
Join our new commenting forum
Join thought-provoking conversations, follow other Independent readers and see their replies