Jeremy Clarkson suspended: 'Fracas' due to 'argument over steak'
The Top Gear presenter was reportedly annoyed that there was no hot food available at the hotel where he and crew were staying during filming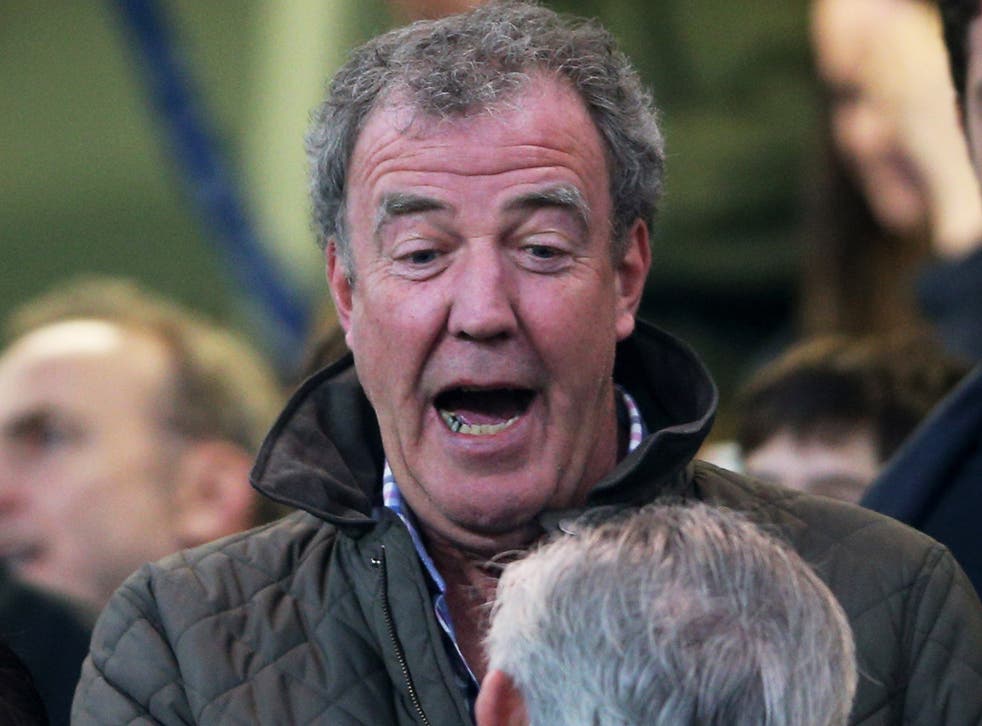 Jeremy Clarkson's suspension by the BBC was reportedly caused by an argument over a steak.
The Top Gear presenter is said to have been annoyed that he could not order hot food while he and fellow cast and crew members were filming at Simonstone Hall Hotel near Hawes, North Yorkshire
According to The Sun and Mirror, the hotel's chef had gone home by the time they arrived and the stars were offered cold meat and cheese platters- but Clarkson requested a £21.95 steak.
It is this chain of events that is said to have led to Clarkson allegedly punching producer Oisin Tymon during what the corporation officially described as a "fracas".
However, witnesses have said that no fists were actually thrown – although they have confirmed that Clarkson was angry.
A local told the Sun: "Clarkson didn't like the idea of sandwiches and demanded a juicy steak. He wanted his own way.
"The producer was being blamed for not arranging hot food.
"Clarkson didn't hit him — but he did use every possible swear word you can imagine. He had to be held back. The producer just stood there looking embarrassed."
The general manager is said to have acceded to Clarkson's request by cooking the steak, before apologising the next morning.
Jeremy Clarkson's Top 25 Most Obnoxious Lines

Show all 26
The details emerged after Prime Minister David Cameron backed the star, calling him a "huge talent" and saying he hoped the situation could be resolved so his children would not be left "heartbroken".
BBC director-general Tony Hall also said he was a "fan" of Clarkson, but added that allegations of a fracas were "serious".
When asked if he was concerned about losing his position at the BBC, Clarkson was quoted by the Mirror as saying: "Well it's coming, isn't it? Honestly, it's very soon. Let's just let sleeping dogs lie for the moment."
More than 650,000 people from across the world have signed an online petition demanding that the outspoken host be reinstated.
Yesterday, the 54-year-old joked as he left his flat in Kensington amid a media scrum.
He said: "I've been suspended haven't I? I'm just off to the job centre. At least I'm going to be able to get to the Chelsea match tonight."
Asked if his suspension was over a row about food he said "no, no, no" but said "yes" when asked if he had any regrets about what had happened.
It has been reported that a BBC disciplinary panel has already been convened to decide his fate.
Ken MacQuarrie, the head of BBC Scotland who conducted the investigation into Newsnight's false expose of Lord McAlpine, is to chair the panel, the Radio Times said, with witnesses expected to be called by the end of the week.
A formal disciplinary letter summoning the presenter to appear at the hearing is expected to be posted today.
A lawyer for Mr Tymon said his client "intends to await the outcome of the BBC investigation and will make no comment until that investigation is complete".
Lord Hall confirmed that an investigation was taking place, telling reporters after an appearance at the European Scrutiny Committee: "The most important thing in anything like this is to gather the facts. We do not have the facts at the moment."
He added: "I am a fan of Jeremy Clarkson but this is a serious thing that is alleged to have taken place."
Clarkson could walk away from the show when his contract runs out at the end of the month.
All three of the show's hosts were understood to be days away from signing new contracts that would have kept them at the wheel of the show for another three years when Clarkson was suspended.
Two episodes of this series have been postponed and the future of the third and final episode is unclear.
Additional reporting by Press Association
Join our new commenting forum
Join thought-provoking conversations, follow other Independent readers and see their replies