Jeremy Paxman interviewed by Jon Snow: 'Twitter is for people with nothing going on between their ears'
The veteran news anchor made the comments in a grilling ahead of his final Newsnight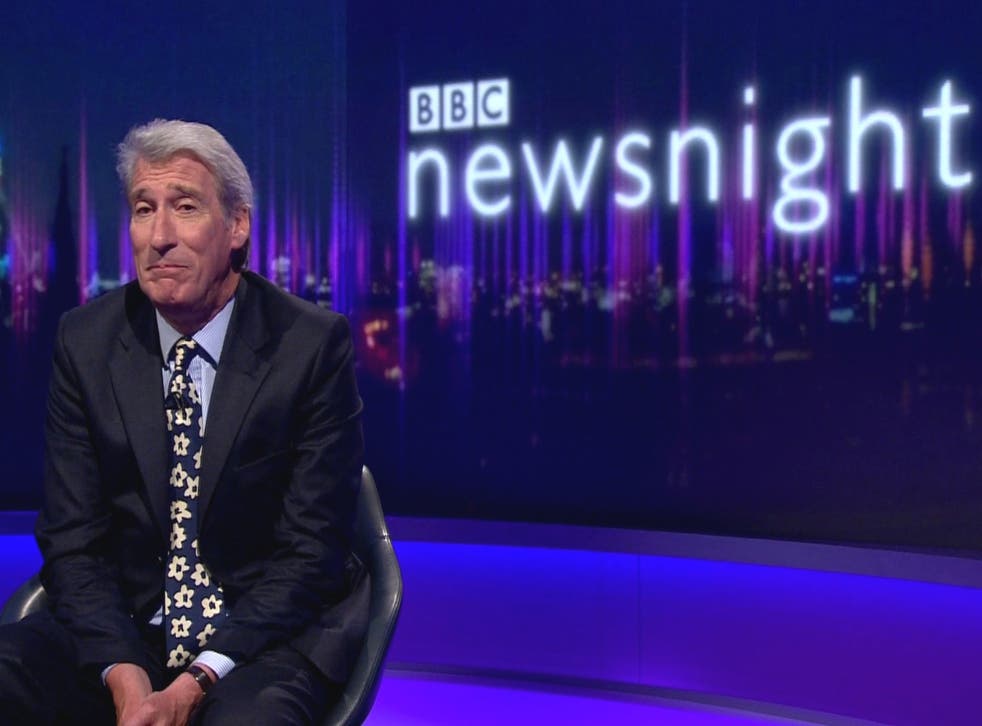 Jeremy Paxman has said Twitter is for people who have "nothing going on between their ears, or nothing going on in their lives".
Speaking to fellow anchor Jon Snow as he bowed out of Newsnight last night, the "grand inquisitor" made his feelings on the popular social media platform clear.
"I don't want anyone to follow me; do you want people to follow you? Have you got some sort of Messiah Complex? I mean it's ridiculous," Paxman said.
Adding that he had once been asked by a former editor to start tweeting, Paxman said that he could only think of four tweets, including a musing concerning tea and biscuits.
And when Snow replied that he could use the medium to point people to ideas that might hold "value", he replied somewhat bemusedly: "Marvellous, well I wish you joy with it. I don't get it."
Paxman's final show saw Boris Johnson become the last person to face the veteran broadcaster's abrasive interviewing technique, but the London mayor had only warm words to say about him.
As he signed off the BBC2 programme for the final time last night, Paxman told viewers: "I'll just say thank you for watching Newsnight. I hope you continue to enjoy it. Goodnight and goodbye."
Earlier in the programme - which also saw Paxman grill Labour peer Lord Mandelson on Iraq - viewers were treated to a more light-hearted pre-recorded segment featuring the presenter cycling around London with the mayor on a tandem.
Mr Johnson told Paxman he was "a landmark of our culture" while members of the public were heard in the background shouting at the pair, prompting Paxman to ask the mayor if people often shouted at him.
"Normally they shout, 'You Tory tosser'," Johnson replied.
The mayor went on to say: "This is Jeremy's valedictory programme, and I just want to say on behalf of Jeremy's many, many admirers, that there will be a lot of people who are very sad to see you go.
"Because he has kept the nation entertained - if not always awake - for many, many years and has been an adornment to broadcasting."
Twitter handles we'd like to see

Show all 8
Paxman announced his departure from BBC2's flagship current affairs show in April, saying he wanted to "go to bed at much the same time as most people".
Asked by Snow about Newsnight's future, Paxman said: "I hope it's going to go on for years. No programme has a God-given right to exist forever, of course.
"There comes a point in the life of old codgers where they've got to give up. Of course I'll miss it - working with lots of clever and talented people. And having a laugh."
He said he had wanted to leave before he got to the point where his colleagues might say: "I wonder if that old bugger's going to get the wrong end of the stick tonight."
He described the BBC as a "noble, noble ambition and enterprise" but admitted that he hated the new Broadcasting House.
According to The Guardian, Paxman is understood to be considering joining Channel 4, working on programmes that combine news and comedy.
Snow referenced the potential move in his interview, but Paxman kept tight-lipped.
"I don't know Jon," he said."
Additional reporting by Press Association
Join our new commenting forum
Join thought-provoking conversations, follow other Independent readers and see their replies