Kathy Griffin quits Fashion Police with inspiring declaration that she does not want to 'contribute to a culture of unattainable perfectionism'
The comedian said the panel programme did not sit well with her 'brand of humour', which is all about 'context'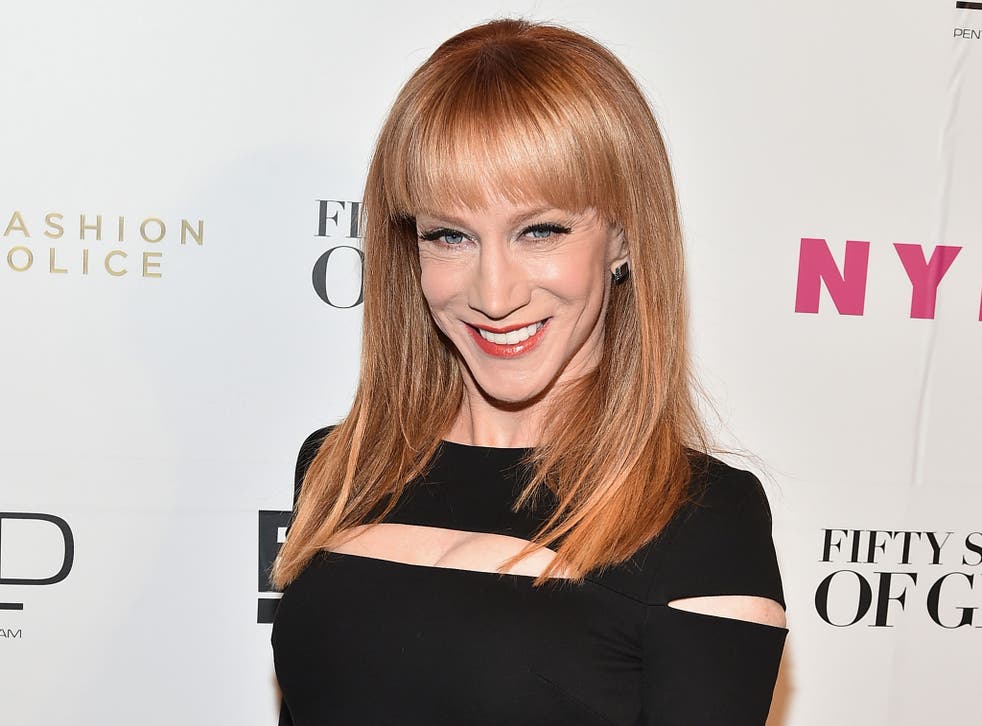 Kathy Griffin has quit US talk show Fashion Police with the positive feminist affirmation that she is no longer willing to "contribute to a culture of unattainable perfectionism and intolerance towards difference".
The comedian and actress, who stepped into the role following the death of her friend Joan Rivers, is a well-known rights activist for both women and the LGBT community.
And she said that her role on the programme, which is aired on E!, no longer sat well with her deeply-held values.
"Listen, I'm no saint – I'm a feminist AND a Gurrrrl who loves an offensive joke or well-timed barb and you will find plenty in my repertoire," Griffin wrote in statement posted on her Twitter account.
"But I do not want to use my comedy to contribute to a culture of unattainable perfectionism and intolerance towards difference. I want to help women, gay kids, people of colour and anyone who feels underrepresented to have a voice and a LAUGH!"
Fashion Police is a panel show in which hosts comment on celebrity style. The humour is often barbed and personal – Rivers was known for calling female celebrities fat.
Griffin, 54, joined in January following the death of Rivers in December.
And after appearing in just seven episodes, she has called it quits.
"I am a freedom-loving female and gay rights activist who loves to find the funny in all people, attitudes, beliefs, and appearances, but only when the context permits intelligent humour," she said in the statement.
"I thought that I could bring my own brand of humour to Fashion Police so that beautiful people in beautiful dresses could be teased when appropriate.
"My brand of humour, while unrepentant and unafraid, is all about CONTEXT. There is plenty to make fun of in pop culture without bring people's bodies into it. Again people… context!"
Griffin is not the first person to depart the show based on her principles. Former host Kelly Osbourne left last month following jokes made about singer Zendaya Coleman, with whom she is friends.
Fellow host Giuliana Rancic was accused of racism after making a comment about the 18-year-old's hairstyle at the Oscars. "I feel like she smells like patchouli oil," she said. "Or maybe weed," she added in response to the suggestion of another host.
Coleman described the comments as "ignorant slurs" that evidenced "pure disrespect".
Rancic went on to issue an apology to Coleman in an emotional recording. She said: "I'd really like to address something that is weighing very heavy on my heart. I want to apologise for a comment that I made on last night's Fashion Police about Zendaya's hair."
"Now, as you know, Fashion Police is a show that pokes fun at celebrities in good spirit, but I do understand that something I said last night did cross the line.
"I just want everyone to know, I didn't intend to hurt anybody - but I've learned it's not my intent that matters, it's the result. And the result is that people are offended, including Zendaya, and that is not OK. Therefore, I want to say to Zendaya, and anyone else out there that I have hurt, that I am so, so sincerely sorry. This really has been a learning experience for me."
She added: "This incident has taught me to be a lot more aware of clichés and stereotypes - how much damage they can do, and that I am responsible, as we all are."
Yesterday Osbourne tweeted her support for Griffin, writing: "I could not be more proud of you @kathygriffin you have my love and support always." The tweet was accompanied by a picture of the pair touching tongues.
However, despite her candid words, Griffin remained positive about her experience. "I discovered that my style does not fit with the creative direction of the show and now it's time to move on," Griffin said in the statement.
Join our new commenting forum
Join thought-provoking conversations, follow other Independent readers and see their replies