Kim Fowley: Record producer, singer and songwriter best known for creating the influential teenage girl band the Runaways
The ultimate mover, shaker and hustler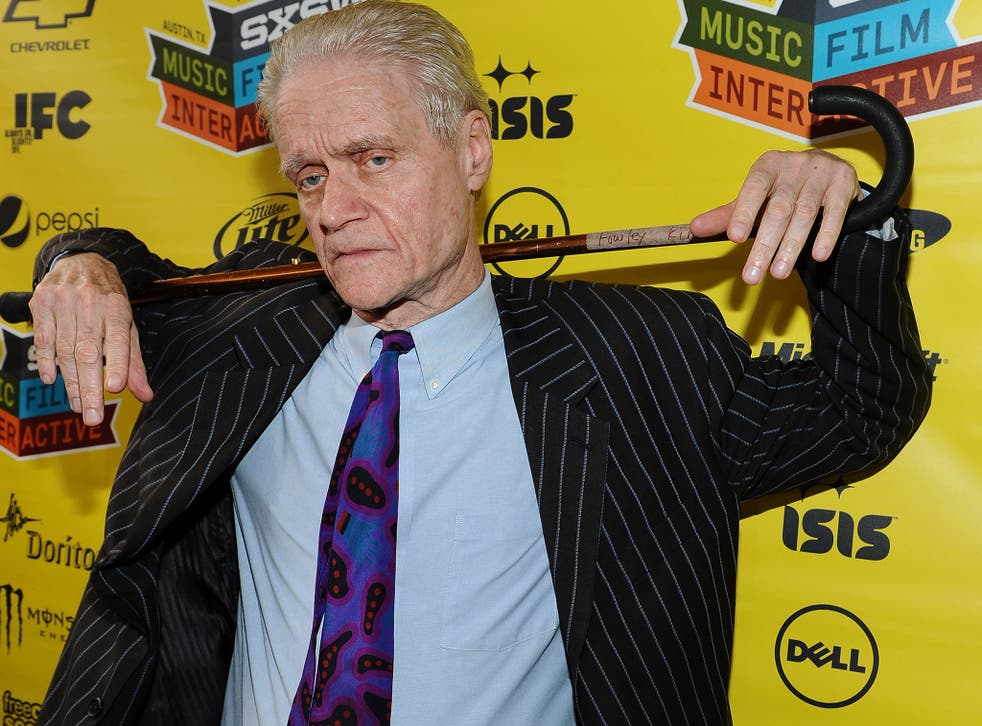 Looking by his own admission like the creature in Frankenstein, and about as unsettling a presence when in full, self-aggrandising flow, the record producer, singer, songwriter, nusic publisher and svengali Kim Fowley was the ultimate mover, shaker and hustler, as well as inveterate name-dropper.
The many entertaining stories attested to the vitality and dedication of a Zelig-like character whose 7ft frame, piercing blue eyes and lugubrious appearance could never blend into the background. He was in Swingin' London in the mid-1960s, where he befriended the Beatles, upset Mick Jagger and co-wrote "Portobello Road" with Cat Stevens, and for five and a half decades was part of the scenes that ebbed and flowed around Hollywood's notorious Sunset Strip, including cameos with Frank Zappa's Mothers Of Invention, the Byrds and Alice Cooper. Whatever he did, whether it was re-recording Napoleon XIV's "They're Coming To Take Me Away, Ha Haa!" in 1966, helping Van Halen chose their name in 1974 or creating the influential all-girl teenage band the Runaways in 1975, he was always Kim Fowley.
His myriad '60s projects included the irresistible "Alley-Oop" by the Hollywood Argyles, a group he assembled on the hoof, the instrumental "Nut Rocker", a demented adaptation of Tchaikovsky's Nutcracker Suite credited to B Bumble & the Stingers, a UK No 1 in 1962, "Papa-Oom-Mow-Mow" by the Rivingtons and the evergreen "Popsicles & Icicles" by the girl vocal group the Mermaids, composed by David Gates, whom he discovered.
In London he produced Slade when they were still the N'Betweens, the Hellions, featuring Jim Capaldi and Dave Mason, later of Traffic, as well as the Soft Machine, whose management company also handled Jimi Hendrix, whom he successfully advised Reprise Records to sign in the US.
"I see how my own personality got in the way of my talent," he said. "I wasn't really talented as a performer, even though I was good, but I was great as a strategist." He was in his pomp in the 1970s, when he used his encyclopaedic knowledge of doo-wop and rock'n'roll to create new recordings by the revival group Flash Cadillac & the Continental Kids for American Graffiti, George Lucas's coming-of-age movie; wrote lyrics for KISS, Kris Kristofferson and Leon Russell; and produced the proto-punk band the Modern Lovers, featuring Jonathan Richman, the Australian-born MOR singer Helen Reddy and Eurovision winner Vicky Leandros.
He also issued a series of solo albums that fuelled the cult following he had started to attract with semi-improvised recordings like "The Trip" – a staple of free-form radio at the time, his hippie cash-in debut Love Is Alive And Well, and Outrageous, whose blend of psychedelia, garage rock and narratives at the crossroads of Bob Dylan, Jim Morrison and Iggy Pop would go on to influence 1980s performers like Julian Cope and Sonic Youth as well as BMX Bandits and Teenage Fanclub, two Scottish acts with whom he later collaborated.
There had been other all-girl bands playing their instruments, but Fowley's Runaways made much more of an impact. He encouraged Joan Jett, Lita Ford, Cherie Currie, Sandy West and Jackie Fox to behave like the rock'n'roll teenagers they were, co-wrote several songs on their eponymous debut, including the Ramones-like single "Cherry Bomb" and produced all three albums before they parted company.
Controversial then and even more unsavoury now, especially given Fowley's penchant for younger women, their jailbait image meant they weren't taken seriously. The solo success of Jett and Ford and the emergence of the riot grrl groups of the '90s now place them in a different cultural context. Fowley was portrayed by Michael Shannon in the 2010 The Runaways biopic; after decades of estrangement from his former charges he was reconciled with Currie, who helped care for him at her home following his bladder cancer diagnosis last year.
I spent a day with Fowley in the 1990s and surmised that his constant hustling and tiresome sexism came from textbook abandonment issues. Born in Los Angeles in 1939, he was the son of actor Douglas Fowley, Doc Holliday in the 1950s TV series Wyatt Earp, and Shelby Payne, the cigarette girl in Howard Hawks's The Big Sleep. When they separated and remarried he spent time in a foster home and with both households but didn't get on with his stepfather, Hollywood arranger William Friml. "He assumed I was an idiot actor's child with no musicality who couldn't play the scales the first time I tried. Therefore, I was a piece of garbage," said Fowley, who also survived a bout of polio. In 1958 he enlisted in the army to avoid going to jail for selling booze to underage schoolfriends. He began making novelty records like "Charge!" by the Renegades in 1959 and topped the US charts with "Alley Oop" the following year.
Fowley was the MC who suggested the audience light matches and lighters to welcome John Lennon and the Plastic Ono Band on stage in Toronto in 1969. He remained a one-off, a car-phobic living in Los Angeles, with no regrets. "I'll probably end up in hell because I like dirty women and I think heaven will be the Osmonds and Pat Boone," he said in 2003. "So I think Hell will have better music and I think I'm doomed to be there."
Kim Vincent Fowley, record producer, singer, songwriter and music publisher: born Los Angeles 21 July 1939; twice married; died Los Angeles 15 January 2015.
Join our new commenting forum
Join thought-provoking conversations, follow other Independent readers and see their replies