Laverne Cox: 'We live in a binary world: it can change'
The star of 'Orange is the New Black' talks about how she found herself taking on a mission to represent trans women on screen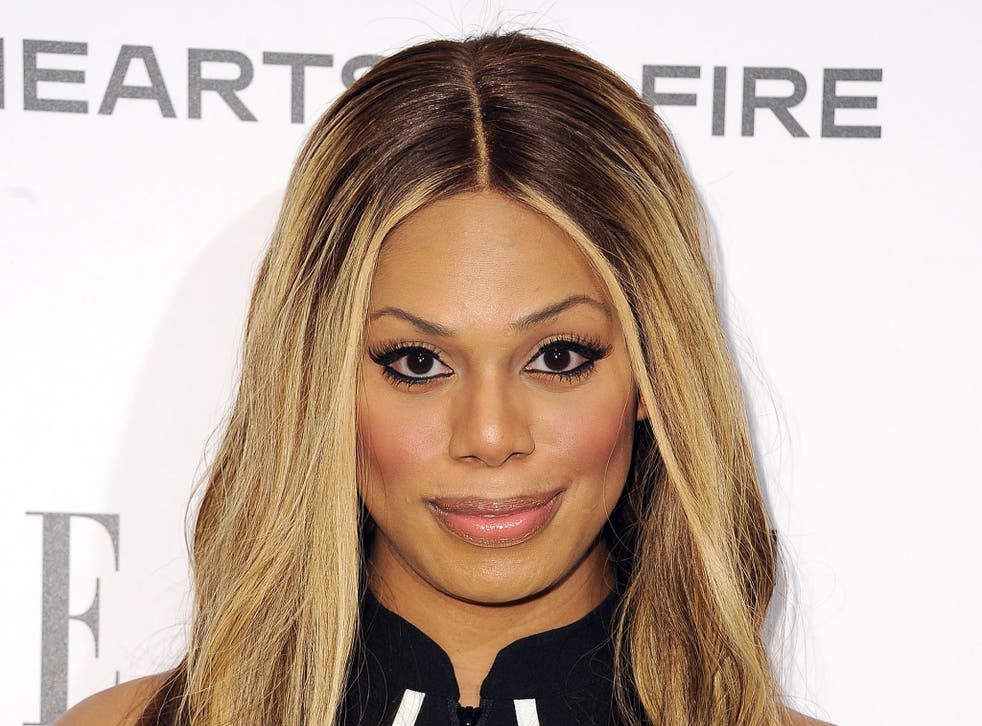 Laverne Cox is having a hell of a year. As Sophia Burset, a former firefighter serving time for credit-card fraud, Cox is the breakout star of Netflix's addictive prison drama, Orange is the New Black, which returns for its second season next week. And she's the first black transgender woman to have a leading role on a major US television show. Her character of Sophia – tender, intense, often very funny – is the prison's hairdresser, and the episode which told the story of her time as a firefighter, her marriage, her transition and how she ended up in jail was one of the strongest (and most emotional) of the first season.
But Cox has her own, equally powerful, story to tell. An advocate for trans rights, she delivered a stirring speech at this year's Creating Change conference for LGBT Equality in Houston, Texas. Then she made headlines in America when she gently but firmly shut down journalist Katie Couric's invasive questions regarding surgery. Her omission from Time's people of the year list caused outrage. But, next week, she is the magazine's cover story, and Time asks if a tipping point has been reached in the transgender movement.
There are seasoned stars who would find the fierce glare of all this attention too much to handle, yet Cox makes dealing with fame and its aftershocks seem effortless. When we speak on the phone, it's 8am in New York and she's in hair and make-up for a project so secret she has to check whether she can mention it (the answer: a resounding "no", sadly). Yet Cox is fazed by neither the early hour nor the competing demands on her time, and is open about everything except her age ("I'm over 21, you can say that," she concedes, laughing). Our conversation ranges from the frustration at the casting of male actors in trans female roles – "As an actor I get it, and I'm never going to say an actor shouldn't take a role, but given there are so few well-rounded trans female roles out there, of course you would like the chance to play them" – to the difficulties of dating.
"I am dating someone at the moment but I do find it hard," she says. "It's challenging because there are so many misconceptions about men who date trans women and many of them feel this really intense shame. I've dated many men who didn't want to be seen in public with me and kept me in the closet. I don't do that any more because it's not acceptable, but for many years I thought that was the reality of dating as a trans woman, that I was something to be ashamed of. These days I only date men who like and admire me and are comfortable with themselves."
If Cox's knowledge seems hard won, it's because it is – the result of a lifetime of withstanding well-aimed kicks and sharp-tuned insults. She grew up in the southern US town of Mobile, Alabama, a sensitive, bullied child who loved to dance and perform and dreamed of doing so on a wider stage. She has talked previously of a suicide attempt at the age of 11 but today seems to have made peace with her past. "Oh Mobile, Alabama," she says with an almost amused sigh. "You know, I think of a lot of lovely things when I think of my childhood, most of all the fact that my mother didn't want me to dance but let me do it anyway. But yes, I was assaulted a lot as a child. It became the case that I couldn't be in Alabama and be who I was. I love going back to visit and appreciate it more but it's not a place where I would live again."
As a young dancer she glimpsed the possibilities of a bigger, more glamorous life in cities such as San Francisco and New York while becoming aware that a career in dance was not for her. "The ballet training gave me discipline and taught me to have a work ethic, but there was always something shaming for me about ballet because so much of it is about having the perfect body, and I didn't." Searching for a world in which she did fit, Cox moved to New York where she studied dance at Marymount College and hung out on the club scene. "It was the first time that I felt celebrated for who I was. I was still getting harassed on the streets for how I looked but at night I was a star."
Early on in her acting career she took a left-field turn into reality television: she appeared on VH1's I Want to Work For Diddy in which hip-hop boss Sean "P Diddy" Combs auditioned for a new assistant. Later, she hosted her own make-over show, TRANSform Me. "My twin brother [performance artist and musician M Lamar] thought I was crazy," she admits. "He kept saying, 'You're a serious actress, you shouldn't do this' …. But [just before the Diddy offer] I'd passed by a group of young black men in Manhattan and they'd started with gay slurs and trans slurs and one of them said, 'That's a man', and then another one kicked me and it was just the final straw. So, when I got the chance to do this show I said yes – but if it's for shock value I'm not interested. Because my reason for appearing was to make history, by having this hip-hop mogul embrace me on TV. Black people watch shows the whole time wondering where the black people are, and I did that, but I also watched shows as a trans person wondering where all the trans people are. Then I thought: maybe instead of wondering [about it], you should be that person."
Despite reality success, only small television parts followed. "There were years when I thought I was done – before Orange is the New Black came along, I was thinking of going to grad school," she admits. She is nothing if not indomitable. Let others say a trans actress is destined for a life on the margins; Cox was determined to take centre stage. "The first time my brother saw me act he said, 'You're amazing. This is what you should be doing', but he never thought I'd be mainstream," she says. "I remind him of that."
The part of Sophia – a well-written trans woman with real depth – was a role in a million. "I feel really blessed and grateful, because this was the part I had been waiting all my life for," she says. "But while it is lovely that I'm having this moment, and while I do think trans people are getting more visibility on our terms, we are still living in a state of emergency for trans people. There is disproportionate prejudice against trans women, and trans women of colour face violence. There are companies that won't hire trans people. The suicide rates are far higher than in the rest of the population. In US schools, 78 per cent of trans children report harassment from their peers.
"We still live in a binary world in which the idea is imposed on us that there are only two genders; we need to change that perception." Cox is determined to use the platform that OITNB has given her to raise awareness of the plight of her trans sisters, and is working on a documentary about CeCe McDonald – who was jailed for killing a man who attacked her – as well as ensuring other cases aren't forgotten. "Monica Jones falsely arrested for prostitution; Jewelyes Gutierrez charged with battery for taking on her school bullies; Islan Nettles beaten to death for being a trans woman …" as Cox recites their names it becomes clear that where other actresses see fame as a reward, she sees it as a weapon, a way of reminding the world of its injustice towards those it struggles to understand.
'Orange is the New Black' Season 2 is on Netflix from 6 June
What's so great about 'orange is the new black'?
1. The tone
We live in an age of "serious" drama filled with men muttering portentously about life, death and everything in between. By contrast, OITNB undercuts its darker moments with humour. This is a show that's not afraid to laugh and it's all the better for it.
2. The structure
When the show started you may have thought that it was all about middle-class white girl Piper Chapman and how she coped with jail. In fact OITNB is one of the best ensemble pieces on TV with each character getting an episode to fill in their (often extremely moving) back-stories.
3. The anti-heroine
That said, Piper (the excellent Taylor Schilling) is the nominal lead – and a fabulously dislikeable one at that. Uptight, snippy, spoilt and prone to making gloriously clueless statements, Piper makes a wonderful anti-heroine.
4. The diversity
OITNB has the most diverse cast on television (although, admittedly, that says more about television than it does about the show). In addition to Laverne Cox as US television's first black transgender actress, there are strong roles for a number of black and Latina actresses including the fantastic Danielle Brooks and Samira Wiley, who play best friends Taystee and Poussey.
5. The dialogue
Talking of Taystee and Poussey, they also have the best lines: from Taystee's description of why she gave up drinking – "So I'm sitting there, barbecue sauce on my titties …" – to Poussey's sardonic "We're all in here because we took a wrong turn going to church."
Join our new commenting forum
Join thought-provoking conversations, follow other Independent readers and see their replies