Lesley Manville interview: 'You wouldn't recognise me in the street'
Lesley Manville is on a career high, but wants to be invisible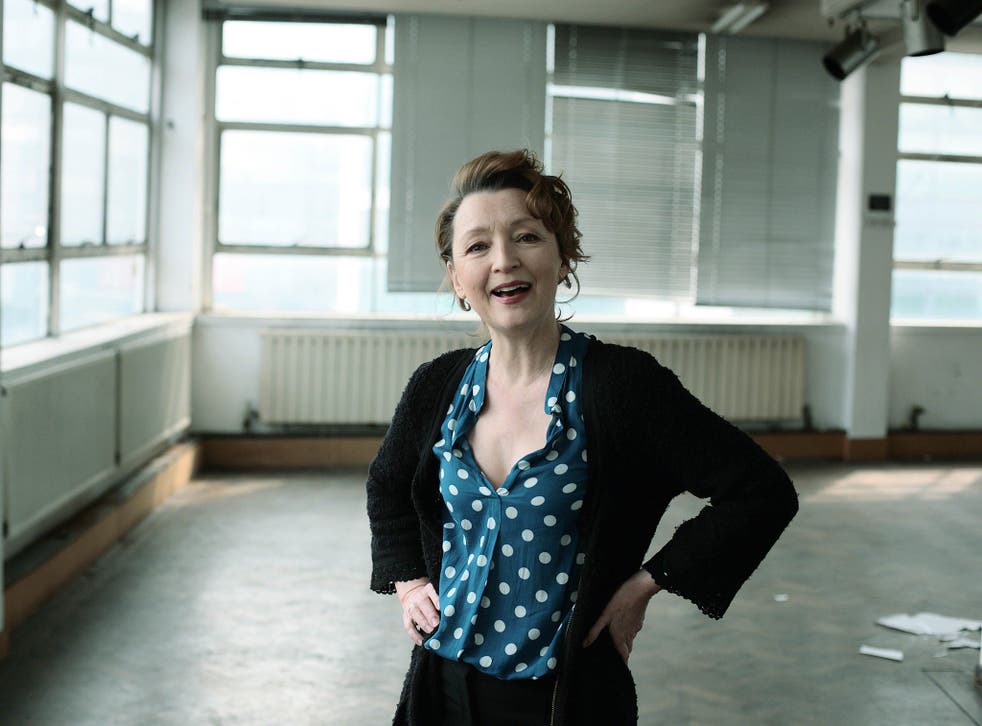 Lesley Manville doesn't get typecast. For while her CV includes numerous acclaimed performances in TV, theatre and film – most notably as a regular in Mike Leigh's work – she has never been stuck in a specific class or character, genre or style. "I'm quite chameleon in my work – not normally looking much like I do in real life," she says. What she looks like in real life – or at our meeting in a tiny member's bar in the West End, at any rate – is small, sprightly and bright-eyed with a hint of actressy glamour that makes her seem younger than her 58 years. But as if to prove her versatility, her current roster of roles includes a distraught mother in Ibsen's Ghosts, a pioneering scientist in Leigh's Mr Turner, and a blue pixie opposite Angelina Jolie's evil fairy in the Disney blockbuster Maleficent.
"People say, 'I know you, don't I?'" says Manville. "And they expect me to say I know them from their daughter's school or something – they can't place me. And I love that. Long may it last." She adds, however, that when she has been recognised recently, it's been because of Ghosts, which she's also very pleased about. Understandably so: Manville won both an Olivier and a Critics' Circle award for her performance as Mrs Alving in Richard Eyre's exhilarating version of Ibsen's 1881 play. It began life at the Almeida theatre last August before transferring to the West End, and now a filmed version of the show will be screened to more than 200 cinemas nationwide next month.
"It is great to take it to people who couldn't afford, or haven't got the time, to do a big journey to London – it is a great way of opening it up," says Manville. But as she also notes with pleasing forthrightness, the production had already done a good job of opening up this play. "I knew [it] was a bloody good evening in the theatre ... a lot of people think that Ibsen's a bit inaccessible and stiff and dry – and this was none of those things. It's a classic play that was ripe for being reworked."
Key to this reworking was Eyre's decision to stage it as a brisk, urgent 90 minutes, without an interval – a decision which proved popular. "Richard hasn't cut anything, but he really has trimmed the fat. I think we're entering an era of the non-interval, and people are loving it."
Eyre, whom Manville had known "for decades" but never worked with, sent her a script last January – "and there was absolutely no question in my mind after one reading that I was going to do it," she says. She re-read it each month before rehearsals started, living with the character of Helene Alving, a tormented but strong-willed widow who rails against society's injustice, hypocrisy and misogyny.
"He was so amazingly ahead of his time in the way he wrote women," says Manville, who also played the spirited Lona Hessel in Ibsen's Pillars of the Community at the National in 2005. She wishes she'd had a go at Nora from A Doll's House and Hedda Gabler too. "It's a bit late now," she concedes, although she's got her eye on another great tragic role: she teasingly drops into conversation that discussions are afoot about Lady Macbeth…
But Mrs Alving was as challenging a part as any, not least for the notoriously harrowing climactic scene in which she promises to euthanise her syphilis-ridden son Oswald after he returns to the family home following years of estrangement. In Eyre's production, it was astonishingly visceral: as well as tussling verbally, she and the actor playing Oswald (23-year-old Jack Lowden, also giving an Olivier award-winning turn) were throwing each other around the stage. As the curtain went down, there would be an aghast silence in place of applause: "That was a great feeling," says Manville. "And it has to be served up in that way – it should be messy."
Manville has a son, Alfie, from her short-lived marriage to the actor Gary Oldman. Alfie, like Oswald, is in his twenties; he works as a film cameraman. So was the part hard going, not only as an actress but also as a mother? "There was never a time in rehearsals when I said 'I sent Oswald away, he was seven', without crying." Manville recalls. "Even now it makes me cry!"
So it's no wonder Maleficent – a live-action retelling of Sleeping Beauty from the point of view of its villainess – was an appealing contrast. "It's nice for people to see me not blubbing over some dead child," she chuckles. Not that she's actually seen the film, despite it opening this week – it's been having its 3D effects polished. "I believe it's not quite ready yet," she says, scathingly. "Twenty months of post-production clearly wasn't enough!"
Manville is joined in the film by Imelda Staunton and Juno Temple as fellow pixies. The unlikely trio flew around a studio in harnesses and rubber suits to create the characters using motion capture. They practised Pilates for weeks, and were trained in tumbles by a performer from Cirque du Soleil.
"We had such a nice time," says Manville with unalloyed glee. "Imelda and I, we go way back, and it was just … hilarious. We've both done big, epic, tragic roles with Mike Leigh and then suddenly here you are as little pixies! I think they should do a spin-off. And they should do it fast – or we might be pixies in Zimmer frames!"
But the big question is: what was Angelina Jolie like to work with? Manville is cheerily dismissive. "Everyone wants a bit of gossip and there isn't any … She's just really nice."
Back in more highbrow territory, Manville can also be seen in Leigh's latest, Mr Turner, a biopic of the artist J M W Turner that has been garlanded with five- star reviews after showing at Cannes and is a strong contender for the Palme d'Or at the time of writing. She has a small part as Mary Somerville, a friend of the painter, but also "a formidable physicist, astronomer, geologist, all-round clever clogs". Manville spent months reading Somerville's memoirs, and clearly fell in love with this consummate multi-tasker: "I just got drawn into this amazing woman who not only had children, two marriages, ran a household, [but also] absolutely was a pioneering scientist. And she made jam!"
Manville says she didn't expect a part – she had lead roles in Leigh's previous two projects, the film Another Year and the play Grief, and had thought they were having a break from one other. "But, rather comically, the day before he was having a meet and greet for Mr Turner, he rang me up. I've never refused him." She loves Leigh's improvisational approach, although her rehearsals for Mr Turner lasted only a few weeks rather than the epic nine months she spent going through the wringer for Another Year, in which she gave a tour de force performance as the needy, barely functioning semi-alcoholic Mary.
Just don't call it method acting. "He gets you to be in character more than any director. But as soon as he says 'cut', you stop, you have a cup of tea and a laugh. And I don't take the characters I play home, I really don't – my counselling bills would be very high if I did …" She can play tragic widows or magic fairies, but in real life, this versatile actress clearly knows how to keep her feet on the ground.
'Maleficent' is in cinemas 28 May; 'Ghosts' screens nationwide on 26 June, for venue details see cinemalive.com; 'Mr Turner' is out in the autumn
Join our new commenting forum
Join thought-provoking conversations, follow other Independent readers and see their replies