Madhur Jaffrey: The doyenne of curry is back... but tikka's not
Forty years after her first book, the godmother of Indian cooking puts vegetables centre stage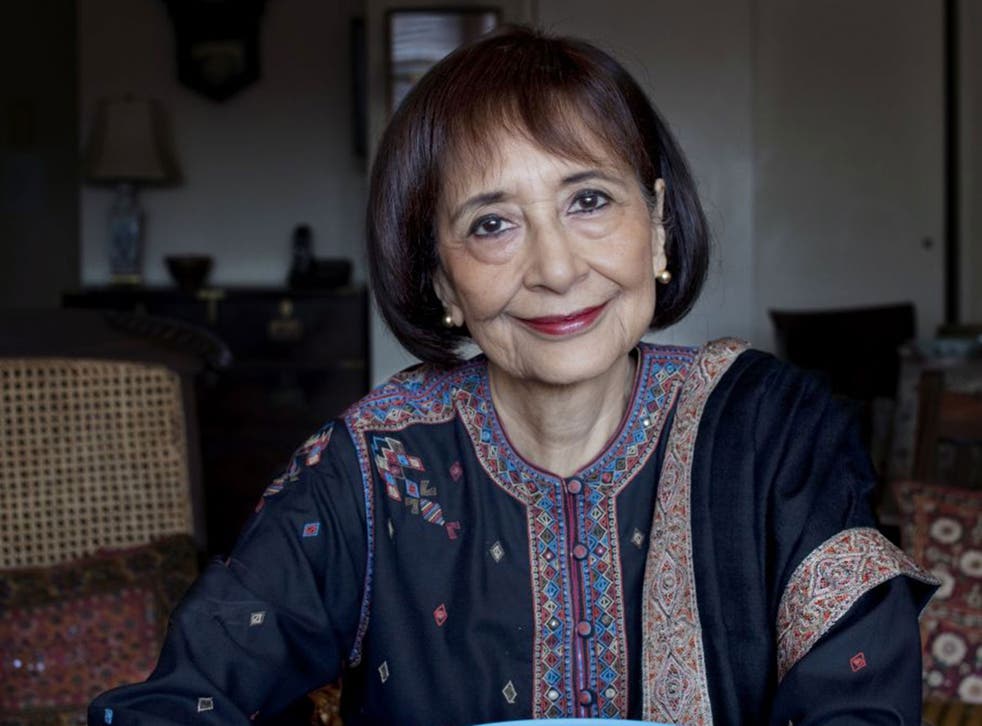 The godmother of Indian cooking is asking the British people to trust her. Madhur Jaffrey, speaking from her home in upstate New York, says: "They've trusted me this far. I want them to trust me further, and start learning new things."
The world's leading authority on curry will launch Curry Easy Vegetarian, her latest book, at the Cheltenham Literary Festival on Wednesday. Indian food without a classic korma or a lamb pasanda may seem rather drab to Britons not yet introduced to the new wave of Indian cookery. But Jaffrey, aged 81, has a track record of spotting an opportunity.
Her first book, An Invitation to Indian Cooking (1973), rubber-stamped Britain's love affair with Indian food. Her Ultimate Curry Bible, published three decades later, is still considered one of the most comprehensive books ever written on the subject.
Now it's time to push on. "If you want to know what Indian vegetarians really eat, dishes that are easy to cook, utterly authentic and can be made in minutes, then come along with me."
Meat-free cooking has grown in popularity, as one in eight people is now vegetarian, according to Mintel. Millions more are so-called "flexitarians", cutting back substantially on the amount of meat they eat but not quite going the whole hog. And chicken tikka masala, once the nation's favourite dish, has slumped in popularity, recently falling to 14th behind pizza and spag bol, according to a YouGov survey.
Curries have become synonymous with drunken office parties. "Look at the whole pub culture that serves Indian food on Thursdays, and it's all done by heat," Jaffrey says, almost despairingly. "You don't order a curry because it's cooked with cinnamon or glazed in jeera – you order it by how hot it will be."
When Jaffrey was a Rada student living in a north-London bedsit in 1955, hungry for home-style Indian cooking, she wrote to her mother for recipes. "There were just a handful of Indian restaurants and none of them were any good," she recalls. Part of the problem was that "You had Bangladeshis who started up Indian restaurants across the country. But they were not cooking what they knew. They had a feeling that their own dishes – fish, plain rice and dhal – wouldn't sell, and they were probably right," she says.
"Instead, they adopted north Indian food that they didn't understand nor knew how to cook." Things are changing, with new restaurants offering refined regional cooking, such as the Michelin-starred Gymkhana and the rapidly expanding Mumbai street-food chain Dishoom, both in London, and Mint and Mustard in Cardiff.
Readers of Jaffrey's new book should expect authenticity too. "I've presented the recipes, and said this is exactly what a vegetarian in India would do," she says. They include lemon rice studded with peanuts and toasted lentils, as served at ashrams, and a wild mushroom curry inspired by the hunter-gatherers of the southern Coorg hills of Karnataka.
Then there are tiffin meals (Indian-style packed lunches) and poha (flattened rice flakes), a Gujarati staple, including warmed poha tossed with fried cauliflower and peas, sharpened with lime juice, mustard seeds and crackling curry – which sounds delectable, but must surely a hassle to make.
"Rubbish," she insists. "It's so easy that even an idiot could make it. This is all stuff you can have just sitting in your larder. You take it out any time. You soak it. Then you squeeze the water out and stir-fry it with nice vegetables and it's all spicy and hot and delicious."
Does Britain feel more anti-immigrant than when she was first here? "India – and its food – will always be in the British blood," she says, adding that there's nothing particularly new about the rise of Ukip, nor Britain's tendency to agonise over immigration.
"Trust me," she says. "This has been going on since the days of Enoch Powell and will carry on well into our war against Isis."
And with that she prepares to return to England – with a plan for new Indian food that will win the affection of a nation, four decades after her first book did exactly that.
Join our new commenting forum
Join thought-provoking conversations, follow other Independent readers and see their replies