Malcolm Glazer dead: Manchester United and Tampa Bay Buccaneers owner dies at 85
His death was announced by the Tampa Bay Buccaneers
Lewis Smith
Wednesday 28 May 2014 21:41 Comments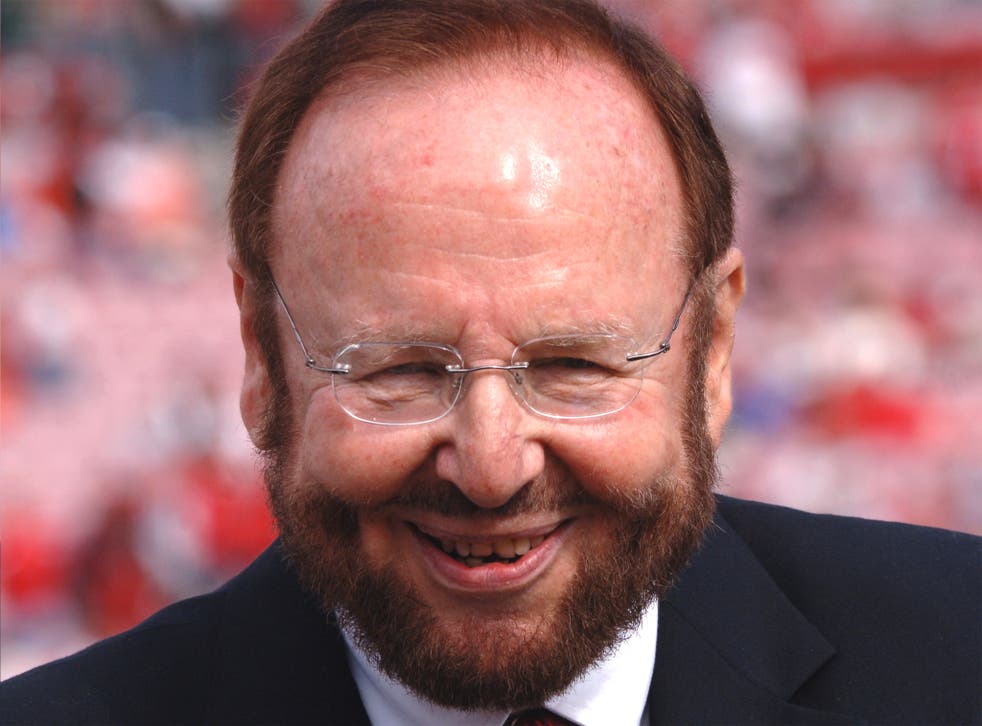 Malcolm Glazer, the controversial billionaire owner of Manchester United, has died.
Glazer bought Manchester United in 2005 for £790 million and presided over an era in which it won the Champions League and five premiership titles but he remained unpopular with many fans who believe he used the club as a cash cow to finance debts.
It remained unclear last night what the repercussions would be for the club, which with the retirement of manager Sir Alex Ferguson and the sacking of his successor David Moyes is already facing an uncertain future.
The club, which is 90 per cent owned by the Glazer family, downplayed the significance of his death and his three sons, Bryan, Joel and Avram, are on the board. A spokesperson at Old Trafford said: "The thoughts of everyone at United are with the family tonight."
Malcolm Glazer dies aged 85

Show all 10
His death, at the age of 86 on Wednesday, was announced by the Tampa Bay Buccaneers, the US NFL team that the self-made billionaire bought in 1995.
A statement issued by the NFL club said he had a "long established estate succession plan" which means the Buccaneers "will remain with the Glazer family for generations to come" but the future of Manchester United was not mentioned.
Glazer, one of seven children, was born in New York, and he took over the family watch business at the age of 15 when his father died. His investments over the years included holdings in companies such as Harley Davidson and Tonka. Forbes estimated him and his family to be $4 billion.
His health had been failing since 2006 when he suffered two strokes which left him with limited speech and movement.
His ownership of the Buccaneers transformed the team from a laughing stock to a model franchise and one of the most successful teams, including winning the Super Bowl, but his take-over of Manchester United was widely opposed by fans.
Even after a decade of continued success, however, many Manchester United fans accused him of using the club's money-making capacity to finance other debts rather than using it to invest in transfers and the club's future.
The club was debt-free when he bought it but now has debts amounting to £400 million. He borrowed to finance the purchase and then used the profits to pay off interest.
In its statement announcing his death the Buccaneers paid tribute to him as an owner and businessman.
"A pioneering thinker, Glazer rebuilt the Buccaneers into a model franchise and a Super Bowl winner.
"A dynamic business leader, Glazer helped mold the Buccaneers into a model franchise and one respected league-wide. Since being purchased by Glazer in 1995, the Buccaneers franchise has earned seven playoff berths, five playoff wins, and captured its first Super Bowl championship [in 2003]."
Register for free to continue reading
Registration is a free and easy way to support our truly independent journalism
By registering, you will also enjoy limited access to Premium articles, exclusive newsletters, commenting, and virtual events with our leading journalists
Already have an account? sign in
Join our new commenting forum
Join thought-provoking conversations, follow other Independent readers and see their replies