Maria Radner: Internationally acclaimed contralto who was due to make her Bayreuth Festival debut later this year
Radner was one of the 150 passengers and crew killed in the Germanwings airbus crash over the French Alps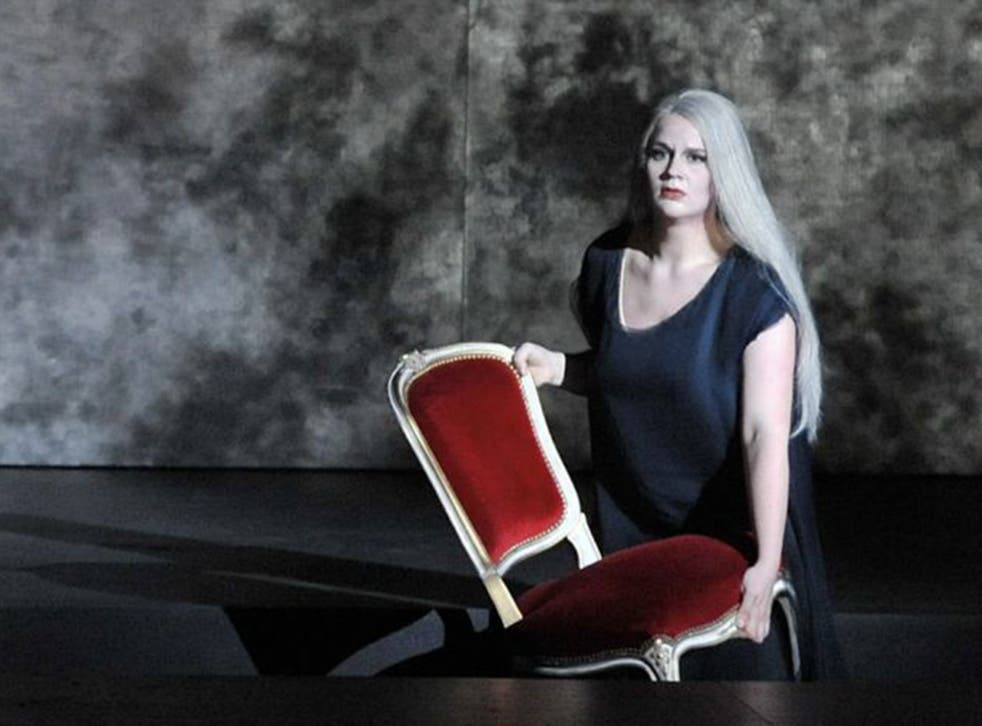 The German contralto Maria Radner, together with her husband and baby, was one of the 150 passengers and crew killed in the Germanwings airbus crash over the French Alps, en route from Barcelona to Dusseldorf.
She had been singing the role of Erda, the earth goddess, in a series of seven performances of Wagner's opera Siegfried at the Gran Teatre del Liceu, Barcelona. Her colleague, the bass-baritone Oleg Bryjak, who sang the part of Alberich in the same production, was killed aboard the same flight.
She was to make her Bayreuth Festival debut in August this year in Das Rheingold and Götterdämmerung singing the roles of Flosshilde and the First Norn, as well as Anna in Les Troyens at the Teatro Colón, Buenos Aires – a role she had previously sung under Antonio Pappano in Milan – in April and in a concert performance of Mahler's Third Symphony with the Beethovenorchester, Bonn, in May.
It was in Götterdämmerung that Maria Radner made her operatic debut at no less prestigious a venue than the Metropolitan Opera, New York, in January 2012, and the following March she was singing at La Scala, Milan, in Richard Strauss's Die Frau ohne Schatten.
As early as 2008, when she took the title role in Handel's Solomon at the Bregenz Festival, the critics commented on her special qualities: she was "a wonder of expressiveness and stage presence" with "a powerful warm alto voice" and "impressive charisma and rare musicality". After she had sung music by Stravinsky in Toronto her voice was described as " sumptuous".
Radner was born in Dusseldorf on New Year's Day 1981 and, despite her growing international fame, many of her performances continued to take place in that city, including Bach cantatas and the Passions; Beethoven, Haydn, Mozart, Nicolai and Schubert Masses; as well as Dvorak's Stabat Mater, Handel's Messiah, Mendelssohn's Elijah and Walpurgisnacht, and the Mozart and Schumann Requiems.
Further afield were Beethoven's Choral Symphony in Turin and at the Amsterdam Concertgebouw; Mahler's Second, Third and Eighth Symphonies in Germany, Italy and Spain; and in Rome, Vienna and Linz she sang the part of Katherina in Honegger's Jeanne d'Arc au bûcher; and in Madrid and Milan, Schumann's Scenes from Goethe's "Faust".
But it was as an opera singer that she attracted the widest international attention and her loss is deeply mourned. As well as operas in Wagner's Ring cycle, she also sang in Parsifal and The Flying Dutchman. Mozart (The Magic Flute and The Marriage of Figaro), Handel (Agrippina, Alcina, Julius Caesar and Solomon), Puccini (Gianni Schicchi, Il Tabarro and Suor Angelica) Strauss (Ariadne auf Naxos, Daphne and Elektra) and Verdi (Falstaff and Un ballo in maschera) were also in her repertoire, as well as many other composers. She features on commercial recordings of Mahler's Eighth Symphony, conducted by Markus Stenz, and Das Rheingold, conducted by Marek Janowski; she can be heard (and seen) in several clips on YouTube singing Mahler, Wagner and Saint-Saëns.
She was still continuing to receive guidance from the soprano Marga Schiml at the Staatliche Hochschule für Musik in Karlsruhe. At the Gran Teatre del Liceu, a two-minutes' silence was held in memory of Radner and her colleague Oleg Bryjak, who were described as "great singers and great colleagues".
GARRY HUMPHREYS
Maria Friderike Radner, opera singer: born Dusseldorf 1 January 1981; married (one child); died Prads-Haute-Bléone, France 24 March 2015.
Join our new commenting forum
Join thought-provoking conversations, follow other Independent readers and see their replies