The most ridiculous things Donald Trump said at the GOP debate
He discussed a range of topics from Jed Bush's wife to 'arab' names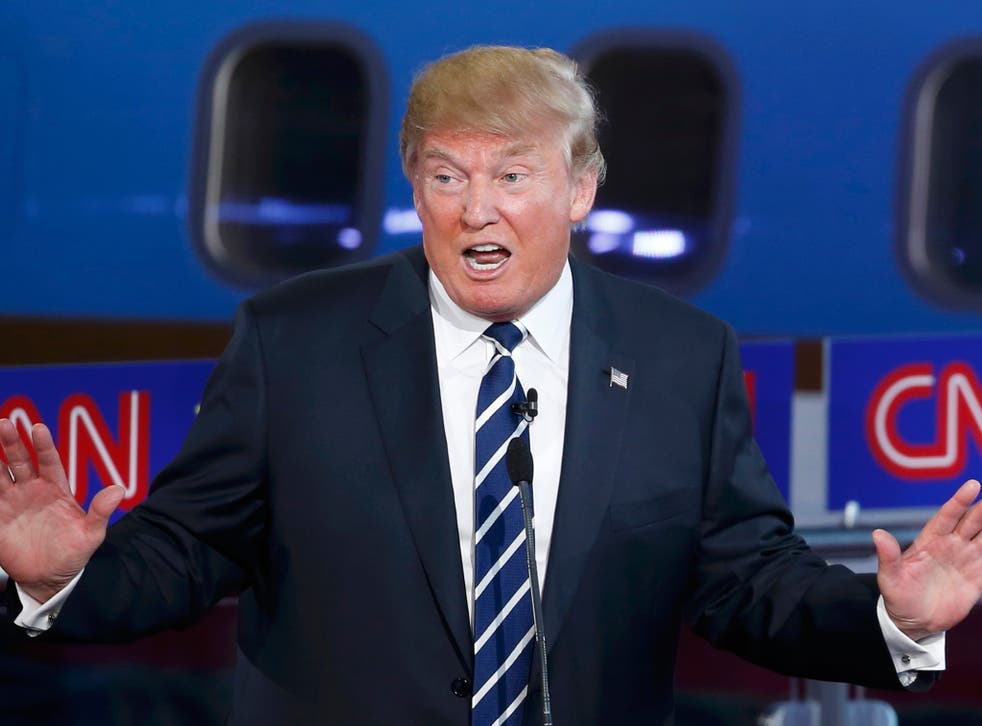 One thing we can always count on in a Republican party presidential debate: Donald Trump to say something ridiculous.
The second GOP debate held yesterday evening in California was no exception. Topics discussed included foreign policy, abortion and immigration and the answers somewhat varied between the 11 candidates.
Admittedly, bizarre things were said by virtually all candidates - however when it comes to ridiculous comments, no-one can beat Mr Trump at his own game.
Presidential prowess? Republican candidates in televised debate

Show all 10
Here's a roundup of the most ridiculous of the night:
On fellow Republican hopeful Rand Paul's appearance:
"I never attacked him on his looks and believe me, there's a lot of subject matter there."
While on this theme... on other Republican hopeful Carly Fiorina's appearance:
"I think she's got a beautiful face and I think she's a beautiful woman."
On concerns about his temperament:
"I have a great temperament. My temperament is very good, very calm."
Defending not knowing the names of some US-enemies in a previous interview:
"[The reporter] was giving me name after name; Arab name, Arab name, Arab name… and there are few people anywhere that would know those names… I think he was reading them off a sheet."
On Jeb Bush saying Trump should apologise to his Mexican-born wife, who he said influences Jeb Bush's (slightly) more liberal immigration views:
"Well, I have to tell you, I hear phenomenal things. I hear you wife is a lovely woman… no I won't [apologise], because I've said nothing wrong."
And on that note…
"This is a country where we speak English, not Spanish"
How, frankly he doesn't need to raise funds or accept donations as he's rich enough:
" I could have double and triple what he's [Bush] got. I've turned it down. I turned down last week $5 million from somebody."
Oh and women needn't worry because according to Trump:
"I will take care of women. I respect women."
And finally, modestly as ever:
"Everything I've done virtually has been a tremendous success"
It's worth noting that he then went on to declare that his secret service codename would be "humble".
Join our new commenting forum
Join thought-provoking conversations, follow other Independent readers and see their replies