A kiss goodbye: Sir Richard Branson is off to the Caribbean – but not for tax reasons
Entrepreneur insists he can raise money for charity just as well from his private island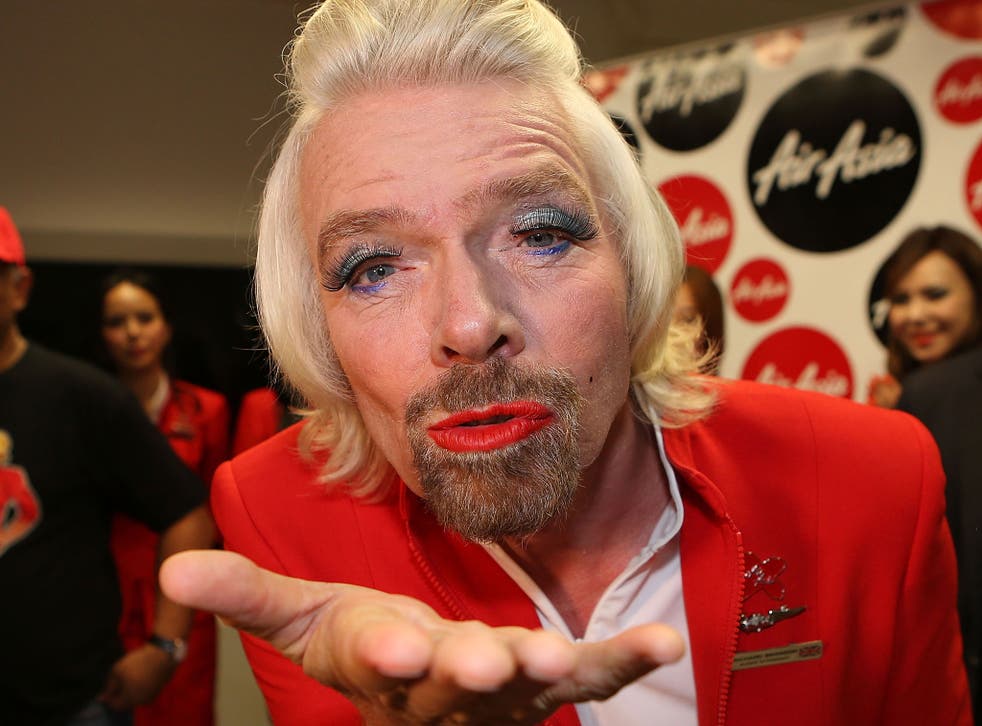 When Sir Richard Branson stood on a collection of man-made islands in the shape of the world off the coast of Dubai in 2006, and planted a British flag in the sand dressed in a flamboyant Union Flag suit, he said: "I stake my claim on England."
Now it seems Britain's best-known entrepreneur is quitting the country that has made him his fortune. The flamboyant businessman has moved permanently to the Caribbean island he bought in 1979 where he will continue his extensive charitable and philanthropic work.
Sir Richard's spokesman confirmed that the entrepreneur had decided to live permanently on Necker Island in the British Virgin Islands (BVI), but denied that the decision was related to tax matters.
"He moved there more than seven years ago, but rather than retiring there, he spends 90 per cent of his time starting not-for-profit ventures and raising millions for charity through speeches and other charitable engagements," the spokesman said.
He added: "Since he gives 100 per cent of any monies he earns from these to charity, it makes no difference for tax purposes whether he is in the UK or the BVI."
Writing on his personal blog, Sir Richard insisted that he had moved to the Caribbean to help preserve his health: "There is no better place to stay active and I can kitesurf, surf, play tennis, swim, do Pilates and just play."
However, as a non-resident of the UK, he could save significant tax on income from his Virgin empire, experts said on Sunday.
Critics of Sir Richard jumped on comments he made this year that Britain's tax system was "reasonable" compared with France's. Responding to the actor Ray Winstone's claim that he could see himself leaving Britain because the country was being "raped" by high taxes, Sir Richard was quoted as saying: "I don't think people should be leaving the UK because of our tax system. In the current economic climate it would be wrong if George Osborne was lowering taxes for the rich."
A spokesman for UK Uncut, which campaigns against tax avoidance, said: "It would be great if ordinary people on a low wage could take these steps to free themselves from austerity, but they can't – Branson is an incredibly wealthy man."
Sir Richard's empire was born when he set up Virgin Records in 1970 as a mail-order record retailer, and he has gone on to launch ventures in planes, trains, mobile phones and television. He has promised to give half his wealth, £3.5 billion according to the Sunday Times Rich List, to charity when he dies.
Sir Richard is far from the first British businessman to court tax controversy. The Topshop billionaire Sir Philip Green has repeatedly been forced to defend his tax record, after his Monaco-based wife was paid a £1.2bn dividend in 2005.
Register for free to continue reading
Registration is a free and easy way to support our truly independent journalism
By registering, you will also enjoy limited access to Premium articles, exclusive newsletters, commenting, and virtual events with our leading journalists
Already have an account? sign in
Register for free to continue reading
Registration is a free and easy way to support our truly independent journalism
By registering, you will also enjoy limited access to Premium articles, exclusive newsletters, commenting, and virtual events with our leading journalists
Already have an account? sign in
Join our new commenting forum
Join thought-provoking conversations, follow other Independent readers and see their replies