Acker Bilk: Clarinettist and bandleader who became best known for his sweetly melancholic 'Stranger on the Shore'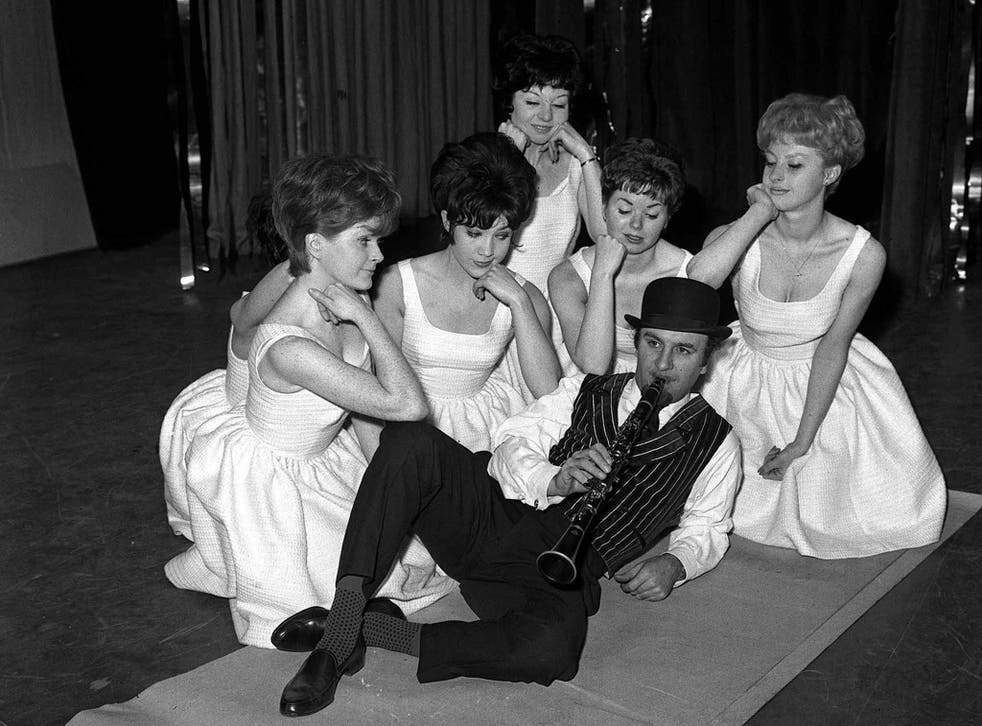 There are performers who are best known for something which is not representative of their principal work – Don McLean's "American Pie", Lita Roza's "Doggie In The Window", Chuck Berry's "My Ding A Ling", Donovan's "Mellow Yellow" are examples – as is Acker Bilk's "Stranger On The Shore". Throughout his career, Bilk ran a successful mainstream jazz band, but his biggest sales in terms of both albums and singles came when he recorded lush instrumentals with string orchestras. Nevertheless, he would always include "Stranger On The Shore" in his concerts, although he would call it "Strangler On The Floor" and tell audiences it was his old-age pension.
Acker Bilk also had what today would be regarded as a strong brand image. It included his unusual name, his Somerset accent, his goatee beard and moustache (at a time when it was unusual for musicians to have facial hair), his bowler hat, striped waistcoat and his billing as "Mr Acker Bilk and his Paramount Jazz Band". This image was developed by the band's publicist, Peter Leslie, who wrote The Book Of Bilk (1961) in which the jazzman was dressed as Buffalo Bilk, Sherlock Bilk and other historical and literary figures.
Bernard Stanley Bilk was born in Pensford, Somerset in 1929. His father was a carpenter and church organist, and Acker played the piano and recorder as a child. He told me, "Everyone had nicknames in the village and I had mine before I went to school. 'Acker' was not just my nickname – there was Acker Withy and Acker Wilson – and it's like calling someone 'mate'. I don't know much about my surname but it's originally French, Bilque or something like. A French guy must have come to Wales, seduced a Welsh maiden, promised to marry her, and she got lumbered with the family."
As with the pianists Russ Conway and Bill McGuffie, Acker Bilk was missing part of a finger. "Well, that was when I was 14. We used to hurtle down hills on toboggans when the snow was around. I hit a stone and it took my finger off. A whippet from the farm was sniffing around and he gulped it down, he didn't even chew it. I was chasing after the dog and I was going to say, 'Look, he's keeping my finger warm. Can you open him up?' My right hand is more fluid than my left but as I've never played the clarinet with my whole finger, I don't know the difference. I also lost four front teeth when I was at school but I don't think that has had any effect. I hope no one has had his teeth out and finger lopped off to try and sound like me."
Leaving school at 14, Bilk worked in a cigarette factory and then determined to become a blacksmith. During National Service in Egypt he became fascinated by the clarinet in the military band and – after being imprisoned for falling asleep on guard duty – he developed his technique through trial and error.
Following demob Bilk formed his own band, which played regularly around Bristol. The musicians included Dave Collett, his co-writer on "Summer Set", but they disbanded when Bilk moved to London. He played with Ken Colyer for several months but realised he would rather work with his own musicians, and returned to the West Country. Calling themselves the Paramount Jazz Band, they secured a six-week residency in Düsseldorf and became fully professional. They never played in one particular style as Acker liked a band to evolve from its changing personnel. The trumpeter Bob Wallis was a member and they would sometimes swap leadership for recording purposes – some of Bob Wallis's recordings feature Acker Bilk.
By 1958 the Paramount Jazz Band consisted of John Mortimer (trombone), Keith Sims (trumpet), Jay Hawkins and then Roy James (banjo), Ernie Price (double bass) and Ron McKay (drums). Pye released a 10-inch album, Mr Acker Bilk Requests, which included his regimental march. "I believe that you can play jazz to almost any tune," he said. "A lot of jazz bands play 'Marching Through Georgia' and I take the credit for that. I don't think many bands would have thought about doing it if I hadn't recorded it first." He recorded Clarinet Jamboree, which featured Bilk with other leading jazz clarinettists, Sandy Brown, Terry Lightfoot and Archie Semple.
In 1959, "Petite Fleur" by Chris Barber's Jazz Band started the Trad boom, and, being a clarinet instrumental, it laid the groundwork for Bilk. He had moved to Columbia and had a Top 10 hit in 1960 with the punningly titled instrumental, "Summer Set". It was a double pun, as Bilk recalled: "Dave Collett and I were wondering what to call the tune and there were some jellies on the table. I said, 'I got it. Some are set and some aren't.'"
"Summer Set" made No 5 and Bilk returned to the Top 10 with a cover of Louis Prima's "Buona Sera": "I cringe when I hear it because my vocals were terrible. I'm more relaxed now, I don't rush the beat as much as I did. That was followed by 'That's My Home' and I like saying 'That's My Home in A Flat' and people don't know whether that's the key or where I live." In 1962 Bilk and his band appeared with other leading British jazz musicians in Richard Lester's film It's Trad Dad!, and the following year they were in the potboiler Band Of Thieves.
Bilk had written an instrumental, "Jenny", for his daughter and recorded it with the Leon Young String Chorale. It became the theme for the 1961 BBC children's TV series, Stranger On The Shore, and with its new title, it topped the US charts and made No 2 in the UK, remaining on the listings for a year. The title referred to a French au pair looking across to her homeland.
Bilk had further Top 20 hits with "Lonely" (1962) and "A Taste Of Honey" (1963), and he also released several albums with the string chorale. Kenny Ball and his Jazzmen were enjoying hits with Pye Records and Pye combined his tracks with earlier ones from Bilk and Barber for best-selling budget-priced LPs by the three Bs.
In 1972, the band returned to Pye for several albums including Leave Off… It's Us (1976) and Mama Told Me So (1980). Bilk also released clarinet and string albums, returning to the Top 10 with "Aria" in 1976. He said, "Everybody else seems to worry about what should be on an album – it's on record for life and all that – but I don't worry about that. I'm never trying to prove anything and I couldn't care less about street cred. If I cared about street cred, do you think I would have made an album with Max Bygraves? I do things because they're fun. A lot of British jazzmen take things too seriously."
Bilk undertook session work if asked and is featured on albums by Sandy Denny and Van Morrison. "I liked Van," he said. "He once offered me a lift as he was going to Bristol. I said thanks very much and it turned out to be his private jet."
Bilk was diagnosed with throat cancer in 1999 but he returned to playing as quickly as he could, recuperating by taking up oil painting. He was awarded an MBE for his services to British jazz in 2001. He was still playing until shortly before his death, but the other band members took most of the solos. "I'm not playing as well as I did," he confided to me in 2011, "as I can't hold the long notes any more, but I can get away with it."
Bernard Stanley Bilk, clarinettist and bandleader: born Pensford, Somerset 28 January 1929; MBE 2001; married Jean Hawkins (one daughter, one son); died Bath 2 November 2014.
Register for free to continue reading
Registration is a free and easy way to support our truly independent journalism
By registering, you will also enjoy limited access to Premium articles, exclusive newsletters, commenting, and virtual events with our leading journalists
Already have an account? sign in
Register for free to continue reading
Registration is a free and easy way to support our truly independent journalism
By registering, you will also enjoy limited access to Premium articles, exclusive newsletters, commenting, and virtual events with our leading journalists
Already have an account? sign in
Join our new commenting forum
Join thought-provoking conversations, follow other Independent readers and see their replies