Bill Ellerington: Full-back for Southampton and England who stayed on at the Dell to become a shrewd lieutenant to Ted Bates
Always an insightful judge of a player, Ellerington later became a productive talent scout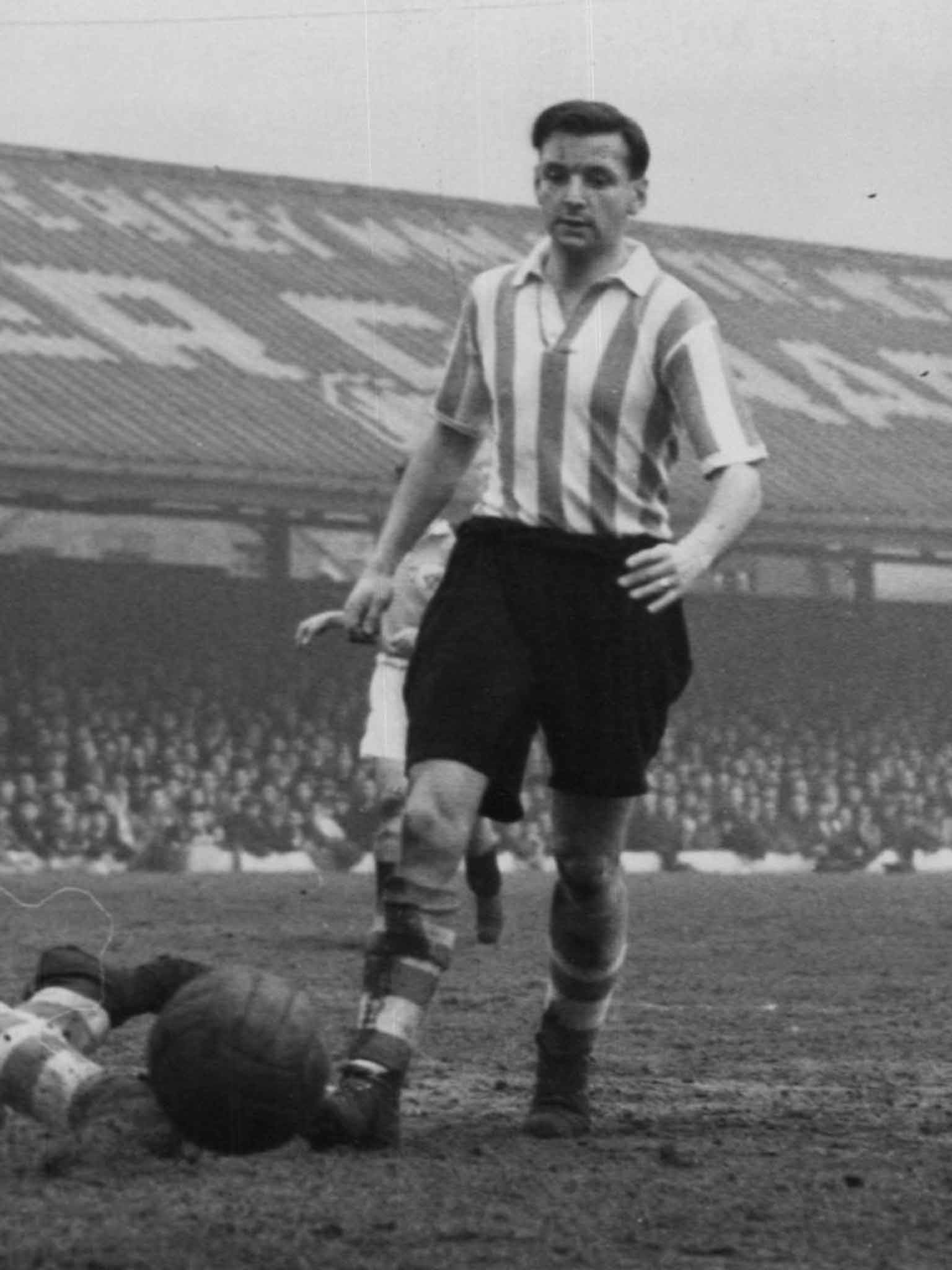 There was nothing showy about the football of Bill Ellerington, but the understated excellence of the tall, quietly classy Southampton right-back was enough to earn two England caps in 1949 and to render no less polished a performer than Alf Ramsey, his spirited rival for the Saints' No 2 shirt, surplus to requirements at the Dell.
Ellerington – who was following his Wearsider father into the professional ranks, Bill Snr having guested for the Saints during the First World War before serving Middlesbrough – was born in Southampton. He completed his education in Sunderland when the family moved to the north-east, developing his game impressively enough to captain England Schoolboys.
He put in a fleeting amateur stint at Roker Park, then the Elleringtons returned to Southampton, enabling the 17-year-old to enlist at the Dell in 1940 before joining the RAF.
Like his father, he lost a sizeable slice of his career to wartime service, not making his senior entrance until an FA Cup encounter with Queen's Park Rangers in January 1946. When the league programme resumed the following season, he kept Ramsey out of the Second Division side until January, when he was struck down by pleurisy.
Thereafter Ellerington's ambitious adversary took full advantage, becoming established with Southampton and rising to full international status until he suffered a knee injury midway through 1948-49. Now it was Ellerington's turn to step into the breach, which he did so effectively that the displaced Ramsey was allowed to join Tottenham Hotspur that May.
That proved a momentous month for Ellerington: he not only stepped out of the Essex man's shadow, but was also called up by England to face Norway and France during a springtime continental tour. However, despite performing competently in two victories, and also appearing once each for the Football League and England B, he was never awarded another full cap, principally due to the consistently fine displays of former team-mate Ramsey.
At club level, though, Ellerington remained a bulwark of the Southampton rearguard – a beautifully clean striker of the ball with his right foot, physically formidable yet somehow elegant, and a specialist at snuffing out opposition attacks through his intelligent reading of the unfolding action. His value was immense, and it was encapsulated by Ted Bates, who played alongside him for many years before becoming the longest-serving manager in the club's history, and selected Ellerington at right-back in his all-time Southampton eleven.
A key man when the Saints narrowly missed out on promotion to the Second Division in both 1949 and 1950, Ellerington remained faithful and efficient in leaner times, which culminated in relegation to the third tier in 1953.
Aged 33, and having made 239 League and FA Cup appearances during his one-club professional career, the veteran joined the Saints' coaching staff in 1956, providing shrewd assistance to his old comrade Bates, contributing notably as the third-tier title was garnered in 1960.
Always an insightful judge of a player, Ellerington later became a productive talent scout, recommending the likes of prolific marksman George O'Brien and dreadnought wing-half Cliff Huxford to Southampton, and also playing a significant part in bringing Mick Channon, who would eventually collect nearly half a century of England caps, to the Dell.
Ellerington was invaluable, too, in running a canny rule over future opponents – never more successfully than before the Saints beat Manchester United in the 1976 FA Cup final. As Channon put it: "Bill watched United so much we knew what they had for breakfast... it was the greatest piece of tactical scouting I have ever known."
When Ellerington lost his role in 1980 as part of manager Lawrie McMenemy's revamp of the scouting system, there were plenty of Dell insiders who regretted his exit. Certainly it was a poignant way for an unassuming but loyal and resolute character to end his 40 years' service to the club.
William Ellerington, footballer: born Southampton, 30 June 1923; played for Southampton 1940-56; capped twice by England 1949; married (one son, one daughter); died North Baddesley, Hampshire 4 April 2015.
Join our commenting forum
Join thought-provoking conversations, follow other Independent readers and see their replies