Briton who fought against Franco's fascists dies, aged 94
International Brigades member was the last British-based survivor of Spanish Civil War
Briton who fought against Franco's fascists dies, aged 94

Show all 2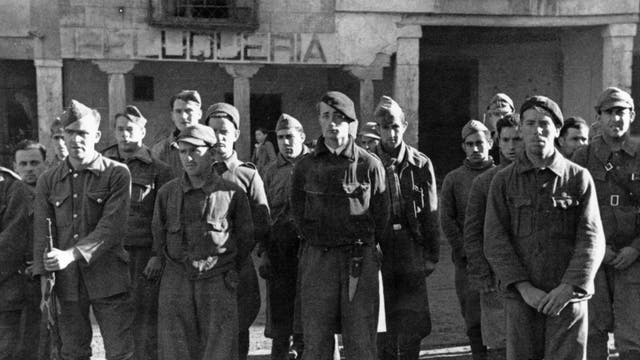 The last surviving British-based member of the International Brigades, who fought General Franco's fascists in the Spanish Civil War, has died aged 94.
David Lomon was a 19-year-old rag-and-bone man in east London when he decided to join around 2,500 others from the British Isles in volunteering to fight for the left-wing Republican forces in Spain. Born into a Jewish family in the working class borough of Hackney, he signed up for the International Brigades after clashing with Oswald Mosley's black shirts at the Battle of Cable Street in London's East End in 1936.
Like many others, Mr Lomon, then a member of the Young Communist League, had to be recruited in secret. He first visited an office in London before travelling to Paris to be tested for his "suitability" for the volunteer force. After passing tests he travelled across the Pyrenees Mountains into Spain by night, while avoiding border patrols and Franco's forces.
Over the course of the war some 35,000 men and women from around the world volunteered to fight Franco's fascists. They included the writers George Orwell and Laurie Lee, and the trade union leader Jack Jones.
Mr Lomon fought in the battle of Teruel and in the Aragon offensive, where republicans faced overwhelming odds. Franco's forces were equipped with 950 aeroplanes, 200 tanks and more than 100,000 troops provided by Mussolini.
But on 31 March 1938 he was captured and subjected to beatings by guards, starvation rations and verminous conditions. Almost one in five of the hundreds captured did not survive. Eventually, he was freed after a prisoner-of-war exchange in 1938 for Italian captives held in Britain.
Mr Lomon served in the Royal Navy during the Second World War before returning to the textile industry and living in Bourne End, Buckinghamshire.
He continued to attend International Brigades ceremonies. In March last year he was present for the unveiling of a new plaque at the memorial to volunteers in Jubilee Gardens on London's South Bank.
"He was very modest and unassuming," said Jim Jump, secretary of the International Brigade Memorial Trust.
He added: "He had a conventional life when he returned. He was not the type to boast about what he did. He was a lovely man: very polite; a classic English gentleman."
Mr Lomon passed away in Slough, Berkshire, on Friday. His death leaves just one living British volunteer – Stan Hilton, who lives in a nursing home in Australia.
Join our new commenting forum
Join thought-provoking conversations, follow other Independent readers and see their replies