Burt Bacharach on his four marriages: 'I didn't mean to hurt anyone'
'This Guy's in Love with You': Known as the Playboy of the Western World during the 1960s, Burt Bacharach has never been single for very long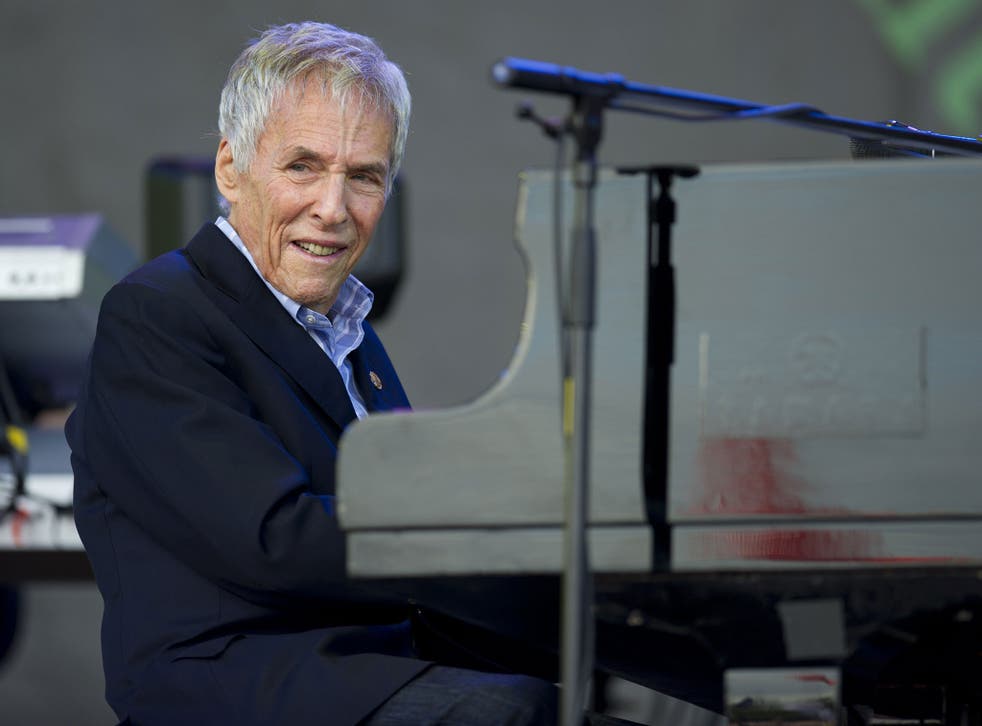 At the age of 87, one of the greatest living songwriters, Burt Bacharach has looked back at his eventful love life.
The Oscar, Emmy and Grammy-winning artist has written some of the most famous romantic songs of the past fifty years and has a star-studded list of lovers to go along with that.
Not all of his relationships were happy however, and Bacharach has been divorced three times.
In an interview with The Telegraph, Bacharach has spoken candidly about his past.
"I thought I was a good kid, and I didn't mean to hurt anybody," he said, "but when you wind up being married four times, there are a lot of bodies strewn in your wake."
Bacharach's first marriage was to actress Paula Stewart and lasted from 1953 to 1958. He then married another actress, Angie Dickinson, in 1965. Together they had a daughter, Nikki Bacharach.
Nikki committed suicide in 2007, aged 40, after battling with Asperger's Syndrome from a young age.
"I hated the way she did it… alone," Bacharach told The Telegraph in 2013. 'I thought, Jesus, that's a lot of courage, you know. But she always did like to test the limits."
The songwriter's third marriage was to lyricist Carole Bayer Sager which lasted from 1982 to 1991. Together they adopted a son.
Carole wrote the lyrics for his 1981 song Arthur's Theme (Best That You Can Do), which was a No 1 hit and Oscar winner.
Bacharach married his current wife, athlete Jane Hansen, who is 32 years his junior, in 1993. They have two children, a 22-year-old son, Oliver, and a 19-year-old daughter, Raleigh.
Despite bitter divorces and the death of a daughter, Bacharach has regained friendships with two of his ex-wives, Angie and Carole.
He also invited them to contribute to his autobiography, Anyone Who Had a Heart: My Life and Music, which he wrote with Robert Greenfield.
About his third marriage, to Carole, he said, "We share a son, but hey, you shouldn't hold on to the past too much, even the good stuff."
When asked what advice he would give his 22-year-old son Oliver about life and love, Bacharach said not to stay in a marriage that isn't working.
"Whatever it costs and however much emotional damage it might cause, you have to get out, because you only have one life."
To his daughter Raleigh on the other hand his advice was: "Don't get knocked up in college."
"I don't like splitting up with people," Bacharach said. "It's the person you're hurting, and their mother, and their brother or sisters – the whole family."
But like his aspiration to write a perfect record, he would never settle for something that wasn't right.
Being nice, he explained, "doesn't exactly go in sync with being married four times".
"How many writers do you know who are really selfless people? Very few. It's nothing to be proud of, it's just a fact."
Bacharach's body of work is currently being reimagined by 27-year-old Canadian musician, Kyle Riabko in a new London show, What's It All About? Bacharach Reimagined.
Join our new commenting forum
Join thought-provoking conversations, follow other Independent readers and see their replies