Claudy Criquielion: Cyclist whose many wins were overshadowed by a race he famously lost and the ensuing legal fall-out
Criquielion became team manager for two leading Belgian squads, Lotto and Crelan-Euphony, before moving into local politics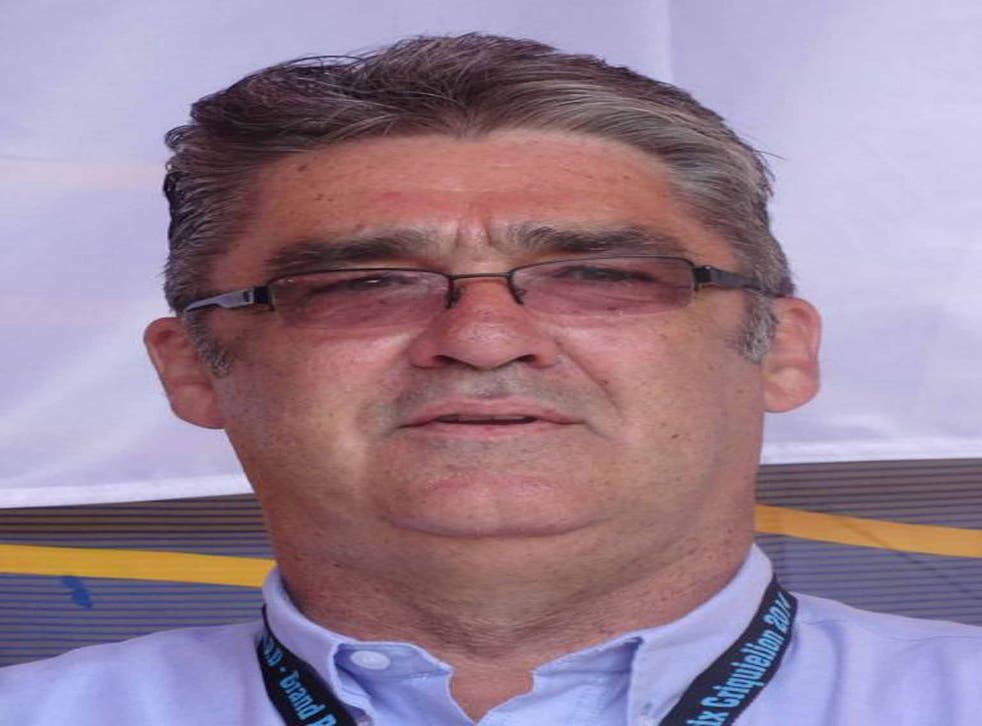 In the long and distinguished career of cycling great Claudy Criquielion the most memorable image of the Belgian is not one of victory. Rather it is that of "Crique", as he was known, dragging his bike across the finishing line, arm raised in protest, seconds after losing the 1988 World Championships in what remains one of his sport's most enduring controversies.
Criquielion had already won one world title, in 1984 in Barcelona, and had a string of victories in other key one-day races. A triumph in the prestigious Tour of Flanders in 1987, two wins in another Belgian Classic, the Flèche Wallonne, as well as a third place in the Tour of Spain and several top 10 positions overall in the Tour de France amply proved his versatility.
Wining the 1988 world title would have put Criquielion in another league, given that it took place on home soil, Renaix in Belgium, a few miles from his village of Lessines. With thousands of Belgian fans at the roadside and millions watching on television in the most cycling-mad country in the world, the pressure on Criquielion's shoulders could not have been greater – but so, too, would the glory have been great had he taken gold.
After seven hours and 274 kilometres in the saddle, from 178 starters, the World Championship road race had come down to a duel between Criquielion and the Canadian, Steve Bauer. As they sprinted for the line both had much at stake. Criquielion had what must have felt like all of Belgium watching his final move, while Bauer had several career near-misses behind him. One step off the 1988 Tour de France podium, he had also taken bronze behind Crique in Barcelona in 1984, as well as silver in the Los Angeles Olympics that year.
As Bauer accelerated, Criquielion moved through a fast-decreasing gap between the Canadian and the barriers. Bauer's elbow moved upwards – after Criquielion had brushed against him, he claimed. Their collision lasted a fraction of a second but was enough to send Criquielion flying, his race ruined.
Bauer continued, but as he fought to regain control he was overtaken by Maurizio Fondriest, who claimed gold for Italy. Much later, Criquielion approached the line in 11th place, dragging his bike with one hand, the other raised in a sign of protest against what he maintained was foul play.
Bauer was duly disqualified, but Criquielion wanted more, suing the Canadian for assault in what is thought to be a unique case in the history of cycling. Had Bauer been found guilty, Criquielion planned to seek $1.5m in damages for the loss of the world title. Bauer was already indirectly paying heavily for his alleged error, with police placed on duty outside his Belgian residence to protect him from enraged local fans – some of whom, foiled by the authorities, sent hate mail instead.
After three and a half years, the much-anticipated case was heard in the courtroom of the small Belgian town of Oudenarde. Bauer brought in a biomechanician who proved, the Canadian later claimed, "that Criquielion hit me first, that he made contact first", which was apparently confirmed by the court's own experts. "From that point on, there's no sprint. We're two riders out of balance," Bauer said.
The case was dropped, but the inquest into one of cycling's most famous crashes continue to this day. One Belgian paper, Le Soir, said only recently that Criquielion was a "victim of injustice in 1988". Criquielion moved on, retiring a few years later and becoming team manager for two leading Belgian squads, Lotto and Crelan-Euphony, before moving into local politics.
The loyalty of Criquielion's fans endured long after his retirement. The best known case is that of Lucien Blyau, a now aged fan from Lessines who since 1975 has spent months each season driving across Europe to cheer riders on in races large and small. He always stands underneath the same huge banner reading "Cri-qui?-le-lion", a slightly surreal pun much in keeping with Belgian humour.
Criquielion's death from a stroke brought praise from the Belgian Prime Minister Charles Michel, and he was described by cycling's greatest ever exponent, his compatriot Eddy Merckx, as "a catastrophe, for his family and for the world of cycling. Claudy was an extraordinary person and he's gone too early. And what happened at Renaix will be forever etched in our memory."
Claude Criquielion, cyclist, team manager and poltician: born Lessines, Belgium 11 January 1957; died Aalst, Belgium 18 February 2015.
Join our new commenting forum
Join thought-provoking conversations, follow other Independent readers and see their replies