Daughter demolishes the soup factory where her father lost his life
Sarah Griffiths chosen to push a button and bring down Norfolk's 150ft Campbell's Tower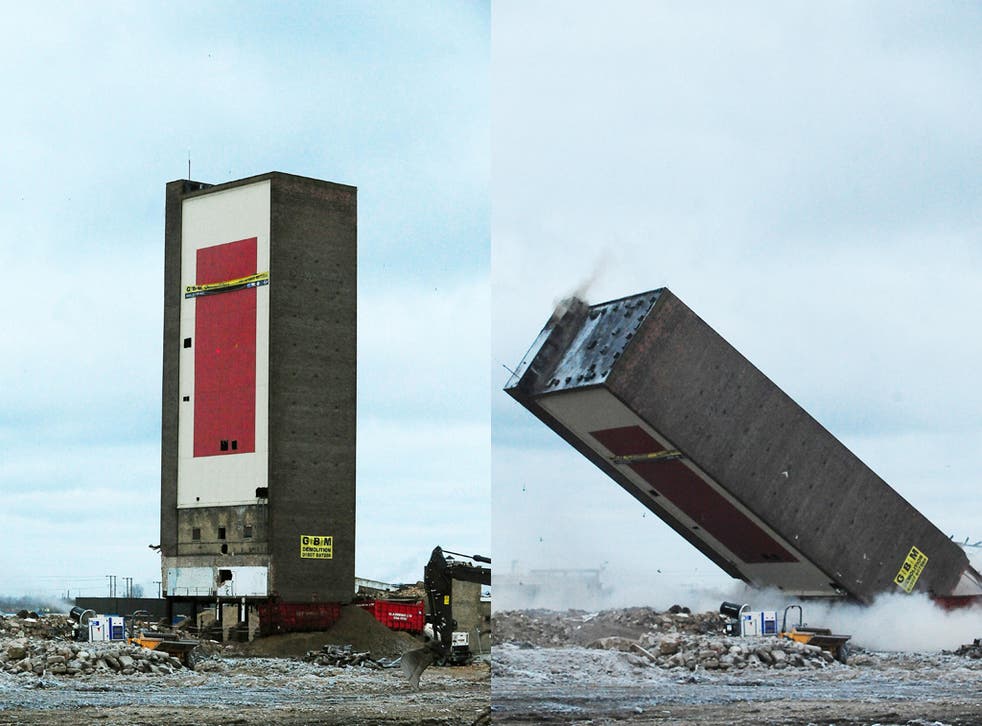 At 8am yesterday Sarah Griffiths looked at the landmark she hated, thought of the last time she saw her father, and pushed a red button. In five seconds, the Campbell's Tower, which had stood in King's Lynn, Norfolk, for 53 years was a heap of smoking rubble.
It was a controlled explosion which finally buried Ms Griffiths' grief at losing her father Mick Locke, who was scalded to death by a blast of steam in an accident at the Campbell's Factory in 1995, when she was a teenager. He was 52.
With her bright red hair poking out from under her hard hat, Ms Griffiths had seen off dozens of other entrants in a competition run by her local newspaper The Lynn News for the honour of demolishing the building.
Streets were gridlocked as an estimated 3,000 people turned up to watch its downfall. Air horns sounded a five-minute warning and then again for the start of the ten-second countdown to the detonation.
Before pushing the button, Ms Griffiths from Clenchwarton said: "The tower is a constant reminder that I have been robbed of my dad. I'm a bit choked up about it because it's a big thing for me to do and I feel very pleased to be given the chance of closure."
Afterwards she was hugged by her husband and two children. "As I was doing it, I was just thinking of my dad and got a flashback of the last time I saw him in hospital at Norwich," she said. "When I felt the thud as it hit the ground, everything felt complete. Now my family can move on and not live in the shadow of that building any longer."
As the 150ft tower collapsed, one onlooker said: "It was just like wallpaper coming down." The factory was Campbell's biggest outside the United States and at one time employed 700 staff who made 60 varieties of soup, but closed four years ago when Premier Foods bought the brand and renamed it Batchelors Condensed Soups. The site is being turned into "Campbell's Meadow", a £40m complex with a hotel, car showroom and Tesco Extra.
Ms Griffiths headed off for a celebration meal and a visit to her father's grave. She said: "There must be others who have these issues and never get this type of closure I've sought for 16 and a half years. My dad, he'd have said 'she got there in the end, she's such a determined soul', he'd have been thrilled - down the pub telling all his friends 'that's my daughter', he would be so proud."
Join our new commenting forum
Join thought-provoking conversations, follow other Independent readers and see their replies