Ellen Degeneres' Oscars 2014 pizza delivery boy earns $1,000 tip and $10million of free advertising from publicity stunt
The Academy Awards host collected money from Brad Pitt, Harvey Weinstein and more by passing round Pharrell's hat
Jenn Selby
Tuesday 04 March 2014 14:53 Comments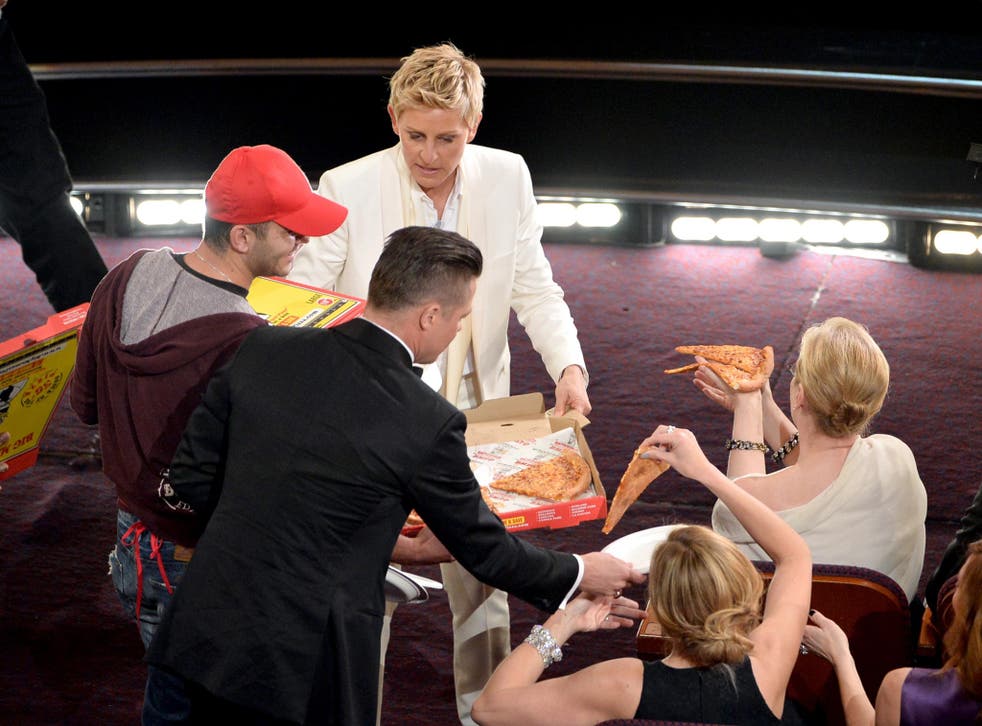 One of the most talked about images from the Oscars on Sunday – aside from Bradley Cooper's super-human selfie – were those pictures of the Academy Awards audience covered in pizza grease as they chowed their way through box after box of takeaway, seemingly hand-delivered by their host for the evening, Ellen Degeneres.
But spare a thought for the real pizza boy, Moscow-born Edgar Martiroysan, who co-owns Big Mama's & Papa's Pizzeria with his brother.
Martiroysan single-handedly lugged five giant boxes of speciality Big Papa's and a selection of smaller pies to the ceremony before he was roped into appearing onstage to help hand out the snacks to the A-list masses.
Ellen collected hundreds of dollars-worth of tips in Pharrell Williams' gigantic Vivienne Westwood hat on the evening, but came under fire for failing to give the multi-tasking business owner what he was owed on the night.
But she soon made up for it by inviting Martiroysan to appear live on her post-Oscars show, where she gifted him $1,000 worth of tips donated by the likes of Brad Pitt, movie mogul Harvey Weinstein (scroll down to watch the video).
Oscars 2014: Red carpet in pictures

Show all 31
"I ended up getting about $600," she said as she handed the money over, adding another few hundred herself. "And here's a $1000."
Martiroysan went on to describe the experience to Degeneres, admitting that he was "shocked" when he was called out onto the stage, having initially been told that the order was for a few of the writers backstage.
He also described the "crazy" moment he bumped into Julia Roberts behind-the-scenes.
"She was my woman in dreams, I was always watching her movies back in Moscow, like Pretty Woman," he said.
"So it was something crazy to me to give her pizza."
The pizza parlour itself was also granted the gift of free publicity which, considering an advertising slot during the Oscars costs upwards of $1.8million, Variety reports, means the entire stunt was probably worth around $10million to the business.

Register for free to continue reading
Registration is a free and easy way to support our truly independent journalism
By registering, you will also enjoy limited access to Premium articles, exclusive newsletters, commenting, and virtual events with our leading journalists
Already have an account? sign in
Join our new commenting forum
Join thought-provoking conversations, follow other Independent readers and see their replies