Ellen DeGeneres takes Oscars 'selfie' with every A-lister in existence and breaks Twitter record
This year's Oscars saw an outstanding contribution to the selfie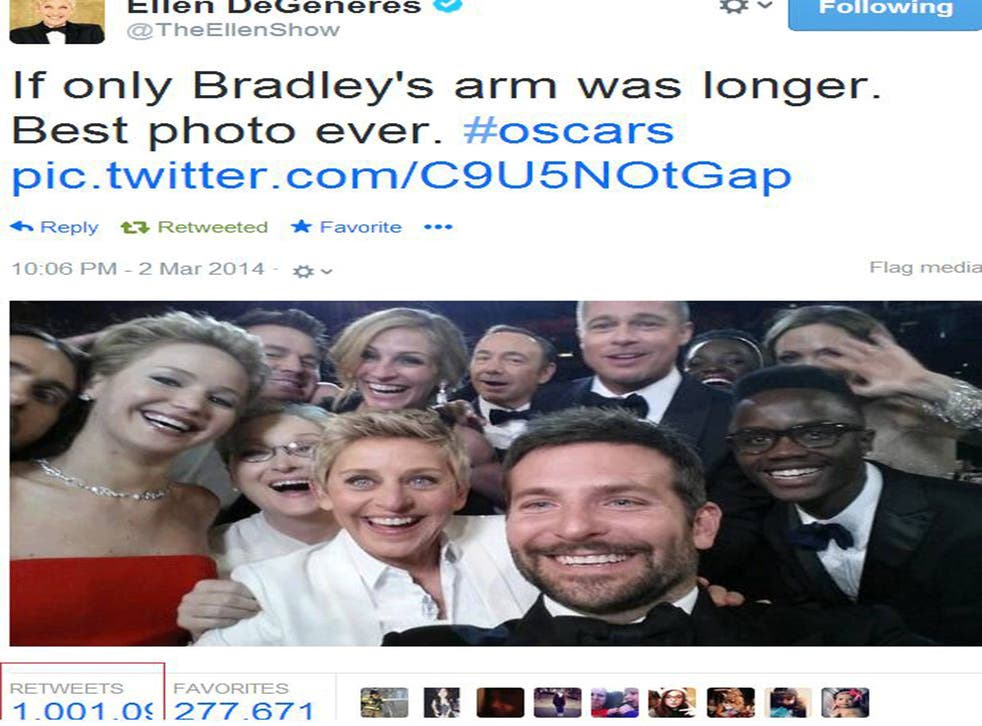 Oscars 2014 host Ellen Degeneres has taken a record-breaking 'selfie' with, brace yourself (left-to-right): Jared Leto, Jennifer Lawrence, Channing Tatum, Meryl Streep, Julia Roberts, Kevin Spacey, Bradley Cooper, Brad Pitt, Lupita Nyong'O, Peter N'yongO and Angelina Jolie.
The chat show host headed into the audience during the ceremony and whipped out her smartphone, passing it to Cooper and beckoning pretty much the entire front row to assemble behind her.
The snap saw about as much celebrity as could be crammed into shot, including 12 Years A Slave actress Lupita N'yongo's opportunistic brother Peter, the only non-actor pictured.
Kevin Spacey arguably stole the pic meanwhile, offering a rather wonderful, bemused expression amid all the grins.
DeGeneres swiftly posted the picture on Twitter, with it attracting 80,000 retweets in three minutes and over one million in less than an hour, quickly becoming the most retweeted image ever (beating Obama's election win photo).
Oscars 2014: Red carpet in pictures

Show all 31
"We crashed Twitter," DeGeneres later commented during the ceremony.
While a slight overstatement, she did at least break its retweet counter, which didn't have space for the figure's many 0's.
Join our new commenting forum
Join thought-provoking conversations, follow other Independent readers and see their replies