George Shuba: Baseball player who won a World Series but was better known for his part in 'A Handshake for the Century'
Chris Maume
Tuesday 30 September 2014 19:07 Comments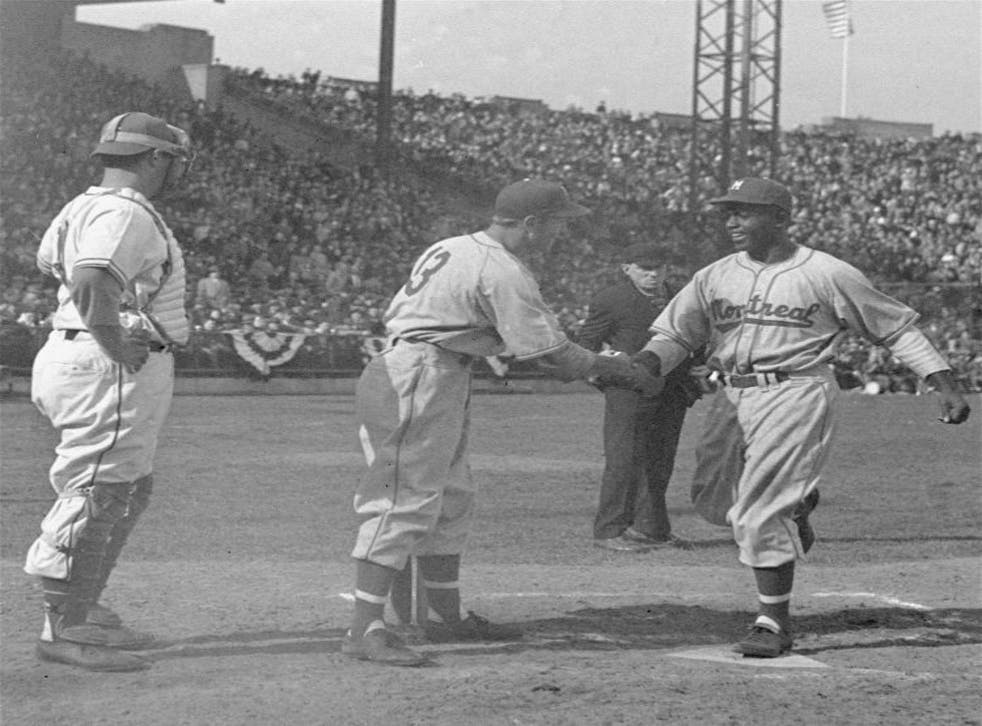 The baseball player George "Shotgun" Shuba was a member of the 1955 World Series champions, the Brooklyn Dodgers. But his name went down not just in sporting annals but in the entire history of American race relations when on 18 April 1946 he performed the apparently innocuous act of shaking a team-mate's hand. That team-mate was Jackie Robinson, and a photograph of the moment (pictured left) became known as "A Handshake for the Century".
Robinson was famously the first African-American since the 1880s to play Major League Baseball when he started at first base for the Dodgers on 15 April 1947. Almost exactly a year before, on 18 April 1946, he was playing in the minor leagues for the Dodgers' feeder club, the Montreal Royals, against Jersey City Giants. When he hit a three-run home run, Shuba, who was white, congratulated his team-mate with a handshake. Shuba reportedly hung a copy of the resulting photograph in his living room.
Born in 1924 in Youngstown, Ohio, Shuba was the youngest of 10 children whose parents were Czechoslovakian immigrants. He practiced his swing for hours with a rope tied to the ceiling, making knots in the rope where the strike zone would be. He swung a bat at the rope, helping to develop the powerful swing that later produced big hitss in the major leagues.
He followed Robinson into the Dodgers' line-up in 1948, finishing his career in 1955 with a respectable .259 career batting average, with 24 homers and 125 RBIs (runners batted in) in 355 games as a utility outfielder. The left-handed hitter was the first National League pinch hitter, or substitute batter, to hit a home run in the World Series, connecting in Game 1 against the New York Yankees in 1953.
Shuba earned his nickname when his line drives were compared to the sound of buckshot. His career was featured in a chapter of Roger Kahn's book, The Boys of Summer, a tribute to the 1950s Brooklyn Dodgers. Kahn wrote of him "spraying line drives with a swing so compact that it appeared as natural as a smile".
In 2007 Shuba recalled the courage and determination of Robinson who, he said, imparted "a lesson about life that I have never forgotten". Shuba appeared at Dodger Stadium in 2005 when the club, which moved to Los Angeles in 1958, marked the 50th anniversary of the only championship won during the Brooklyn years.
George Shuba, baseball player: born Youngstown, Ohio 13 December 1924; married Kathryn (two daughters, one son); died Youngstown 29 September 2014.
Register for free to continue reading
Registration is a free and easy way to support our truly independent journalism
By registering, you will also enjoy limited access to Premium articles, exclusive newsletters, commenting, and virtual events with our leading journalists
Already have an account? sign in
Join our new commenting forum
Join thought-provoking conversations, follow other Independent readers and see their replies