Gillian Clarke: Historian, political activist and quilt-maker who stood at Ken Clarke's right hand for more than half a century
She was the President of the European Union of Women and took a particular interest in encouraging women to become active politically in the former Soviet bloc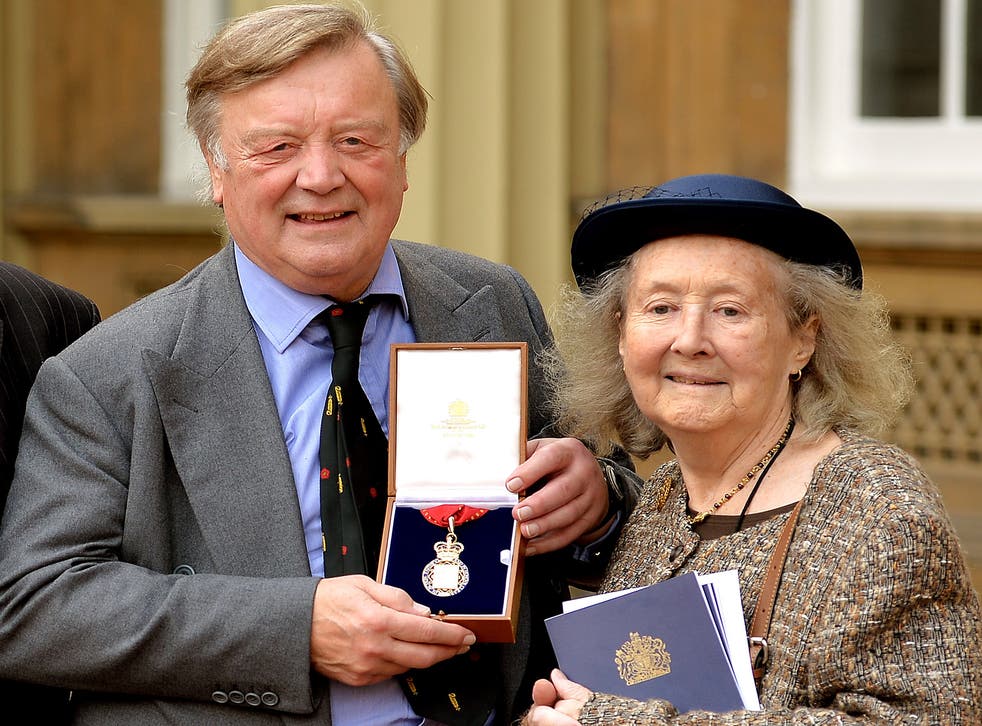 Gillian Clarke lost a long battle with cancer last week. She had dealt with it with courage and typical stoicism and it was not until after Christmas that she allowed it to interfere with the way she lived her life. Characteristically she encouraged her husband, Ken Clarke, to stand for a further term, knowing how much Parliament meant to him, and believing he still had much to bring to British politics. She shared his liberal Europeanism and would have wanted to be at his side when he campaigned for Britain to remain a member of the European community.
But her convictions were no pale reflection of her husband's. They were very much her own, for Gillian was independent-minded and more than capable of taking a line of her own, thought through and buttressed by her very considerable powers of analysis and argument. She and Ken differed on religious matters; Gillian's faith was unshakable. Brought up as an Anglican, she remained one not through habit but conviction, and while she had her doubts about women priests and about some of the practices of the Church to which she belonged, she was not inclined to leave it.
She would have made a first-rate university teacher had she not met Ken and devoted herself to furthering his political career. David Cameron has rightly described her as his "rock" and she was always there for Ken, staunch in his defence whenever he was criticised, as she thought, unfairly. There were some Conservatives to whom she found it difficult to be civil; but that was uncharacteristic – she was in general a good and gracious hostess.
From her study of the last years of Edward I in her final year at Cambridge, she developed a then novel interest in the logistics of an army campaigning in hostile territory, and after completing her thesis thought hard about writing a biography of the king. But once she had decided that Ken was to be her future, her intellectual curiosity was not stilled. She became an expert botanist and an equally expert photographer both of wild flowers and buildings.
Holidays while her children were young tended to take the form of "monument-bashing" in the morning, a pub lunch and the beach in the afternoon. Very often there was a theme to the holiday: one was devoted to identifying 70 Norman fonts in Cornwall and tracing the various masters who had designed them. Whenever Ken and she went on holiday, Gillian had inevitable done her homework and knew what there was to see in their many and varied fields of interest.
She was also an expert needlewoman and quilter with a reputation that spread beyond Britain's shores. Some of her best work employed designs drawn from mediaeval manuscripts. She won the National Patchwork Championship with "The Labours of the Months", 12 panels which later made two wall hangings in her family home. She also won the Quilts UK Crystal Bowl and she appeared among the experts on Channel 4's Collectors Lot. She entertained fellow quilters in No 11 and gave talks on the subject to groups, some of them Conservative gatherings, but many not.
Gillian could be waspish if she thought someone pompous or pretentious. Essentially however, she was generous and warm-hearted, and very good company. Justifiably she took pride in her cooking, and at her table both the wine and the conversation flowed.
She has been described as self-effacing, but that is not quite right. She was more than capable of delivering fluent, well-argued political speeches and was often called upon to do so. She played an active part in Women into Political Life, the Conservative initiative that saw many more women become MPs and councillors. She was the President of the European Union of Women and took a particular interest in encouraging women to become active politically in the former Soviet bloc. She had no side whatsoever, and while like many Conservative wives, she was active in the constituency association, unusually she continued to serve as a ward secretary. But she always put her husband's career first, and to that extent, preferred to remain in the background rather than take any of the political limelight from him.
Her approach to Oxfam was typical, She worked for a long period as a volunteer in one of their shops, more particularly putting her wide knowledge of books to good use in ensuring that they were correctly priced. But when she was asked to become a trustee, she threw herself into that task with energy and enthusiasm and soon proved that she knew a great deal about aid to the underdeveloped countries and the issues surrounding it.
Although she preferred walking to sport, she was an enthusiastic fan of rugby union and could be found on the touchline at club games even in the depths of winter as well as being a knowledgeable guest at internationals. Her father had played the game and she herself displayed a soft spot for the Welsh.
Gillian Mary Edwards was born in Sidcup, Kent and attended the local girls' grammar school. Both her father, Bruce, and her mother, Betsy, were schoolteachers, the latter a graduate from the University College of the South West at a time when women with degrees were much thinner on the ground. Significantly, her mother was also very active in the Bexley Conservative Association. Gillian took a first in History at Newnham College, Cambridge and completed an MLitt on the provisioning of the armies of Edward I. But she had met Ken at Cambridge, supported him when he fought Mansfield in the October 1964 election, and married him at Sidcup in November 1964.
They lived in Edgbaston while Ken practised at the bar in Birmingham and moved to West Bridgford when Ken became MP for Rushcliffe in 1970. They already had two young children, but that did not prevent Gillian from creating a plantsman's garden and developing a wide range of activities and interests. Later she developed a London base for Ken and matched his collection of political memorabilia with collections of her own, most notably her Chinese plates. If she always gave priority to Ken's career, it did not prevent her from being a considerable personality in her own right, and her death leaves an immense hole in the hearts of their friends.
Gillian Mary Edwards, historian, political activist and quilt-maker: born Sidcup 27 January 1941; married 1964 Ken Clarke (one daughter, one son); died 9 July 2015.
Register for free to continue reading
Registration is a free and easy way to support our truly independent journalism
By registering, you will also enjoy limited access to Premium articles, exclusive newsletters, commenting, and virtual events with our leading journalists
Already have an account? sign in
Register for free to continue reading
Registration is a free and easy way to support our truly independent journalism
By registering, you will also enjoy limited access to Premium articles, exclusive newsletters, commenting, and virtual events with our leading journalists
Already have an account? sign in
Join our new commenting forum
Join thought-provoking conversations, follow other Independent readers and see their replies