Golden Globes 2015: The alternative awards from best wife to best meme
Golden Globes are awarded each year to the best that film and TV have to offer. But where's the fun in that? Here, Gillian Orr and Simon Usborne hand out alternative honours to the anti-heroes, meme-girls and boobs of 2015's ceremony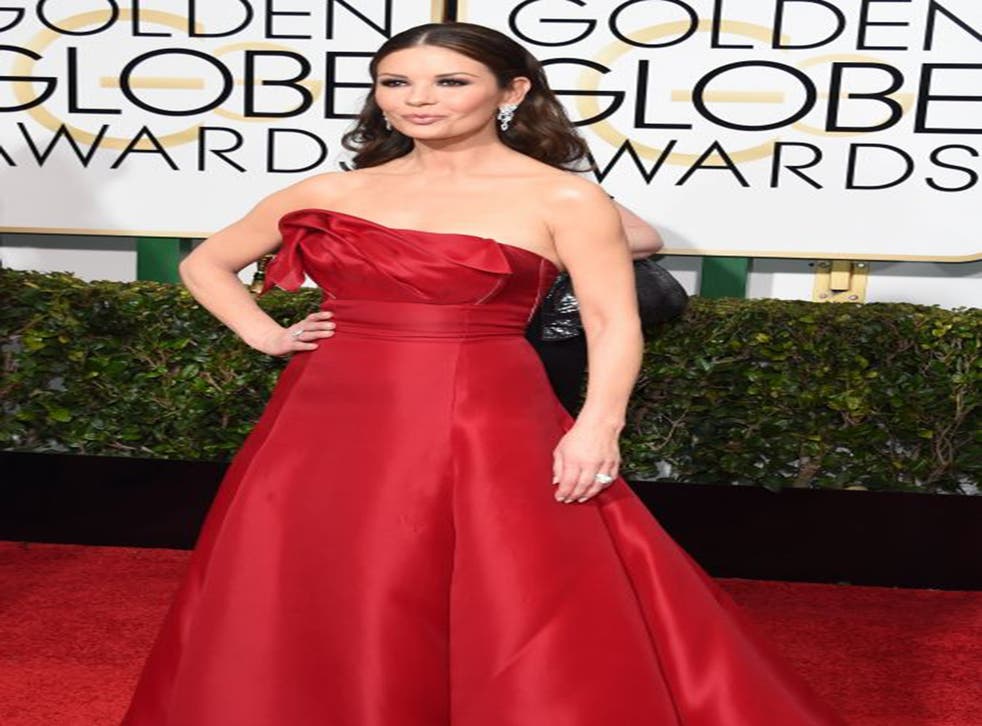 1. Best wife – Amal Clooney
The new Mrs Clooney (née Alamuddin) out-glammed half the red carpet but rarely has a plus-one looked so awkwardly out of place . Tina Fey and Amy Poehler, who won the whole night with their opening monologue, put it best when Fey said: "Amal is a human rights lawyer who worked on the Enron case, was an adviser to Kofi Annan regarding Syria and was selected for a three-person commission investigating rules of war violation in the Gaza Strip. So tonight, her husband is getting a lifetime achievement award!" George later thanked her in his speech while she looked for the exit.
2. Winningest Brit – Joanne Froggatt
Redmayne as Stephen Hawking, Cumberbatch as Alan Turing and Oyelowo as Martin Luther King... It was the year that the Brits played heroes, but amid all the tuxedo-slapping, a former Coronation Street actress outshone them all by winning for her role a lady's maid. Joanne Froggatt, who plays Anna Bates in Downton Abbey, won best supporting actress on TV, beating Kathy Bates and Allison Janney. So shocked that she almost fell over on her way to the stage, Froggatt then owned it by paying tribute to rape victims who had contacted her after her character had become a victim in the latest series of the ITV hit. "I heard you and I hope saying this so publicly in some way means you feel the world hears you," she said.
3. Closest-to-the-bone joke – Fey and Poehler vs Bill Cosby
Did they really go there? Yes they did. Making previous taste-bothering host Ricky Gervais look like Gandhi's more diplomatic sister, Poehler took aim at Bill Cosby of date-rape-claim infamy. "Sleeping Beauty just thought she was getting coffee with Bill Cosby," she said, referring to the musical Into the Woods. "Bill Cosby has finally spoken out about the allegations against him," Fey added. "Cosby admitted to a reporter, 'I put the pills in the people. The people did not want the pills in them'." Reactions ranged from Jessica Chastain's hand over wide-open mouth to Lena Dunham's squeals of delight.
4. Most gratuitous 'Je suis Charlie' moment – Helen Mirren
Hollywood's greatest embraced the response to the Paris terror attacks but it's tough to make political statements and appear genuine while waltzing up a red carpet in the home of the superficial and the banal. Clooney just about got away with it with his "Je suis Charlie" badge and speech-based name drop, but Helen Mirren's hastily printed sign, held up for cameras with a smile, and fountain-pen brooch pinned to her bejewelled red dress sailed dangerously close to try-hard island.
5. Least original photobomb – Benedict Cumberbatch
Hey Bandersnatch, ditch the photobomb act. He got a laugh while clowning his way into the frame behind Meryl Streep while she posed for a photograph with Margaret Cho, a Korean-American comedian who appeared in the awards show as a humourless North Korean general. But Chowderpants pulled exactly the same stunt behind U2 at last year's Oscars, by which time Jennifer Lawrence had already exhausted the gag at the 2014 Golden Globes (behind Taylor Swift).
6. Most 1970s moment – Jeremy Renner
A celebrated turn by talented female presenters, awards for Selma, the Martin Luther King biopic, and the king of Hollywood upstaged by his more talented wife. It was all going so well, until Jeremy "Hurt Locker" Renner turned the clock back 40 years by cracking a joke about Jennifer Lopez's breasts. As she opened the envelope for best actor, saying "I've got the nails", he glanced down at her décolletage and added: "You've got the globes." Cue awkward titters and an icy look back at him.
7. Worst pronunciation – Ricky Gervais
It was a relief to see Ricky Gervais playing only a supporting role this year, but the former celeb-baiting Globes host drew out his presenting slot with a string of veiled insults before he mangled the name of a best actress nominee. Yet, after reducing Quvenzhané Wallis, the Annie star, to "kwevin jaar-knee" (it's more like "qu'venn ja'nay") he made out as if he'd nailed it, thereby avoiding a "John Travolta moment" (a reference to the actor's much-ridiculed attempt to re-Christen the actress and singer Idina Menzel "Adele Dazeem" at last year's Oscars).
8. Most unusual hair style – Leto man plait
Never one to shy away from a bold statement 'do (he helped to popularise the man bun, or mun, after all), Jared Leto chose the Globes to debut his latest style: the man braid (maid?). When the actor stepped out on to the stage to present an award, his hair looked harmless enough from the front. It was only when the camera panned towards the audience that we received a glimpse of Leto's beautiful locks. Naturally, someone immediately launched the plait its own Twitter account, @jaredletobraid. With plenty of men sporting copycat buns last year, could the man braid take off in 2015?
9. Best surprise appearance – Prince
The largest applause for the evening was surely reserved for Prince, who made a surprise appearance to hand out the best song award to John Legend and Common. Accessorising with dark glasses and a diamond cane, the musician chose a flashy silver suit for the awards show. Every famous person in the room promptly lost it as they grabbed their camera phones to snap the star (have a look on YouTube for Allison Janney going crazy). You would think that the A-listers would be better at playing it cool.
10. Best cameo in an acceptance speech – Michael Keaton's hot son
After Michael Keaton dedicated his best actor in a comedy award to his only son (who he had brought along as his date), the internet collectively drew a sharp intake of breath and were very vocal about admiring the handsome offspring, Sean Douglas. Calling the songwriter his "best friend", Keaton's voice cracked during the speech and the waterworks promptly arrived as Douglas looked on smiling. Cue dozens of articles with titles such as "Michael Keaton's son Sean is everyone's Golden Globes 2015 crush". Dreamy.
11. Best women shout out – Maggie G
Maggie Gyllenhaal used her speech for winning best actress in a TV mini-series for The Honourable Woman to give a shout out to the wealth of roles for women. "When I look around the room at the women who are in here and I think about the performances that I've watched this year, what I see actually are women who are sometimes powerful and sometimes not. Sometimes sexy, sometimes not. Sometimes honourable, sometimes not. And what I think is new is the wealth of roles for actual women in television and in film." Who said there are no good parts for women, eh?
12. Best meme – John Legend's wife's face
Being 2015 and all, awards shows tend to have one breakout meme (remember Angelina's leg at the Oscars?) and the Golden Globes was no different. Our favourite? It's got to be the inexplicable look that model Chrissy Teigen had on her face when her husband, John Legend, was accepting his award from Prince. Being a savvy social media user, Teigen was aware of the fuss she had caused. "It's been five minutes and I'm a meme," she tweeted. Later she recreated the funny face for an Instagram snap, proving to be a good sport in the process.
13. Best supporting meme – Catherine Emoji-Jones
The second finest meme has to go to Catherine Zeta-Jones who turned up accidentally dressed as the salsa dancer emoji. Olé! The 45-year-old actress's arm was photoshopped to face upwards just like the popular and much-used image.
Join our new commenting forum
Join thought-provoking conversations, follow other Independent readers and see their replies