How a bike crash set paralysed cyclist on the road to a miraculous recovery
Tony Paterson
Thursday 24 November 2011 01:00 Comments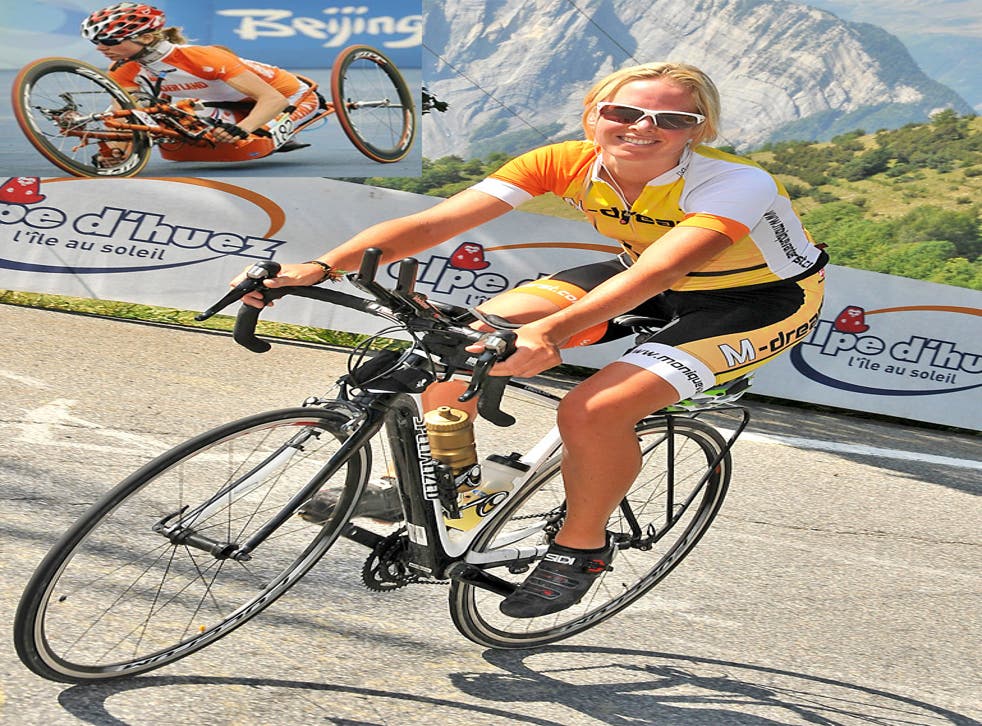 The world of professional cycling has been astounded by the remarkable story of a paralympic hand-cycling athlete who has been recruited to one of Holland's top racing teams after an accident prompted a miracle recovery enabling her to regain the use of her legs.
Monique van der Vorst, who was confined to a wheelchair and only able to power a bike by hand until late last year, was yesterday given a place on the Dutch Rabobank's first women's professional cycling team.
"It seems like a miracle," the team's spokesman Luuc Eisenga told The Independent yesterday. Normal foot-powered cycling had been impossible for Ms Van der Vorst from the age of 14, when she became paralysed from he waist down after an operation to correct a walking problem went wrong.
Undeterred by her handicap, she went on to become one of the first women to compete in the new sporting discipline of hand cycling. In 2008 she won two silver medals for her country at the Paralympic Games.
The 27-year-old athlete's successes encouraged her to prepare in earnest for the 2012 paralympics. But while training in Majorca in March last year, she was hit by another cyclist and thrown off her hand-cycle in what at first appeared to be another tragic accident. Her legs went into a spasm and she had to be hospitalised and treated for severe back pain.
However, by June 2010 she began to feel a tingling sensation in her left foot, which soon spread to her right foot. Physiotherapy and regular exercise enabled her to regain control and strength in both legs by late last year. On 20 November 2010 she was able to walk again for the first time in 14 years.
"The sudden change of standing after being in a wheelchair is indescribable because suddenly the whole world has a different perspective," she said. "It is really nice walking next to someone and being able to look straight into that person's eyes," she added. After that there was no looking back. Ms Van der Vorst began riding a regular foot-powered bicycle and then a racing machine. In the spring of this year she made her first foray into competitive cycling. Her remarkable story and determination quickly caught the attention of Holland's Rabobank cycling team, which will set up its first women's team next year.
Jeroen Blijlevens, who coaches Rabobank's teams, said he was looking forward to working with Ms Van der Vorst: "I'm sure the other members of the team have a lot to learn from Monique."
Register for free to continue reading
Registration is a free and easy way to support our truly independent journalism
By registering, you will also enjoy limited access to Premium articles, exclusive newsletters, commenting, and virtual events with our leading journalists
Already have an account? sign in
Join our new commenting forum
Join thought-provoking conversations, follow other Independent readers and see their replies