Ieng Thirith: Scholar who became the highest-ranked woman in the Khmer Rouge and was later charged with genocide
Her older sister, Khieu Ponnary, became Pol Pot's first wife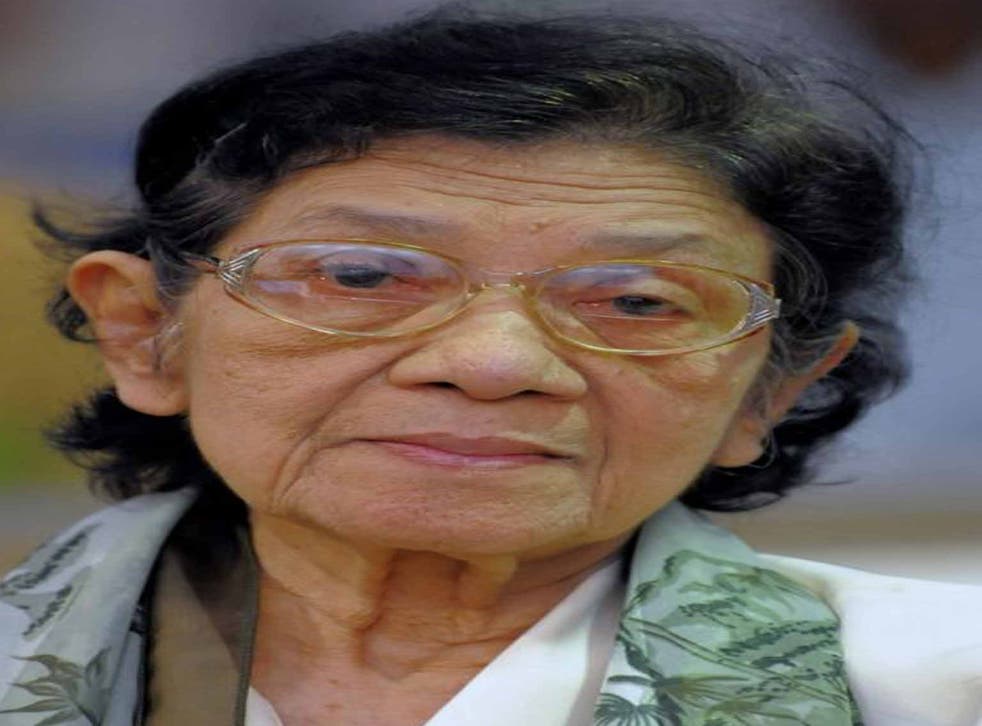 Ieng Thirith was the highest-ranking woman in the Khmer Rouge, the genocidal regime that oversaw the death of nearly 2m Cambodians. Sister-in-law of the movement's leader, Pol Pot, she was a Sorbonne-educated Shakespeare scholar but went on to serve as minister of social affairs, and was married to Ieng Sary, the regime's former foreign minister, who died in 2013.
Ieng was one of only a handful of aging Khmer Rouge leaders put on trial by a UN-backed tribunal, but in 2012, the tribunal was forced to free her after she was declared mentally unfit to stand trial because of an illness thought to have been Alzheimer's disease. However, the charges against her were not dropped. Prosecutors had accused her of involvement in the "planning, direction, co-ordination and ordering of widespread purges".
Born the second daughter of a Cambodian judge in 1932, Ieng came from a relatively wealthy and privileged family and travelled to Paris to study. She married Ieng Sary in 1951 during her stint in France, where she became the first Cambodian woman to earn a degree in English literature.
After returning to Cambodia in 1957, she worked as a professor and founded a private English school in the capital, Phnom Penh. In the 1960s she joined an underground circle of Cambodian left-wingers and followed her husband into the jungle in 1965, fleeing a harsh bout of government repression.
After the Khmer Rouge seized power in 1975 she was appointed minister of social affairs. Her older sister, Khieu Ponnary, became Pol Pot's first wife. The following year, she toured Cambodia's north-west to investigate health conditions, which she reported, accurately, were disastrous. But she did not blame the government; she told Pol Pot that foreign agents were infiltrating their ranks to undermine the revolution, and Pol ordered a purge of Khmer Rouge cadres in the region.
The sweep was one of several bloody episodes reflecting the regime's extreme paranoia. Between 1975 and 1979 around 1.7m people in Cambodia died of starvation, exhaustion, lack of medical care or execution.
A UN-backed tribunal was established in 2006 to seek justice for crimes committed by the Khmer Rouge, and Ieng was arrested in 2007 with her husband and charged with crimes against humanity, genocide, homicide, torture and religious persecution. She said the charges were "100 per cent false" and said she had worked for the benefit of the people.
Khieu Thirith, politician: born Cambodia 10 March 1932; married Ieng Sary; died 22 August 2015.
Join our new commenting forum
Join thought-provoking conversations, follow other Independent readers and see their replies