Independent on Sunday's Happy List 2014 (NOT the Rich List): Jean Bishop, buzzing fundraiser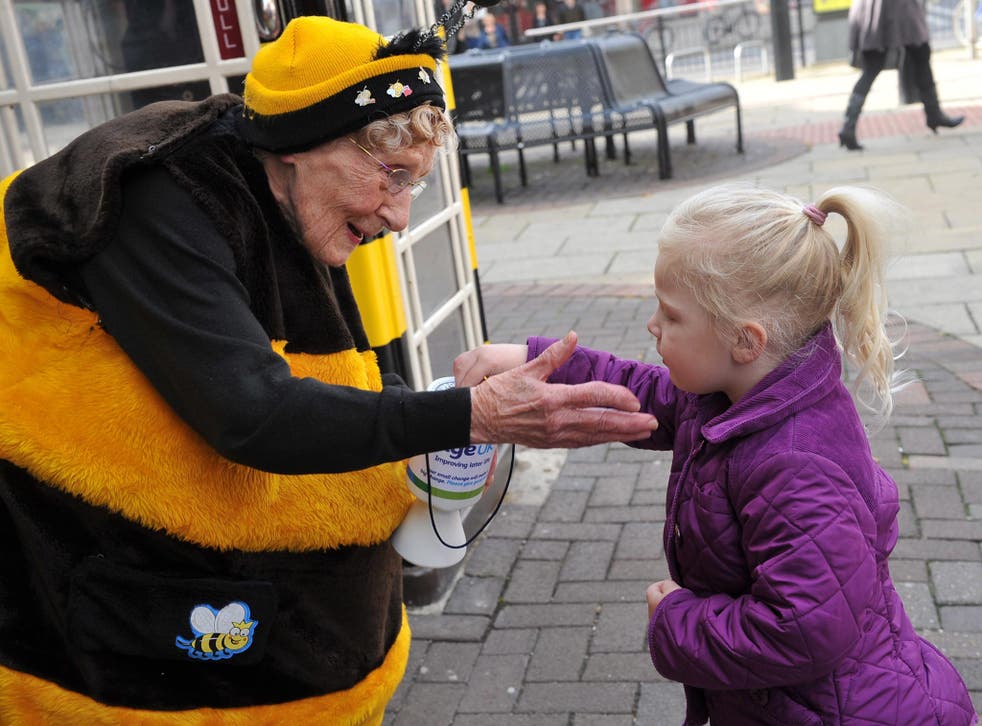 Go to Hull and ask for the Bee Lady and everyone will know who you are talking about. For 92-year-old Jean Bishop is something of a local celebrity.
For 14 years, she has been fundraising for Age UK. Her original idea was to dress up as a witch, but she soon found out that a bee costume was a much bigger hit with the locals.
So her buzzing persona was born. She has since dedicated over 1,000 hours to charitable work, dressed as a bee and rattling her tin for donations all over Hull.
Despite her severe arthritis, Jean has raised £92,000 of loose change. Her longstanding target of £100,000 was finally hit when, during the Pride of Britain awards ceremony, which named her fundraiser of the year, donations from the crowd helped her reach the amount. Some achievement, but Jean is not finished - she says she already has her mind set on collecting another £100,000.
"I really love it," she said. "I love the people, they're so friendly to me. I can't describe it, it's wonderful. Everybody, they hug me and kiss me, and they're so nice to me. There hasn't been one person who has been either disagreeable or nasty, they're lovely. I think, if you love everybody, even if you just like everybody, I think you just feel more cheerful and happy."

In Pictures: Independent on Sunday's Happy List 2014

Show all 94
She attributes her success down to two approaches: "One is smile and be happy; and if they've got any little children, praise them up."
Jean became involved with a knitting class at her local Age UK after the death of her husband and started fund-raising three years later.
In 2012, Jean took part in the Olympic torch relay and last year she realised her long-time dream of turning on Hull's Christmas lights. She's even had a phone box painted yellow and black in her honour.
She's also met David Cameron and tried to influence policy. "I sat in his chair," she recalls," and I said "right - decision made - first thing on Monday morning, pensions up!"
The full list of people who make life better for others
Tom Dowling, community journalist
Nikandre Kopcke, social entrepreneur
Carmel Allen and Josephine Drew, charity founders
Robert Williams, kindness giver
Dolly Saville, legendary barmaid
Martin Griffiths, surgeon/lecturer
Aneeta Prem, anti-slavery campaigner
Finally ... 10 household names who went the extra mile
Join our new commenting forum
Join thought-provoking conversations, follow other Independent readers and see their replies