Jessica Ennis-Hill pregnant: London 2012 gold medalist will miss Commonwealth Games after announcing she is expecting her first child
The heptathlete will miss the Games in Glasgow later this year after confirming that she and her husband Andy Hill are expecting their first child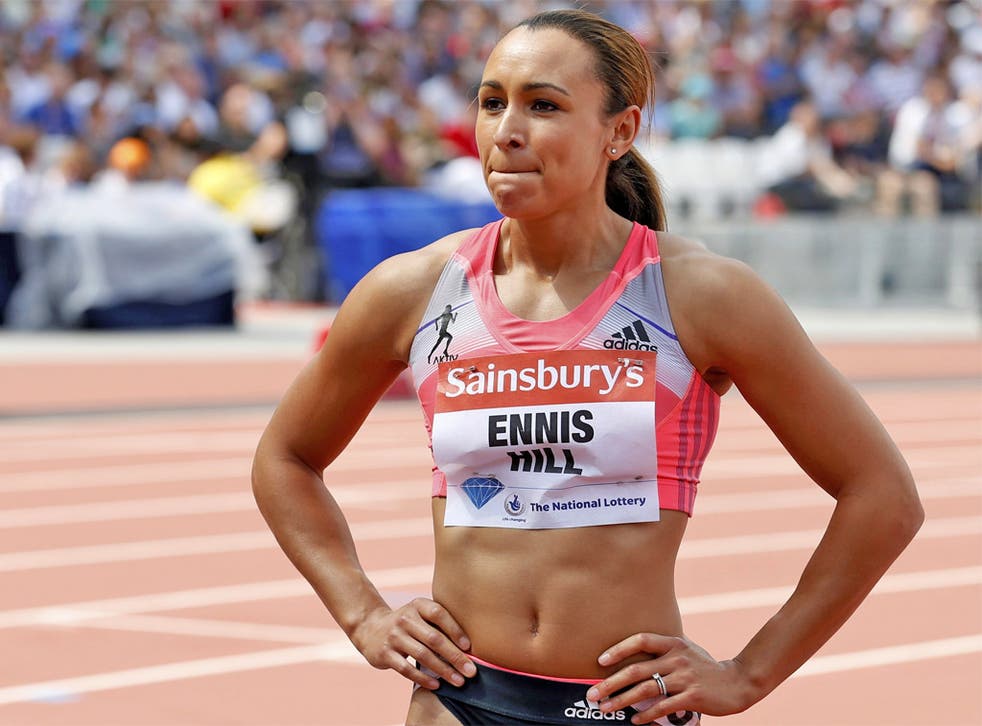 When the Olympic champion Jessica Ennis-Hill, who announced on Friday that she is pregnant, returns to competition after giving birth, some will wonder whether she will regain the form that saw her take gold in such thrilling style at the 2012 Games.
The 27-year-old heptathlete may be missed at this summer's Commonwealth Games in Glasgow, but she intends to defend her Olympic crown. "I am 100 per cent set on returning to full time athletics once our baby is born and go for a second gold medal at the Rio Olympics in 2016," she said.
But one of her colleagues, the English 2010 Commonwealth heptathlon champion Louise Hazel, immediately cast doubt on her assertion. "Is it possible to come back from Olympic gold as a heptathlete and go on to Rio? It throws a huge question over the continuation of a career as a heptathlete and that's just being realistic," she told the BBC.
Yet there are numerous recent examples of elite sportswomen not only returning to form after giving birth but going on to still greater achievements.
Paula Radcliffe won the New York marathon in November 2007, just 10 months after her first child, Isla, was born. US marathon runner Kara Goucher set a new personal best – beating her old time by more than a minute – at the 2011 Boston marathon, a year after giving birth.
The British long-distance runner Jo Pavey recorded the second-fastest time for an over 35-year-old and the second fastest time for a British athlete in the 10,000m at the 2012 Olympics – watched by her three-year-old son Jacob.
The US beach volleyball gold medallist Kerri Walsh Jennings, already a mother of two, was five weeks pregnant when competing at London 2012, while hockey player Keli Smith Puzo and modern pentathlete Mickey Kelly were just two of many mothers to compete in what were dubbed the "Women's Games".
Doubters may argue that there is a big difference between beach volleyball and heptathlon. But Greg Whyte, a professor in applied sport and exercise science at Liverpool John Moores University, said there was no reason why a sprint or aerobic athlete such as Ennis-Hill should not return to top form.
"Sprint athletes tend to retire earlier, so can have children after then. But that's the only imbalance," he said. "There is nothing to stop Ennis-Hill coming back."
Radcliffe ran throughout both her pregnancies, while Pavey said she ran up to about three weeks before her daughter, Emily, was born last year. But the most important reason, Professor Whyte said, is that pregnancy provides a long psychological rest from the rigours of being a top athlete.
"It is not having a baby that enables them to come back," he added. "For me, it is the psychological importance of what amounts to a sabbatical. They don't have to think about sports for a year – they have more important things on their minds.."
Pavey herself agreed. "There is no reason that Jess can't come back," she told The Independent. "She is young and has her best years ahead. In the holding camp in Portugal before the Olympics I ran some of my best ever times. I think it is because I was so happy in my personal life, and that was very motivating, and I also felt settled."
The mothers who made a sporting comeback

Show all 11
Join our new commenting forum
Join thought-provoking conversations, follow other Independent readers and see their replies