John Hopkins: Charismatic photographer, activist and leading figure in London's counterculture of the Sixties
Known as the 'King of the Underground', his clashes with the Establishment made him a target for the authorities
Chris Welch
Tuesday 03 February 2015 20:32 Comments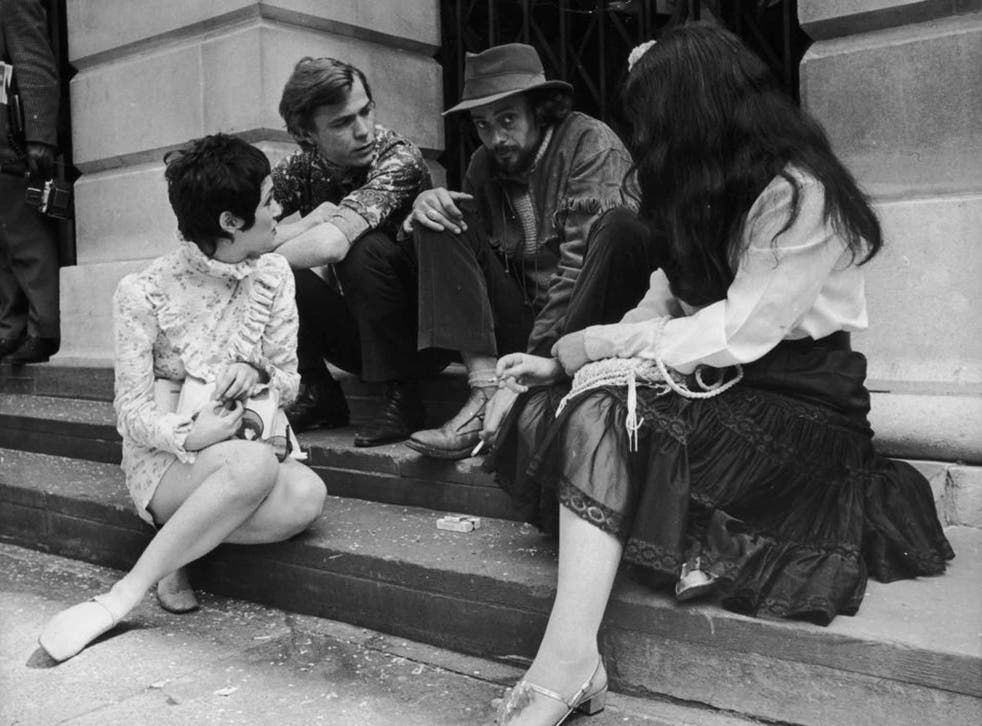 John "Hoppy" Hopkins was one of the most charismatic and influential figures in the London counterculture he helped establish during the 1960s. Through his early association with Pink Floyd and his work as a photojournalist and political activist, he became known as the "King of the Underground".
He helped establish the International Times, or IT, which became the voice of the hippie movement. He set up the London Free School, established the UFO psychedelic club and promoted the legendary 14 Hour Technicolor Dream, a climactic event of the 1967 Summer of Love. But his clashes with the Establishment made him a target for the authorities. Although he espoused the drug culture, he recognised its dangers and was more interested in encouraging others to "turn on" by fulfilling their artistic potential. It was in the latter role that he would be described as "inspirational".
He graduated in physics and mathematics from Cambridge at 20 and became a nuclear physicist for the Atomic Energy Authority at Winfrith in Dorset. One of his oldest friends, Graham Keen, recalled a peace mission to Moscow with Communist Party members in 1960. "We bought a 1936-model Austin hearse and painted it with peace slogans. We were short of people to go so a notice was put up at an Oxford college. Hoppy's girlfriend was at Oxford, so he picked up on this while visiting her.
"We got to Moscow, but he was always very self-contained and without telling anybody he left us and flew to Leningrad with one of the girls in the party. He was extraordinarily confident, having been to a minor public school. But there was trouble when he arrived back in England and was interviewed by Security because it was the height of the Cold War and he was working for the Atomic Energy Authority."
He resigned and turned to photography, going to London in 1960 and capturing images of blues and jazz artists such as John Lee Hooker, Dizzy Gillespie and Duke Ellington, as well as cultural figures like Allen Ginsberg and Malcolm X. Moving into pop music, he attracted attention for his stylised images of the Beatles, Rolling Stones and Marianne Faithful, his work appearing in Melody Maker, The Sunday Times, The Observer and Jazz Journal. His MM colleague Val Wilmer recalled, "I first met Hoppy in the Jazz News office, and we went off together on assignments to interview modern jazz stars like Thelonious Monk. He became such an influential person in my life that words cannot really describe. He was one of the most extraordinary people I've ever known. He was responsible for 1,001 things, from the miraculous to the exciting to the mundane...
"As a photographer he embraced reportage in an age when all editors wanted was a straight shot taken with flash... Every time he opened his mouth he said something interesting. He was like a magnet and drew people to his side. There was nobody else like him."
In 1965 Hopkins attended the Newport Jazz Festival, reporting back to Melody Maker on Archie Shepp and Cecil Taylor. When the saxophonist Ornette Coleman came to London he stayed at Hopkins' Queensway flat.
In 1966 he was intrigued by Pink Floyd performing at a "Happening" at the Marquee. In 2008 he recalled the experience to Bruce Cherry: "It was a fertile time when people from different media were listening to each other and experimenting. When Pink Floyd added a light show it created a different dimension. At a Happening you didn't know what was going to happen. Yoko Ono used to do them too, some quite boring and others quite sweet!"
Hoppy set up the London Free School in Notting Hill with Rhaune Laslett, which led to his involvement with the original Notting Hill Carnival. He also opened The UFO Club with producer friend Joe Boyd. Hopkins: "We ran it at the Blarney Club in Tottenham Court Road, which we booked at Christmas 1966. Floyd came to play with a light show and somehow it all gelled and became very successful."
Hopkins helped found International Times with Barry Miles, providing information about bands and gigs but venturing into more controversial areas, resulting in obscenity charges. Graham Keen, IT's art editor, recalls that it was for publishing gay contact ads.
IT was launched with a party at the Roundhouse on 15 October 1966. Hoppy had visited the abandoned building in 1962 when he was working for Arnold Wesker's Centre 42. "We asked Wesker if we could use it to launch IT, and he thought it would be a polite cocktail party." Instead it was a chaotic Happening, where Paul McCartney first saw Pink Floyd play.
LSD had begun to pervade the hippie scene and, Hoppy reflected, "I may have been tripping myself when all this was going on. But the moral is you have to be careful what you ingest as it can affect you adversely."
When IT needed to raise money for its legal defence, the staff organised a benefit concert. The 14 Hour Technicolor Dream was held at Alexandra Palace on 27 April 1967, featuring Pink Floyd and Soft Machine and attended by John Lennon and Yoko Ono. "Some of the tickets were stolen in advance and a posse took all the money at the doors, very successfully," said Hopkins. "Unfortunately, none of that money got back to the organisers."
In 1967 Hopkins married his American girlfriend Suzy Zeiger, known as Suzy Creamcheese during her previous association with Frank Zappa. It was another headline-grabbing event as the marital paper work was a muddle and they had to go through the ceremony again. But that year Hopkins was arrested on drug charges and sent to prison for six months. At his trial he defended drug use and was described by the judge as "a pest to society." Wilmer recalled: "He was out of the country and while he was away the police raided his home and found people smoking. He was accused of allowing his place to be used for taking drugs. There was a big campaign to free him but the authorities wanted to make an example."
He later worked with the Arts Council and Home Office, became involved in video production and set up the Fantasy Factory editing suite. Shooting From The Hip (2008) surveyed his photography. He suffered from Parkinson's disease but retained his sense of humour and modestly accepted his role as the former King of The Underground.
John Hopkins, scientist, photographer, journalist, researcher and activist: born Reading 15 August 1937; died 30 January 2015.
Register for free to continue reading
Registration is a free and easy way to support our truly independent journalism
By registering, you will also enjoy limited access to Premium articles, exclusive newsletters, commenting, and virtual events with our leading journalists
Already have an account? sign in
Join our new commenting forum
Join thought-provoking conversations, follow other Independent readers and see their replies