Justin Bieber arrested and bailed for DUI and drag racing in Miami Beach
According to law enforcement sources, the pop star was taken into custody for his involvement in an incident in Miami Beach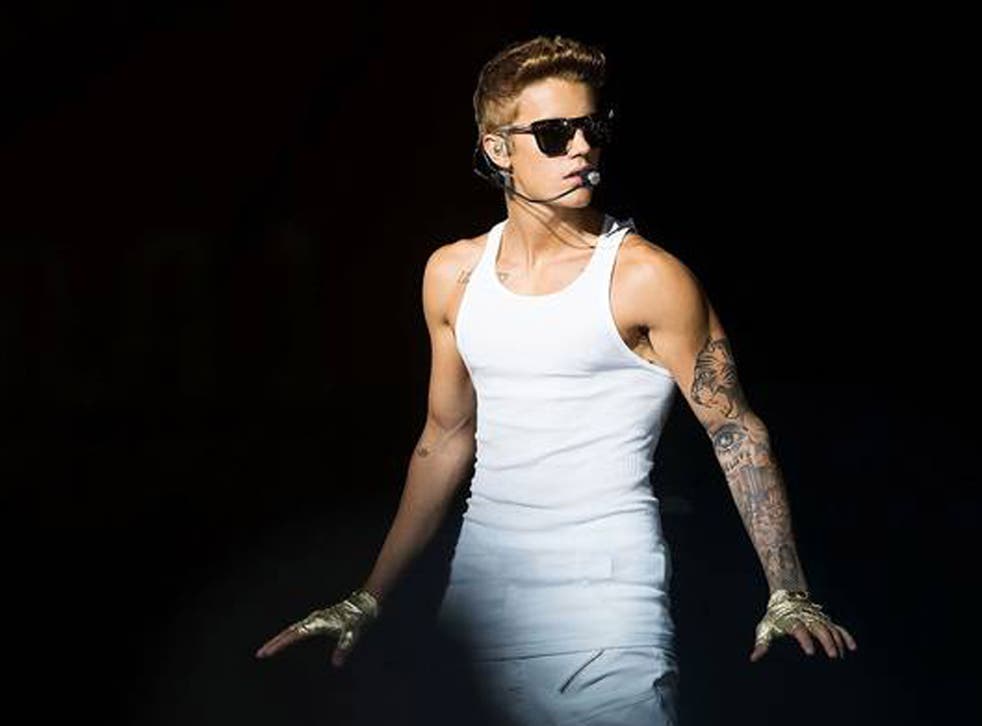 Justin Bieber has been bailed on charges of driving under the influence, drag racing and resisting police arrest without violence.
Bieber, who was at the wheel of a rented yellow Lamborghini, was arrested at 4.19am on Thursday morning and charged with driving under the influence, driving with an expired licence and resisting arrest "without violence". According to the Miami Herald, Bieber's entourage had used large, black SUVs to block traffic on Pine Tree Drive, turning the street into a drag strip. Bieber was allegedly driving at up to 60mph.
Police officer Fulgencio Medina said that as he approached Bieber's vehicle he noted Bieber's "bloodshot eyes" and "stupor look".
The police report states Bieber confessed to having beer, marijuana and prescription drugs in his system. Miami Beach Police Chief Raymond Martinez said the star was "a little belligerent".
Bieber objected to Medina's body search, reportedly saying, "I ain't got no f***ing weapons, why do you have to search me, what the f*** is this about?"
R&B artist Khalil, who was driving a Ferrari, was also arrested. A drink driving conviction in Florida has a maximum jail term of six months.
Justin Bieber's biggest controversies and mishaps

Show all 17
Bieber reportedly visited a strip club on Lincoln Road on Wednesday night. The incident is thought to have taken place shortly after he left the venue, where he allegedly spent a cool $75,000 (£45,000).
A second person is thought to have been travelling with Bieber in the passenger seat. TMZ reports that the person is a model named Chantel. The article also suggests that Bieber's management blocked off the street especially for Bieber to drag race.
According to the police report obtained by the site, Bieber was defiant from the outset, shouting at the officers on the scene: "Why the f**k are you doing this?"
He also yelled: "What the f**k did I do. Why did you stop me?"
Bieber claimed he wasn't drunk and that he was returning from recording music in a studio.
However, the report suggests he had lied to law enforcement officers and was returning from the club.
Before the pat down, Bieber "kept going into his pants pocket" as he exited his vehicle.
The officer ordered him to put his hands on the vehicle, and Bieber initially complied but soon took his hands off the car, before turning round and swearing at the officer.
The policeman then grabbed Bieber by the right arm. He pulled his arm away, and said, "What the f**k are you doing?"
The report says Justin was driving between 55 and 60mph in a 30mph residential area.
The news comes just one week after Bieber's Californian home was raided over claims he pelted a neighbour's house with eggs.
Bieber spent most of December teasing the music world with news of his retirement.
The multi-platinum selling star took to Twitter to break the news to his 47 million followers on Christmas Eve. "My beloved beliebers I'm officially retiring," he tweeted.
His 4am posts then continued with the contradictory statement that he would be here "forever".
He wrote: "The media talks a lot about me. They make a up a lot of lies and want me to fail but I'm never leaving you, being a belieber is a lifestyle... Be kind loving [sic] to each other, forgive each other as god forgave us through Christ Merry Christmas IM HERE FOREVER".
He first suggested he would be quitting the industry during an interview with Power 106 FM, where he told host Kurt Alexander in Los Angeles: "Um, I'm actually retiring man". He added: "I want to grow as an artist, and I'm taking a step out, I want my music to mature."
However, his manager Scooter Braun later dismissed the singer's remarks and confirmed that he will not be retiring after all. "Next year he's taking a break just to make music and relax, take some time for himself for the first time since he was 12," Braun told ITN at the premiere for his new movie Believe.
Join our new commenting forum
Join thought-provoking conversations, follow other Independent readers and see their replies