London 2012: Morrissey attacks 'blustering jingoism' of the Olympics and compares atmosphere to Nazi Germany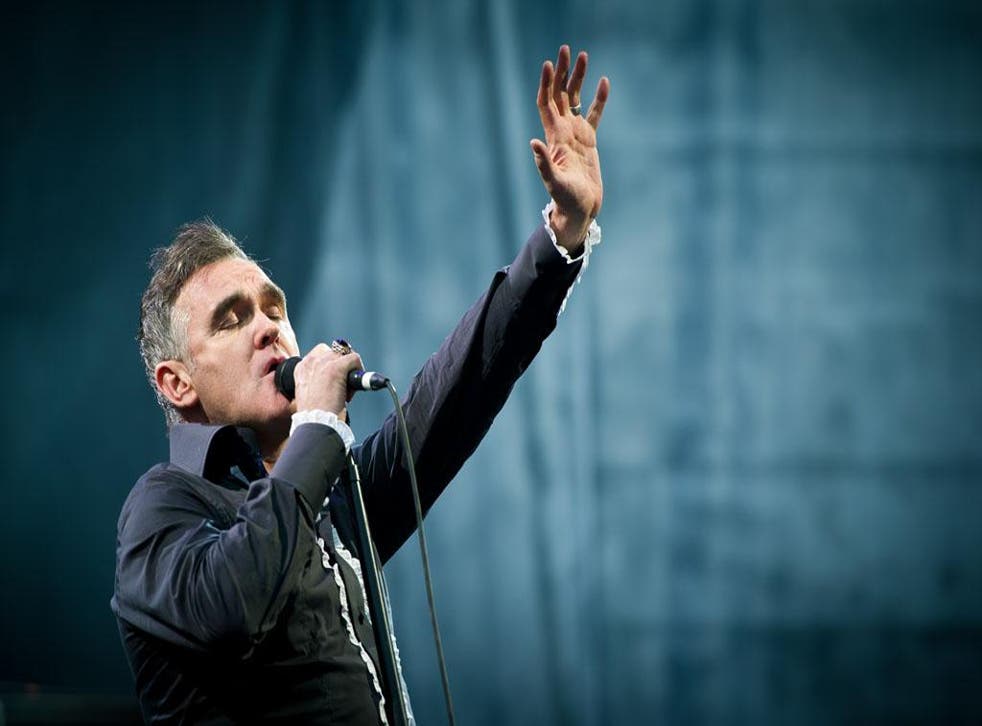 Trust Morrissey to rain on Britain's patriotic parade. The singer has been criticised for attacking the "blustering jingoism" of the Olympic Games and comparing the atmosphere to Hitler's Germany in 1939.
Whilst the nation has largely united in celebration of Team GB's medal-winning exploits, the former Smiths frontman remains unmoved by the fervour. In a web letter to his True To You fan club, Morrissey wrote: "I am unable to watch the Olympics due to the blustering jingoism that drenches the event."
The Heaven Knows I'm Miserable Now singer asked: "Has England ever been quite so foul with patriotism? The 'dazzling royals' have, quite naturally, hi-jacked the Olympics for their own empirical needs, and no oppositional voice is allowed in the free press. It is lethal to witness."
Morrissey, who left Britain to embark upon a European tour after complaining that he had not been invited to participate in the Opening Ceremony, said London was being "suddenly promoted as a super-wealth brand" as the rest of England "shivers beneath cutbacks."
He concluded: "…Although the spirit of 1939 Germany now pervades throughout media-brand Britain, the 2013 grotesque inevitability of Lord and Lady Beckham (with Sir Jamie Horrible close at heel) is, believe me, a fate worse than life. WAKE UP WAKE UP."
Morrissey was criticised by Labour MP Kerry McCarthy. "I think Morrissey, who doesn't even live in the UK these days, is completely out of touch with the public mood," she said. "Yes, people have been critical of the commercialism, the control exerted by sponsors and some of the organisational problems, but from Danny Boyle's opening ceremony to Mo Farah's 10,000m win the country has been displaying not jingoism but national pride - and I think it's justified."
McCarthy, a shadow Foreign minister, added: "Morrissey these days is rather clutching at straws in a bid to appear controversial and get some attention - eg making his band wear 'we hate William and Kate' T-shirts on stage in Argentina. If he is going to make political statements there are plenty of more serious topics he could and should be getting his teeth into."
A sceptical note was however struck by The Independent's own Simon Kelner, who wrote in the i paper: "I find the fever pitch of jingoism, reflected in the breathless BBC coverage, a complete turn-off. In fact, it makes me the opposite of proud. There, I've said it. Take me off to the Tower."
In his Monday column, Mr Kelner argued: "I am pleased that these are British athletes enjoying success and adulation. But, sadly, it doesn't make us better people because we are British too."
Gary Lineker, the BBC Olympics presenter, tweeted in reply: "How can we just be neutral? Would turn a truly memorable games into something dreadfully dull. We cheer GB athletes, yet still marvel at the likes of Bolt."
Entering the debate, Piers Morgan said: "This doesn't make us 'better British people' - it makes us 'feel better to be British'."
Even Morrissey's musical peers are revelling in Team GB's exploits. Welsh rockers the Manic Street Preachers hailed Super Saturday's haul of six Gold medals as a "Truly heroic day of Pure Sporting Genius." A message posted on the band's official Twitter feed on Monday read: "Every positive bone+thought in my body is for dai greene today need the race of your life boyo."
Morrissey's comments prompted a negative response on Twitter, even from those who professed to be Smiths fans. Writer David Quantick tweeted: "I think it's Morrissey's positivity that his many fans like best about him."
Join our new commenting forum
Join thought-provoking conversations, follow other Independent readers and see their replies