Major Grahame Vivian: Soldier whose extraordinary bravery helped turn around the war in the Far East and won him the Military Cross
Brought up with his grandparents' Quaker ideals, he might have followed in those civilian footsteps had not the Second World War interrupted his studies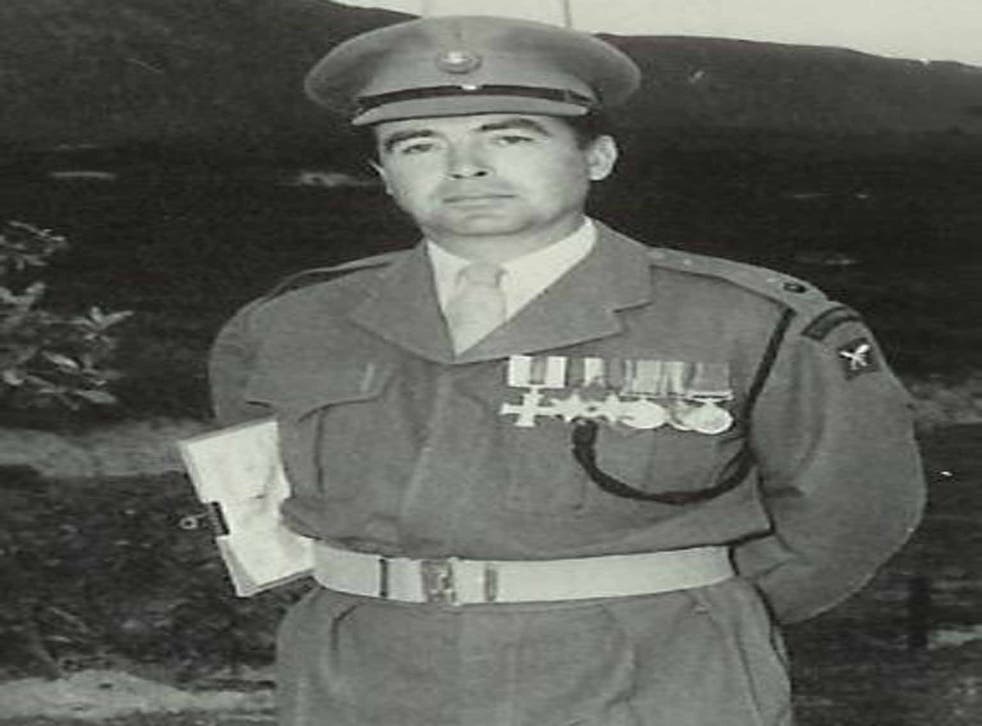 Grahame Vivian, Cornishman and Gurkha officer, played a vital role in the gathering of enough strength by the British Fourteenth Army under General Bill Slim to rout the Japanese in Burma in 1944. At a time when the Far Eastern enemy was in British eyes a bogey of whom little was known or understood, and was in possession of Singapore and Rangoon, and was further massing divisions ready to invade India, Vivian's capture of DhobieHill in the Arakan was one of the earliest signs that Britain's forces would soon be on the way to victory.
To gain his objective, the 24-year-old officer knew he had to match and surpass the Japanese troops' seemingly fanatical dedication, which for two years had helped them trounce the British again and again. Vivian encouraged his men on, despite all that the defenders could lob down on them from the summit, and continued to command even though he received wounds so grievous that a man with any thought for his own life must certainly have given up.
"Blown over by a mortar shell and painfully wounded in the chest, stomach, and twice in the arm... he refused to be delayed by any medical attention..." the recommendation for his Military Cross says. "In the meantime the enemy had succeeded in reinforcing the position and infiltrating around our company... this officer allotted defensive areas to his commands and continued... to encourage his men until he himself was exhausted from the effects of his wounds."
British intelligence, in this field notoriously scanty, had suggested that Dhobie Hill was not occupied, and Vivian, with a company of the 4th battalion of the 8th Gurkha Rifles, was ordered to infiltrate it on 9 January 1944, only to find it heavily defended. These were troops from the extra divisions the Japanese had been bringing up with designs on entering India through Chittagong, and Vivian's Gurkhas' success presaged the first great British victory of the campaign, the "Battle of the Admin Box", which would come the following month.
In that hand-to-hand, two-and-a-half week fight for possession of the 7th Indian Division's makeshift stores and medical dressing station at Sinzweya in the area's Mayu range of mountains, Vivian's example of determination at Dhobie Hill would be a pattern for those whose much larger-scale triumph – with the remnants of his own Company among them – would leave the precipitous jungle-clad tracks clogged with Japanese dead, an enemy division destroyed, its supply routes cut and Nippon's hopes of getting to India that way dashed.
Vivian, however, was not to see it. With Dhobie Hill secured, two of his men bore him away on a makeshift stretcher slung between a pair of rifles, and after a trek of three days reached regimental headquarters, where medical attendants, examining his dreadful wounds, concluded he must surely die. A letter reached his family saying he was dead, and his survival was learned of only later.
He spent weeks in hospital in India before being evacuated to Britain. There followed a year of treatment and a painful series of operations to restore, as far as possible, the use of his right hand. To the end of his life he had a piece of shrapnel in his throat that showed as a lump at the front, the removal of which was thought likely to be so dangerous as to kill him. Another piece remained in his shoulder.
Nonetheless, he led the Gurkha contingent in the Victory in Europe parade in London in May 1945, and he married his fiancée of six years, Gwen Caswell, whom he had met sailing on the Cornish coast. They would have two sons and a daughter.
John Edgar Grahame Vivian came from the same stock as the man who led the last cavalry charge at Waterloo, Lieutenant General Richard Hussey Vivian, the 1st Baron Vivian. Yet the family, which inherited the sword brandished after Napoleon's Old Guard broke, had an industrial rather than a military traditionthat centred on the mining of Cornwall's copper, tin, silver and china clay.
Vivian's father, a mining engineer, had found work in Burma and Thailand, and Vivian, the youngest of five children, was schooled at Repton and then the Camborne School of Mines. Brought up with his grandparents' Quaker ideals, he might have followed in those civilian footsteps had not the Second World War interrupted his studies and set his course for soldiering. From the Duke of Cornwall's Light Infantry, not wishing to be assigned to the mining corps, he transferred to the Indian Army and the 8th Gurkha Rifles.
After Indian independence in 1947 the Gurkha regiments were divided between the British Army and the new Indian Army. Vivian joined the 2nd King Edward VII's Own Goorkha Rifles (the Sirmoor Rifles) in the British Army. He served in Malaya, Hong Kong and Singapore, commanding HQ Company in the 2nd Battalion in Hong Kong, and A Company 2nd Battalion in Malaya. He won the Bar to his MC in a daring secret jungle operation during the Malayan Emergency in 1956 in which he reconnoitred a large camp of Communist terrorists then led an attack and captured a number of the insurgents.
Soon after retiring from the Army in 1960 he was back in service at the start of a long association with the Sultanate of Oman, where his fluent Urdu and Arabic, learned in addition to Gurkhali, were put to good use. As Deputy Commander of the Oman Gendarmerie he helped to defeat rebels in the rugged and inhospitable Dhofar region and ran the sultanate's navy, sailing dhows as Commander, Coastal Patrol. After Sultan Qaboos came to power in a coup against his father Sultan Said bin Taimur, in July 1970, Vivian served in the Oman Research Department (Intelligence), then as Jebel Liaison officer (Political Officer) in the Jebel al Akhdar mountains. Oman decorated him in 1984 with the Sultan's Distinguished Service Medal.
He returned to Cornwall in 1985 and for two years cared for his wife, who had become ill and who died in 1987. In 1996 he married Lorna Kirby, who with his three children survives him.
John Edgar Grahame Vivian, soldier: born, Camborne, Cornwall 28 October 1919; MC (1944) and Bar (1956); married 1945 Gwen Caswell (died 1987; one daughter, two sons), 1996 Lorna Kirby; died Golant, Cornwall 10 July 2015.
Join our new commenting forum
Join thought-provoking conversations, follow other Independent readers and see their replies