Michael Schumacher latest: Fans hold silent vigil outside F1 champion's hospital for his 45th birthday
As the former Formula 1 champion fights for his life in a medically induced coma, well-wishers staged a vigil outside his Grenoble hospital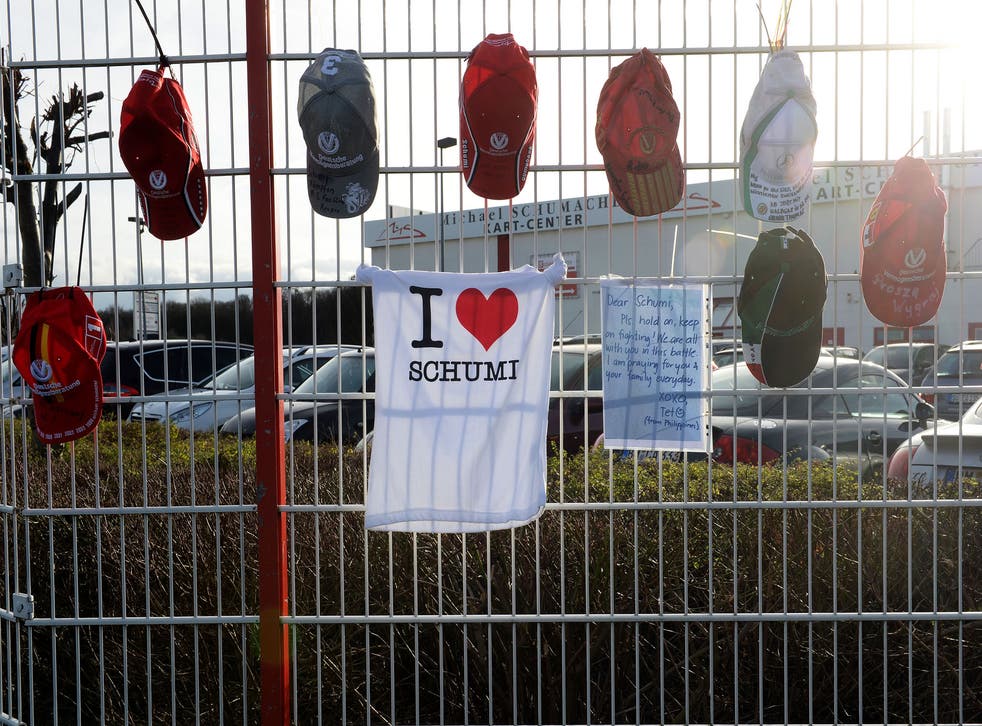 Michael Schumacher's fans are determined not to let his 45th birthday pass by unmarked.
As the former Formula 1 champion fights for his life in a medically induced coma following a skiing accident, well-wishers staged a vigil outside the Grenoble hospital where he is currently being treated.
Michael Schumacher Latest: Critical But Stable
T-shirts with the slogan 'I Heart Schumi', Ferrari caps, banners and flowers festooned the fences surrounding the medical facility, but not a sound could be heard. In the deepest respects for his recovery, the vigil was entirely silent.
Meanwhile, Ferrari clubs from France and Italy gathered outside the hospital as the team with whom Schumacher won a record five titles in a row with between 2000 and 2004 organised a silent march in support.
Moving scenes as fans hold silent vigil for Michael Schumacher's 45th birthday

Show all 10
While a sombre and poignant occasion, those present are optimistic to hear more encouraging news on the medical condition of the German sportsman, who is currently believed to be in a critical but stable state.
There was no official update on Schumacher yesterday, but his family did release their first statement since the accident, during which they insisted the champion "will not give up" the fight for his life.
It read: "Following Michael's skiing accident, we would like to thank the people from all around the world who have expressed their sympathy and sent their best wishes for his recovery.
"They are giving us great support. We all know he is a fighter and will not give up. Thank you."
Schumacher's wife Corinna was persuaded to take a break from his bedside, where she has spent the last five days. She was seen arriving back at the hospital yesterday.
Journalist Dressed As Priest Tried To Sneak Into Schumacher's Hospital Room
The 44-year-old has been married to Michael for 18 years. The racing driver is apparently surrounded by keepsakes from the couple's two children, Gina-Maria, 16, and Mick, 14.
"Corinna of course, is really not good," Schumacher's manager Sabine Kehm said. "But she is trying to be strong for Michael, to give him support and not allow negative thoughts to reach him."
Doctors confirmed that following a second operation, they had seen a "slight improvement" in Schumacher's condition, although he was being treated on an hour-by-hour basis.
Meanwhile, a French newspaper has reported that investigators trying to determine the cause of his accident want to speak to Schumacher's media officer and manager Sabine Kehm after she gave her account of what had transpired, in which she claimed that speed was not a factor.
Kehm said that high speed was not responsible for the accident at the exclusive Méribel ski resort in the French Alps, and that Schumacher had stopped shortly before the crash to help a friend who had fallen over. She went on to claim that the 44-year-old then hit a rock which led to him being "catapulted in the air" before landing "apparently head down" onto another rock that split his helmet in two.
The Dauphiné Libéré spoke to prosecutor Patrick Quincy, who said: "Some rocks were visible and others weren't. The only thing that we are sure of at this time is that Michael Schumacher lost his balance because of one of them before he fell."
The next update is expected later today.
Further Reading: Schumacher's Helmet 'Split In Two' Following Skiing Accident
Join our new commenting forum
Join thought-provoking conversations, follow other Independent readers and see their replies