Michael Schumacher skiing accident: F1 champion went off piste but 'not travelling fast', French prosecutors confirm
French prosecutors investigating the F1 champion's skiing accident held a press conference at the Palais de Justice in Albertville this morning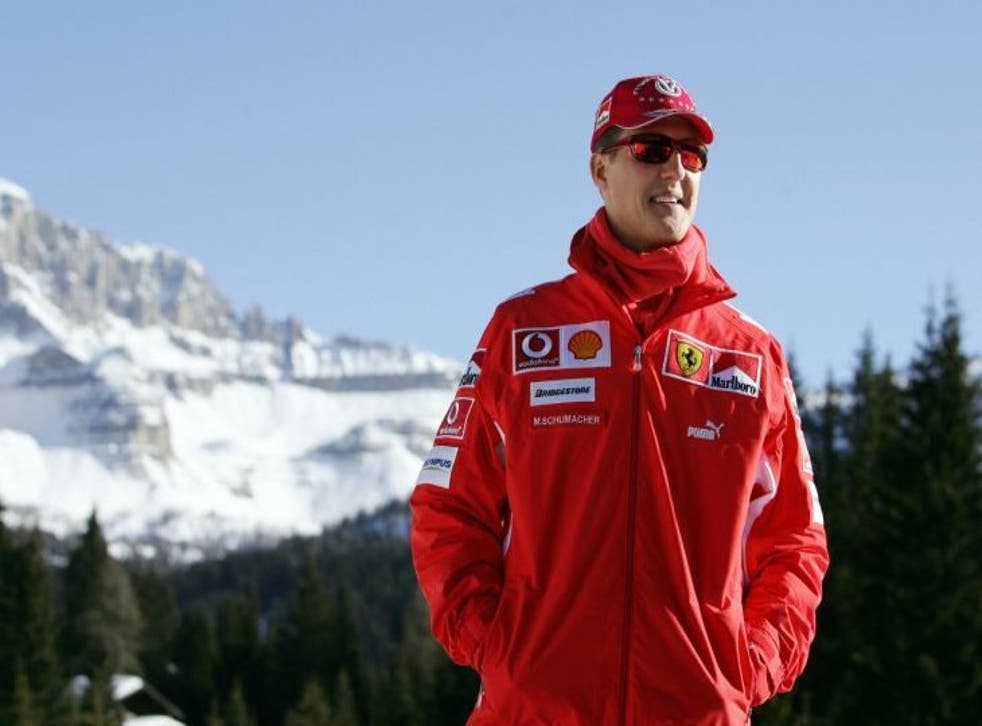 Michael Schumacher was six metres off the official piste but skiing at a reasonable speed when he crashed headlong into a rock in the French Alps ten days ago, investigators said on Wednesday.
A two-minute long film taken by a camera in the former racing driver's helmet has been studied to try to discover what caused the accident, the state prosecutor in Albertville, Patrick Quincy, told a press conference.
Judging by this footage and other evidence, he said, "speed is not considered an important element in the investigation." The film is, however, to be re-examined frame-by-frame by experts in the coming days.
Lt-Colonel Benoit(circ on i) Vinnemann, head of the regional gendarmerie investigation team, said that Schumacher's speed was "perfectly normal for a competent skier in this kind of terrain."
Mr Schumacher, 45, remains in critical condition and in a medically induced coma in hospital in Grenoble after two operations for brain injuries received while ski-ing in Meribel on 29 December.
Career in Pictures: Michael Schumacher

Show all 17
Mr Quincy said that "no elements" had been discovered so far to support press reports that Mr Schumacher left the official piste to help another skier in difficulties. He said that the seven times Formula One champion had left a clearly marked "red", or moderate, slope to enter an area of powdery snow dotted with large rocks.
While skiing between three and six metres from the piste, his skis struck a rock hidden in the snow. He was projected headlong for two to three metres until his head struck one of the rocky outcrops. Neither the racing driver's skis nor his helmet were defective in any way, investigators believe.
"He was following a red piste and then crossed the flags and entered in an off-piste zone," the prosecutor said. "He was between three and six metres from the piste. He lost his balance when he touched a (hidden) rock and was projected forward until his head struck a rock about 8 metres from the piste."
There have been reports that Mr Schumacher left the piste to help another skier who had fallen. There was no sign of such an incident in the short film from the racing driver's GoPro helmet camera, Mr Quincy said.
"But it is a very short film and the field of vision of the camera is very small," he said.
The prosecutor complained that the German magazine Spiegel had so far not responded to inquiries about another film of the accident reportedly taken by another skier. The magazine said last week that it has seen the film and it proved that Mr Schumacher was not ski-ing dangerously or rapidly when he crashed
The French investigation will decide within the next two or three weeks whether there is any evidence to merit a full criminal inquiry. Mr Quincy said that the signs and barriers, warning skiers where the official piste ended, were "perfectly within normal procedures".
He was asked whether the route taken by Mr Schumacher was a "de facto piste" – an unofficial trail often taken by skiers and tolerated by the managers of the Meribel resort. He said that he could not reply at this stage.
He said that 50 similar investigations into serious skiing injuries were conducted each year by his office, which covers 60 per cent of French Alpine winter resorts. They were all studied, he said, with the same "rigour" as the Schumacher accident. He was not aware of any previous, serious incident at the spot where the German former racing champion crashed.
Asked whether he believed that there might be a criminal prosecution for negligence, Mr Quincy said: "As the investigation stands, I am not able to reply to that question."
Join our new commenting forum
Join thought-provoking conversations, follow other Independent readers and see their replies