Neville Neville has been found 'not guilty' of sexual assault
His son, Gary Neville, broke down in tears as the jury cleared the football agent of all charges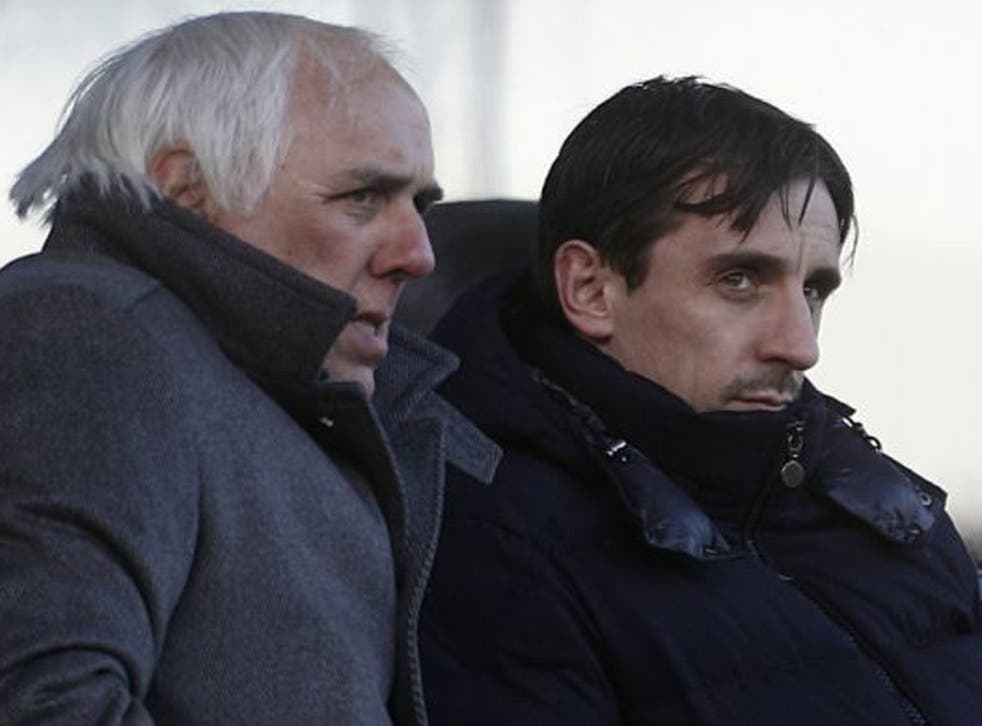 Neville Neville, the father of former England footballers Gary and Phil Neville, has been found not guilty of sexual assault.
Neville Neville, the father of former England footballers Gary and Phil Neville, has been found not guilty of sexual assault.
The football agent, 64, admitted to engaging in sexual activity with the complainant near his house, but claimed it was consensual.
The woman had told the court that Neville had forced himself on her whilst drunk.
Neville looked up towards the ceiling and mouthed the words "thank you" to the jury as the verdict was delivered after 75 minutes of deliberation.
His son Gary cried as he heard the verdict.
Speaking outside the courtroom, Neville said, "I can't say anything right now. Maybe later," before being ushered away by Gary.
Updated at 17.00 on Thurs 19 Dec
The alleged victim said Neville Neville, 63, drunkenly forced himself upon her after she gave him a lift home following a night out in his home town of Bury, Greater Manchester.
A jury at Bolton Crown Court has heard that Neville claims the encounter was consensual after they shared a "passionate" kiss as he went to leave her car.
The incident took place in the early hours after a night out in March this year, when the middle-aged woman offered Neville a lift because of the snowy weather.
Giving evidence, the woman, who is a Manchester United supporter, said she knew the defendant but not on a personal level.
Orlando Pownall QC, cross-examining, suggested to her that, like it or not, his client was "a bit of a celebrity in the area".
"His children are well-known and as a result he is well-known," he said to her.
She replied: "He is not a celebrity.
"I just said he is an upstanding member of the community because of what he had done for Bury Football Club. He saved Bury Football Club. That to me was good."
She said she agreed that what happened was unexpected and that neither had been flirtatious beforehand.
Mr Pownall said: "Mr Neville does not have a reputation for lunging at women, does he?"
The witness said: "Neither did Stuart Hall."
The barrister said as she had mentioned Hall, he noted that not one person had come forward to make a similar complaint as a result of the publicity of his client's arrest.
She said: "Do you blame them? Look at this [gesturing to the courtroom]. Look at what am I going through. People are frightened, I am so frightened. I am telling the truth."
Neville denies sexual assault.
PA
Updated at 11.30 on Tues 17 Dec
Neville Neville, 63, whose sons Gary and Phil watched the opening of the trial at Bolton Crown Court, had had "far too much to drink" when the alleged attack happened, it was claimed.
The jury was told that Mr Neville had not denied that the incident involving a woman who was known to him had occurred. Peter Cadwallader, for the prosecution, said: "He accepted what she said had physically happened did happen, save for that it was all with consent."
Mr Neville, of Bury, Greater Manchester, denies a single count of assault by penetration alleged to have happened in the early hours after a night out in late March this year.
The court heard that he had been offered a lift home in snowy conditions. The defendant is then accused of "lunging" at the woman and forcing his tongue into her mouth.
Despite being told to stop he touched her breast and then forced his hand down her trousers and inside his alleged victim's underwear, it was claimed.
"The Crown say it was not consensual and he knew full well it was not consensual because she told him so," Mr Cadwallader told the jury
The case, which is expected to last four days, continues.
By Jonathan Brown
Updated at 15.00 on Mon 16 Dec
The agent, 63, of Larkfield Close, Bury stands accused of attacking a woman in Bury, Greater Manchester, in March 2013 by sexually penetrating her with his finger without her consent.
The trial, which starts at Bolton Crown Court later today, is scheduled to last up to four days.
Neville has denied the accusation.
He was charged in May this year and appeared before Magistrates on 12 June.
Nazir Afzal from the CPS said at the time: "Greater Manchester Police has investigated an allegation of sexual assault by Neville Neville in March 2013.
"I have authorised the police to charge him with one count of sexual assault by penetration against a 46-year-old woman.
"This decision is made in accordance with the Code for Crown Prosecutors."
His lawyer Simon McKay stated: "I confirm Mr Neville has been charged with sexual assault.
"In response to the CPS's swift and public statement, I wish to state clearly that he strenuously denies the allegation.
"Mr Neville intends to defend the allegation vehemently. Please respect the family's privacy at this difficult time."
Neville is the former commercial director and manager of Bury Football Club.
As well as working as an agent for his two sons Phil and Gary – now an England coach and a TV pundit respectively – Neville is the former commercial director and manager of Bury Football Club.
By Jenn Selby
Updated at 08.00 on Mon 16 Dec