Paco de Lucia dead: Legendary Spanish flamenco guitarist dies aged 66
Musician widely credited as bringing flamenco to an international audience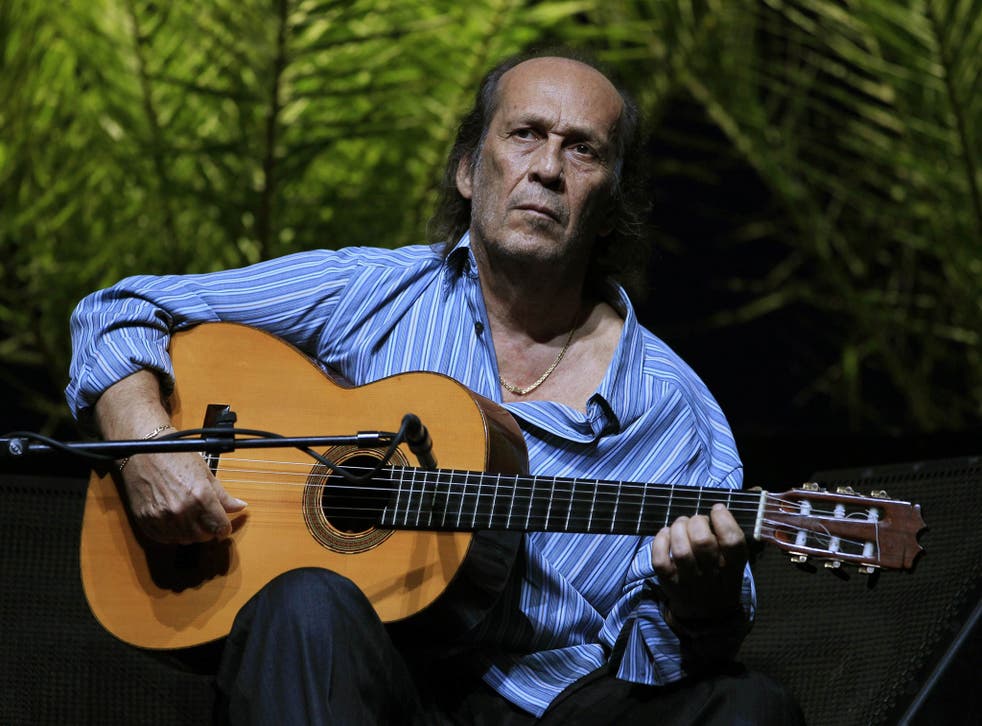 Paco de Lucia, the guitar playing "pioneer" who brought flamenco to an international audience, has died at the age of 66.
The lauded musician, who had performed for more than five decades and who is credited with modernising the Spanish gypsy guitar tradition, died of a heart attack in Mexico.
The mayor of his hometown Algeciras, the heart of flamenco country, announced the news, saying de Lucia's death "turns his genius into a legend".
Flags flew at half-mast as the town prepared for three days of mourning. "Although he has gone, his music, his wonderful way of playing and his character will always be with us," he added.
Award-winning classical guitarist Milos Karadaglic told The Independent: "Paco was one of those great artists who will be remembered in history for changing this music; for creating a new energy and excitement for the instrument and for flamenco. He is a great loss."
His family said in a statement: "There's no comfort for those who love him and know him, or for those who loved him without meeting him. That's why we want to share a hug and a tear with you."
He died on a beach in Cancun after playing with his children. The family added he "filled this world with beauty".
Born Francisco Sanchez Gomez, de Lucia took his stage name in honour of his mother. His father was a flamenco guitarist who played in the evening to earn extra money after working as a labourer and his brothers also played flamenco.
Growing up in a flamenco obsessed household meant he knew the music "before I could speak" and he started playing the guitar from the age of five.
His father, who encouraged him to practise for hours, was of gypsy descent. "The gypsies are better since they listen to music from birth. If I had not been born in my father's house I would be nobody. I don't believe in spontaneous genius," de Lucia said.
"His technical skill was out of this world," Mr Karadaglic said. "He was never restricted by a challenge. He was a pioneer, as he was the first guitarist as a solo instrument in the flamenco style. It was a huge change.
"He internationalised flamenco guitar and inspired people everywhere. Before him flamenco was in a closed world and the guitar an accompanying instrument."
De Lucia played the flamenco tablaos from the age of 11 and four years later war touring. Shortly after turning 18 he recorded his first album in Madrid.
He became one of the most celebrated flamenco guitarists after experimenting with the form and "bringing it into the 20 century," according to one expert. This included crossovers into jazz and bossa nova.
Therese Wassily Saba, news editor of Classical Guitar magazine, said: "He had one of the largest impacts on the direction of flamenco. His technique was phenomenal and he had brilliant ideas."
Acoustic Guitar magazine called de Lucia a "flamenco master [who] initiated a revolution in the Spanish style with modern harmonic choices and unparalleled virtuosity".
He was known for collaborating with flamenco singer Camaron de la Isla, which lasted for more than a quarter of a century. He toured throughout his life around the world, and one of his biggest hits was the 1973 rumba "Entre Dos Aguas".
Among the guitarist's awards were the Culture Ministry's Fine Arts Gold Medal and the Asturias Prize for Art as the "most universal of flamenco artists".
Mr Karadaglic said: "When I heard the news I thought: 'I will never get to meet the person who inspired me so much'. His passing is a true loss to the guitar world, the music world and the world in general."
David Jones, director of concert producer Serious, said: "He was very humble and sure of who he was. Paco was very distinctive; I can't think of anyone like him. He evolved the art of what he did."
"I never ever saw a routine gig from Paco."
Join our new commenting forum
Join thought-provoking conversations, follow other Independent readers and see their replies