Pope Francis embraces girl after she asks: 'Why does God allow children to become prostitutes?'
The Catholic leader was visibly moved by the girl's question in Manila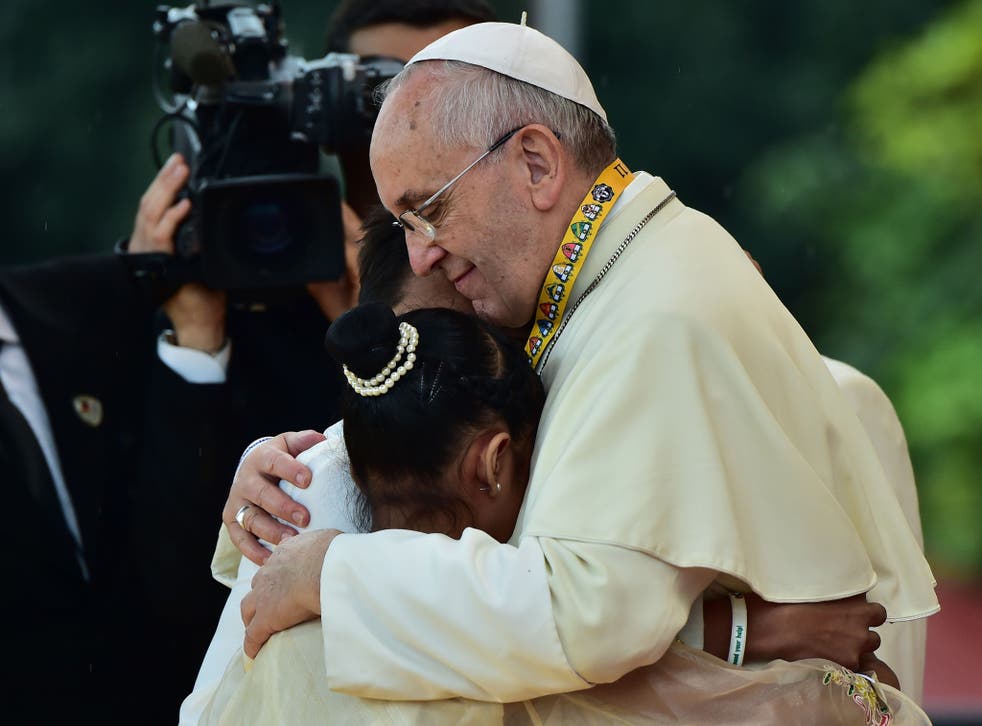 Pope Francis was moved to embrace a tearful abandoned girl at a university in Manila after she asked why God allows children to become prostitutes.
Glyzelle Palomar wept as she asked the Pope: "Many children get involved in drugs and prostitution. Why does God allow these things to happen to us? The children are not guilty of anything."
The pontiff, cementing his reputation as a champion of the poor and oppressed, took the 12-year-old in his arms to comfort her.
He was so touched by the girl's appeal that he abandoned his pre-prepared speech in English and instead responded to the child in Spanish, his native language.
Visibly moved, the Pope said: "She is the only one who has put forward a question for which there is no answer and she was not even able to express it in words but rather in tears."
Calling on people to show compassion for the marginalised, he continued: "I invite each one of you to ask yourselves, 'Have I learned how to weep, how to cry when I see a hungry child, a child on the street who uses drugs, a homeless child, an abandoned child, an abused child, a child that society uses as a slave'?"
The girl had been abandoned before being sheltered by a church-run community and was once homeless. She had been welcoming the Pope to the university, but broke down as she asked her emotional question.
In pictures: 'The many popes of Pope Francis'

Show all 12
The religious leader was speaking at an event at a Catholic university in the Philippines' capital, where 30,000 people had crowded to see Francis.
Later, he said mass in Rizal Park, at the end of a seven day tour of Asia, where officials estimated more than 3,000,000 were in attendance. People had been waiting through the night for the park gates to open at dawn; nine hours before the mass was due to begin.
Pope Francis was driven through the throng of people in a modified "popemobile" wearing a transparent yellow poncho over his white papal cassock and regularly stopped to kiss children and bless religious statues.
In the Philippines it is thought that 1.2 million children live on the streets and 35.1 per cent of children were living in poverty in 2009, the last year such figures were collated, according to the Child Protection Network Foundation.
The theme of compassion for the poor was central to the Pope's visit and he attacked the "scandalous social inequalities" in the Philippines.
The Catholic Church has grappled with a number of scandals in recent years, including the abuse of children by priests. Pope Francis is attempting to move on from this by modernising the church and acting in a more conciliatory manner than his predecessors.
Additional reporting Reuters
Register for free to continue reading
Registration is a free and easy way to support our truly independent journalism
By registering, you will also enjoy limited access to Premium articles, exclusive newsletters, commenting, and virtual events with our leading journalists
Already have an account? sign in
Register for free to continue reading
Registration is a free and easy way to support our truly independent journalism
By registering, you will also enjoy limited access to Premium articles, exclusive newsletters, commenting, and virtual events with our leading journalists
Already have an account? sign in
Join our new commenting forum
Join thought-provoking conversations, follow other Independent readers and see their replies