Robin Williams: Hollywood's comic genius dies in apparent suicide aged 63
Sheriff's coroner's division says it suspects death was a suicide due to asphyxia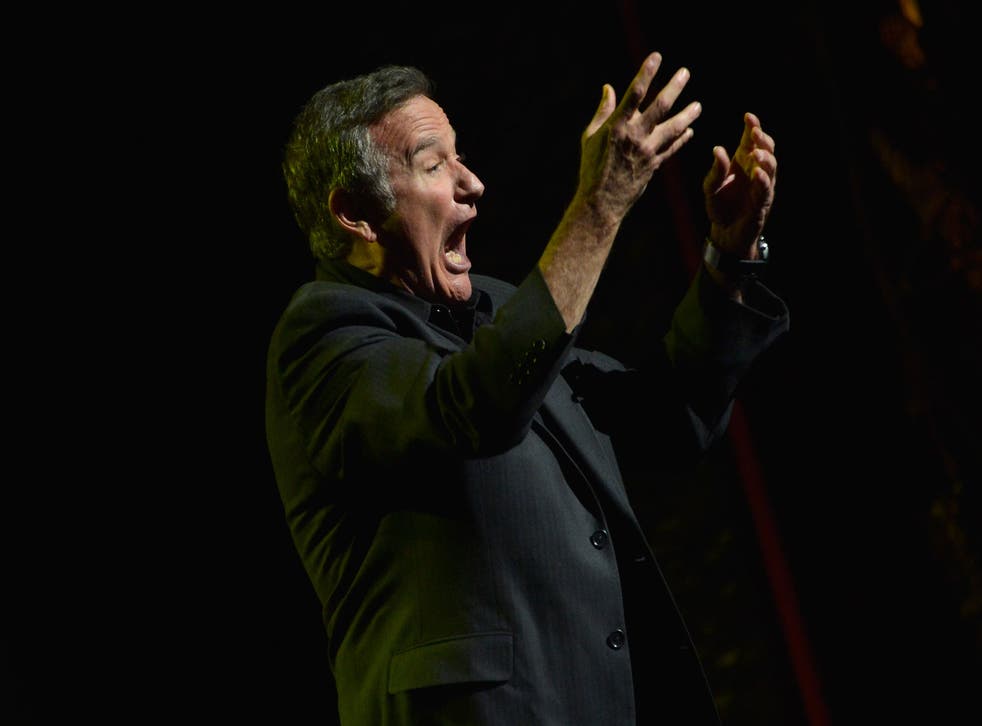 Heartfelt tributes continue to pour in from across the world as relatives, friends, fans, directors and Hollywood stars mourn the loss of actor and comic Robin Williams, who has been found dead at his home in Northern California from an apparent suicide. He was 63.
Williams's third wife Susan Schneider released a statement on Monday night in which she said: "This morning, I lost my husband and my best friend, while the world lost one of its most beloved artists and beautiful human beings. I am utterly heartbroken."
In his final posting on Instagram on 1 August, Williams had wished his daughter Zelda a happy 25th birthday with a photo of the pair, saying: "Quarter of a century old today but always my baby girl. Happy Birthday @zeldawilliams Love you!".
Fellow comedy star Steve Martin led tributes to his friend in a tweet: "I could not be more stunned by the loss of Robin Williams, mensch, great talent, acting partner, genuine soul."
Actress Sarah Michelle Gellar said her life "is a better place because I knew Robin Williams". Gellar, who worked with Williams on what would be his final TV appearance for The Crazy Ones, explained to People magazine how Williams had become a paternal figure to her.
"To my children he was Uncle Robin, to everyone he worked with, he was the best boss anyone had ever known, and to me he was not just an inspiration but he was the father I had always dreamed of having."
Robin Williams: A career in pictures

Show all 30
The tributes have also brought unique moments and acts of kindness to light, including from his Mrs Doubtfire co-star Lisa Jakub, who showed The Independent a letter Williams wrote to her school demanding she be allowed back after being expelled for taking time off to film.
In a Tweet today, comic Steve Carell said simply: "Robin Williams made the world a bit better", while director Steven Spielberg described his friend as "a lightning storm of comic genius, and our laughter was the thunder that sustained him".
daughter Zelda's tribute to her father
The affection Williams was treated with by the wider world became evident in other efforts to remember the comic, with Hollywood's Laugh Factory changing their sign to read: "Robin Williams Rest In Peace Make God Laugh."
Meanwhile, fans in Boston headed to the bench where his character Dr Sean Maguire in Good Will Hunting conveyed the beauty and pain of worldly experience and the 'true happiness' experienced by being in love. "Your move, chief," one fan quoted on the paving in front of the bench, echoing the nickname Sean would sarcastically call his patient.
"Sorry guys, I went to see about a girl," another wrote, Damon's line at the film's denouement which proved that Sean's faith in love had rubbed off on him.
The star's publicist Mara Buxbaum said Williams had recently been suffering from severe depression. Williams, who had struggled with addictions to drink and drugs in the past, had entered a Minnesota rehabilitation centre last month to help him maintain sobriety.
His representatives at the time said Williams was not using drugs or alcohol but had gone to the centre to "fine-tune and focus" his sobriety after working a longer-than-usual schedule.
The Marin County Sheriff's office said it received an emergency call about midday on Monday, saying that Williams was unconscious and not breathing at his home near Tiburon, north of San Francisco. Local newspapers reported that he was pronounced dead shortly afterwards.
The thrice-married father-of-three was known to millions for his performances in films that ranged from the out and out manic comedy of Mrs Doubtfire, to more thought provoking fare likeDead Poets Society and The Fisher King. In many films, like Good Morning, Vietnam, Williams attracted widespread praise by successfully combining his gift for comedy with an exploration of more serious underlying themes.
Nominated for the Best Actor Oscar three times, Williams won the Academy Award for Best Supporting Actor for the 1997 film Good Will Hunting.
As a stand-up, his explosive, improvisational talent was so hard to match that even the established star Billy Crystal once admitted that following Williams on stage was like trying to top the Civil War.
Such was his talent that he was allowed to ad-lib in many of his films – and his quick wit enlivened many a media appearance.
During a media tour for the 1990 film Awakenings, when director Penny Marshall mistakenly described the film as being set in a "menstrual hospital," instead of "mental hospital," Williams had the presence of mind to offer the explanation: "It's a period piece."
Williams once likened his act to the daily jogs he took across the Golden Gate Bridge. There were times he would look over the edge, one side of him pulling back in fear, the other insisting he could fly.
He also said: "Comedy can deal with the fear and still not paralyze you or tell you that it's going away. You say, OK, you got certain choices here, you can laugh at them and then once you've laughed at them and you have expunged the demon, now you can deal with them. That's what I do when I do my act."
Born in Chicago in 1951, Williams would remember himself as a shy kid who got some early laughs from his mother - by mimicking his grandmother. He opened up more in high school when he joined the drama club.
He began his career in stand-up comedy before first achieving widespread fame in the TV sitcom Mork and Mindy. The show ran from 1978 to 1982 and Williams was frequently allowed to indulge his talent for improvised comedy while playing Mork, an alien living on Earth.
During the late Seventies and early Eighties, however, Williams developed an addiction to cocaine.
Williams was a close friend of the comedian John Belushi who died of a cocaine and heroin overdose in 1982. Williams had enjoyed wild parties with Belushi and subsequently admitted that the death of his friend and the birth of his son prompted him to quit drugs: "Was it a wake-up call? Oh yeah, on a huge level."
On August 9, 2006, Williams checked himself into a rehab centre, later admitting he was an alcoholic. His publicist announced: "After 20 years of sobriety, Robin Williams found himself drinking again and has decided to take proactive measures to deal with this for his own well-being and the well-being of his family."
Williams, though, appeared to have recovered well enough to joke, on a recent tour: "I went to rehab in wine country. To keep my options open."
In March 2009 Williams was also hospitalised by heart problems, and had to undergo surgery to surgery to replace his aortic valve.
A keen charity fundraiser Williams had, with his second wife, Marsha, founded the Windfall Foundation, to raise money for a wide variety of causes.
The US President Barack Obama joined the outpouring of tributes to Williams, calling the Hollywood star a "one of a kind" who "arrived in our lives as an alien - but ended up touching every element of the human spirit".
Williams will appear in upcoming film "Night at the Museum: Secret of the Tomb," playing the statue of Teddy Roosevelt who comes to life at night, and holiday comedy "Merry Friggin' Christmas." He was also attached to a sequel to 1993 hit "Mrs. Doubtfire."
An autopsy is due to take place on Tuesday.
For any readers seeking confidential support, call Samaritans 08457 90 90 90 or visit a local Samaritans branch.
Join our new commenting forum
Join thought-provoking conversations, follow other Independent readers and see their replies