Russell Brand accused of homophobic slur after telling Cambridge students: 'Shut up you Harry Potter p**fs'
Fans were left surprised after the usually liberal comedian directed a homophobic slur at Cambridge students during a Union address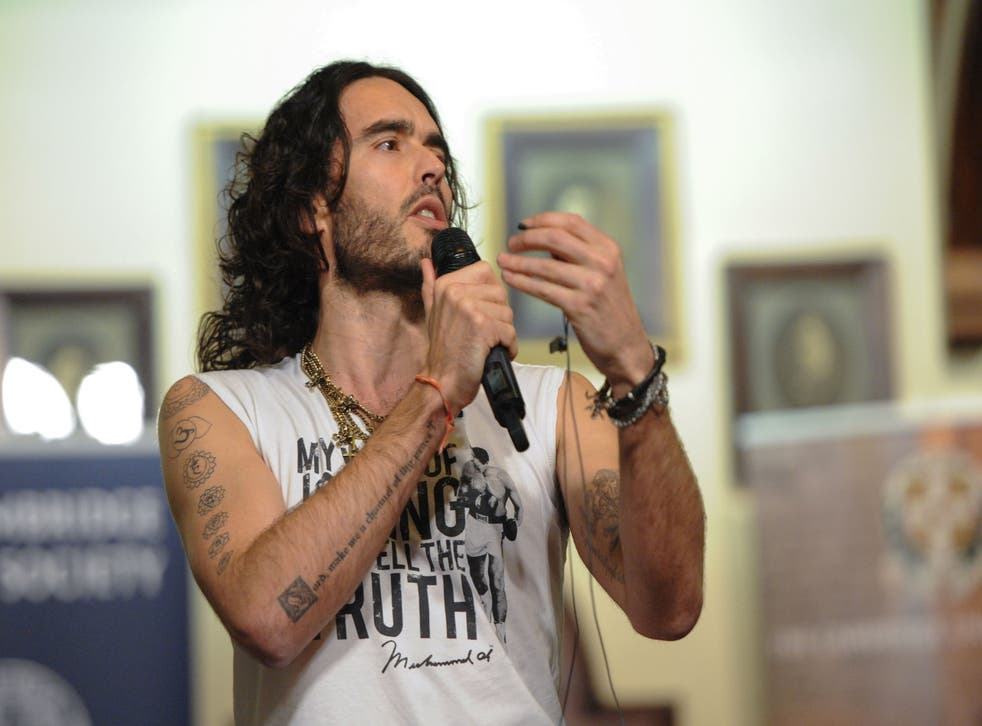 He is no stranger to controversy.
But fans of Russell Brand were left surprised after the usually liberal comedian directed a homophobic slur at Cambridge University students during a Union address last night.
The comedian was apparently perusing the various college crests in order to choose his favourite.
In a bid to quiet the winning college who cheered as he selected their crest, he yelled out: "Shut up you Harry Potter p**fs."
Brand himself is yet to clarify his comments.
Ben Summerskill, Chief Executive of lesbian, gay and bisexual equality charity Stonewall told The Independent: "We're disinclined to satisfy Mr Brand's uncharacteristic thirst for publicity by offering any further comment."
In Quotes: Russell Brand's revolution

Show all 8
However, Cambridge University students themselves didn't appear to be offended by the derogatory remark.
Taking to Twitter, one posted, "Russell Brand @rustyrockets telling a bunch of "Harry Potter p**fs" to start a revolution. Not bad for a Monday night", while another wrote, "Shut up you Harry Potter p**fs' HAHAHHAA'.
But Brand wasn't just there to insult people (he also called one student a "giant" and a second an "idiot" during his speech): he was invited to the University to discuss his political views on voting and revolution, as made famous by his Newsnight interview with Jeremy Paxman, his stint as a guest editor on the New Statesman, and his open letter in The Guardian ahead of his appearance at the Anonymous Million Man March in November 2013.
He did, however, stick by his call for revolution, declaring it an "imminent" possibility. "Attune yourself to truth… To when change begins", he said.
"Give us something to vote for then we will vote for it.
"Give us a system that is truly representative.
"Use this education that you are receiving to bring about ideas that can benefit not just you but all of us."
He also declared that "Socialism is Christianity politicised", suggested that all drugs should be legalised and called Topshop boss Philip Green a "c**t".
Spiritual life advice was on offer for students, too.
"Don't be materialistic; it doesn't help, just develop spiritually. I try to find union with everything," he said, before adding: "We're all f**ked, so be nice."
Amber Cowburn, Deputy Press Officer for the union, told The Cambridge Student: "It was a really exciting talk by such a dynamic and energetic showman... It was a fantastic opportunity for the Cambridge Union Society to attract such a current high profile guest, who brings together the worlds of entertainment and politics.
"The huge turnout to see him, filling the Union to absolute capacity, and the widespread demand for live streaming is testament to that."
Register for free to continue reading
Registration is a free and easy way to support our truly independent journalism
By registering, you will also enjoy limited access to Premium articles, exclusive newsletters, commenting, and virtual events with our leading journalists
Already have an account? sign in
Register for free to continue reading
Registration is a free and easy way to support our truly independent journalism
By registering, you will also enjoy limited access to Premium articles, exclusive newsletters, commenting, and virtual events with our leading journalists
Already have an account? sign in
Join our new commenting forum
Join thought-provoking conversations, follow other Independent readers and see their replies