Scottish independence vote: Moira Salmond, Queen of Scots, prepares for the spotlight
After more than 30 happy years in the background, she may now have to take on a very public persona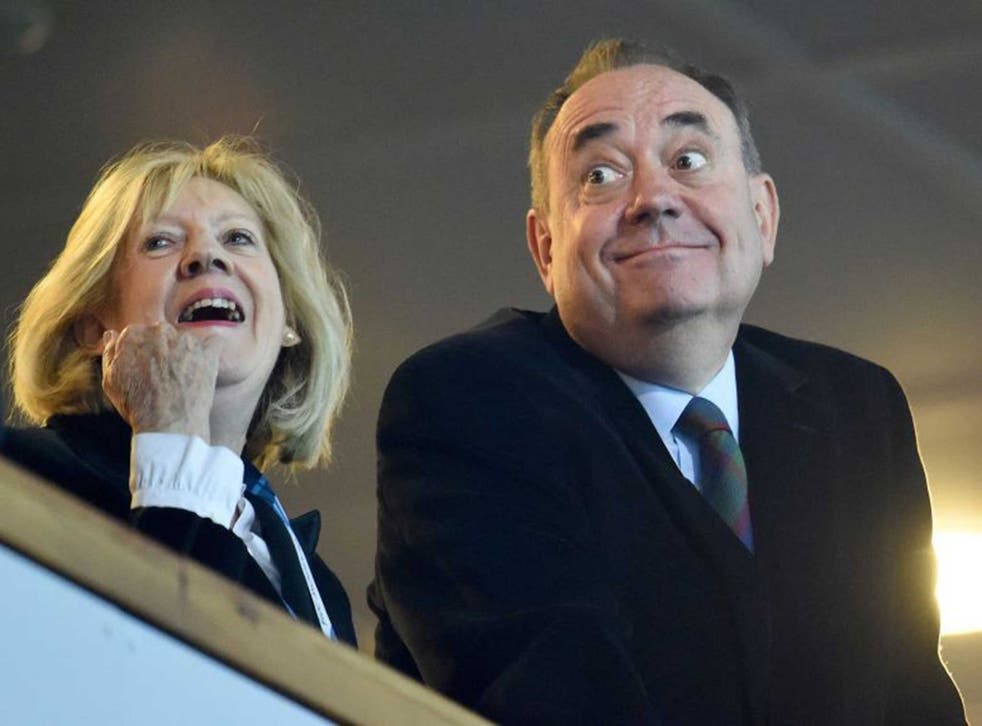 There are two facts that people find surprising about Moira Salmond, the wife of Scotland's First Minister. The first is that she is 17 years older than he is – now 77, she was 43 to his 26 when they married in 1981. The second is that she exists at all.
Even within the relatively small circles of Scottish politics, Mrs Salmond remains one of the great mysteries of our age. She has not given a press interview since 1990 and few photographs of her are in circulation. Most people in Scotland have no idea what she looks like. But for all that she has managed to guard her privacy, some insiders attribute much of Alex Salmond's success to her unwavering, insightful support.
That she has chosen to remain out of the spotlight should be no surprise, given that when she has spoken her contributions have been remarkable for their banality. During that first and last interview, her greatest revelation concerned the inconvenience – familiar to MPs – of living in two places at once. "Sometimes I go to make a cheese-and-tomato toastie in Linlithgow, absolutely sure I've got a pound of cheese in the fridge, then I remember it's in the fridge in Strichen!" she said. It took some time before colleagues stopped teasing Mr Salmond over this, and the couple decided he would give the interviews from then on. She did, however, also say: "I'm no Glenys Kinnock. I married Alex, not politics. That's his life and I am happy to be in the background. I share his convictions, but one politician in the family is quite enough."
The few facts that are known about Moira French McGlashan would fit on the back of a "Yes" campaign leaflet. She was born in 1937, the daughter of a car mechanic in Peebles. As a civil servant, she met her future husband when they were both working for the Department of Agriculture and Fisheries in Scotland. He was a junior economist; she was a senior administrator, and his boss. At the time he was still living with his parents and their marriage at St Cuthbert's Church in Colinton, Edinburgh, on 6 May 1981 proved the catalyst for him to finally move out. At that point, she gave up her job to concentrate on running their home, and taught him to drive.
Psychologists may try to understand what it was about the 43-year-old woman he was attracted to, but those who knew Mr Salmond back then say he was simply very much in love. One conclusion that can safely be drawn is that he was aware children were unlikely. Her father died in 1966, and her mother in 1992, and she has never spoken of her upbringing. "I like to protect Moira from the limelight as much as I can," Alex Salmond once said. "We are not a political couple and I find it refreshing to come home and let off steam to someone who isn't in the thick of it." That Mr Salmond has risen so far while keeping his wife out of public view is, according to the journalist Ian Jack, in part thanks to the Scottish press. "There has been very little intrusion," he said in 2009. "The English press wouldn't have been so well behaved."
In 2007, the couple bought a four-bedroom converted mill on the banks of the river Ugie in Strichen, Aberdeenshire, in his constituency. This is where Moira likes to spend most of her time, tending her garden or busying herself with embroidery work or knitting. At one point she kept Muscovy ducks, and she is a keen baker, stretching even to the homemade oat cakes she once served at an official banquet. But even within Strichen she is a reclusive figure. The postmistress refused to discuss her most famous customers when approached, and local tradesmen appeared to be unaware she even lived in their midst.
Yet if Scotland does become independent this week, it seems unlikely Mrs Salmond will be able to maintain quite such an anonymous existence. She has already adapted by spending some time at Bute House, the First Minister's official residence in Edinburgh. She had a trial run of life around public office in 2007, joining her husband in New York to attend a week of official events. But the sudden swivelling of the spotlight in her direction proved uncomfortable, and she returned to her former position.
In recent years, her influence has become slightly more apparent. It was she who smuggled a Saltire into the Royal box at Wimbledon, which the couple unfurled after Andy Murray's victory there last year. And Alex Salmond said recently: "She's much more radical than I am now in all sorts of things."
So is it she who puts the lead in his political pencil? David Torrance, Alex Salmond's biographer, is doubtful. "No one really knows what Moira's political views are," he says. "I understand her background was broadly unionist Tory, and she was from a reasonably well-to-do, middle-class family. Anecdotally, I gather she has influence but I don't think she shapes political strategy. If she has an influence, it's in terms of his political career." Colin Pyle, a former employee in Mr Salmond's office, has said she is "his principal gauge of people's character". The First Minister says he couldn't do his job without her, adding "my wife has enormous grace and style". Discretion, it seems, is central to that.
Register for free to continue reading
Registration is a free and easy way to support our truly independent journalism
By registering, you will also enjoy limited access to Premium articles, exclusive newsletters, commenting, and virtual events with our leading journalists
Already have an account? sign in
Register for free to continue reading
Registration is a free and easy way to support our truly independent journalism
By registering, you will also enjoy limited access to Premium articles, exclusive newsletters, commenting, and virtual events with our leading journalists
Already have an account? sign in
Join our new commenting forum
Join thought-provoking conversations, follow other Independent readers and see their replies