Ross Kemp fends off armed guerrillas in PNG: 'Are you gonna kill me? No one's gonna f**king kill me!'
Actor took on three armed soldiers who had surrounded star and crew while they were filming later series of Extreme World 3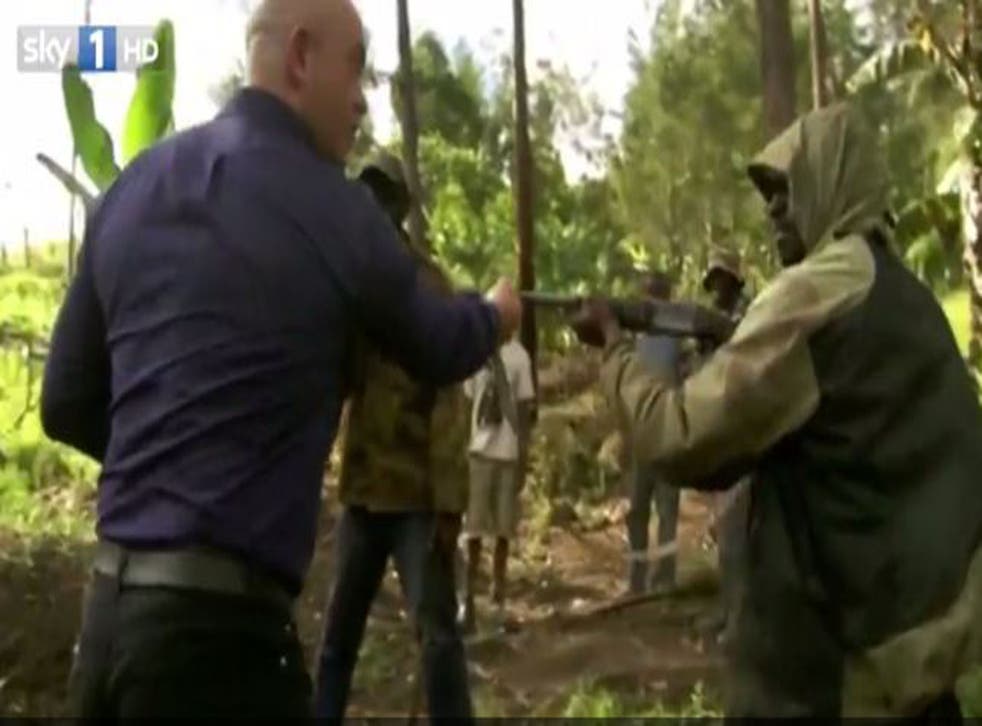 Ross Kemp has been captured on camera narrowly surviving a terrifying showdown with armed guerrillas in one of the world's most dangerous countries.
The 49-year-old former soap star wasn't, however, on a random jaunt near the jungle city of Hagan in Papua New Guinea, but was instead filming scenes for his forthcoming series, Extreme World 3.
Scroll down to watch the video
His mission was to interview The General, the leader of a violent gang of robbers who rule the surrounding slums with an iron fist.
However, the expedition almost resulted in fatalities, after three soldiers armed with rifles and shotguns burst out of surrounding bushes, demanding that the star and his crew get down on their hands and knees.
But Kemp fought back, pushing one rifle away from him and yelling: "Are you gonna kill me? No one's gonna f*****g kill me!"
Eventually, they backed down, and he was able to walk free from the situation unharmed.
The group were ambushed as they were attempting to find The General's hideout. They were led by a local guide called Lucas, who accompanied them most of the way, before telling them to go on without him. Which should, he said, have sent alarm bells ringing.
"You know if get down on your hands and knees you know you are going to become a victim at that point," Kemp said of the incident during an interview with Sky. "What they're going to do you don't know."
"I don't know to this day if they were going to hurt us. Or if they were just testing us, testing our mettle to see if we'd capitulate, and because we didn't, we earned his respect I think."
Kemp went on to describe Papua New Guinea as "one of the most violent societies I've ever encountered."
"When you look at the stats in terms of how much violence is committed against women in particular," he said, "There are some things that I would suggest are unacceptable."
Extreme World 3 continues on Tue 4 Feb at 9pm on Sky1 HD
Join our new commenting forum
Join thought-provoking conversations, follow other Independent readers and see their replies